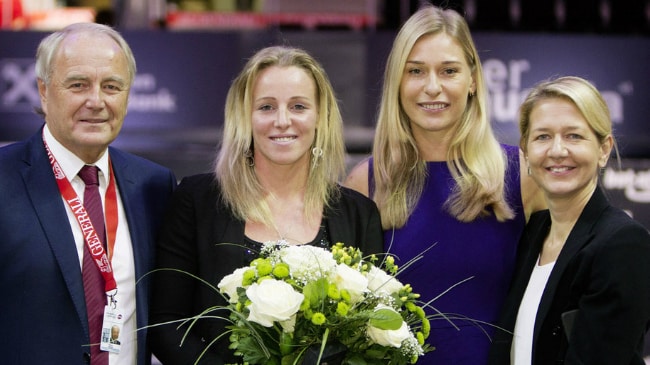 By Giulio Gasparin
Aged 28, with 17 ITF titles and one WTA final, Patricia Mayr-Achleitner said goodbye to the world of professional tennis in front of home crowd just before Sunday's final in Linz. The Austrian looked happy and beautiful while walking down the hallway onto the dark court on which only a spotlight on her was lit. She was smiling as she received a long round of applause from the full stadium standing up for her, while Sandra Reichel and Barbara Schett hugged her and officiated her official farewell from tennis. Only 12 months before another Austrian had called it a career on the very same occasion, it was Yvonne Meusburger, who captured the title of Bad Gastein, the one that fell short out of the hands of Mayr two years before. The woman from Tirol had made a Cinderella-like run in 2012, when she honoured the wildcard given by organizers by defeating in magnificent fashion opponents like Lourdes Domingues-Lino and Ksenia Pervak, handing them three 6-0 sets. The moment got to her in the final and lost to Maria Jose Martinez-Sanchez, but it looked as if she was on the verge of a successful career. Sadly, injuries hold her back and this stood as her sole final at a WTA level in singles.
She made a name for herself though as a fighter and a very confident player, tough to beat if you got her on a fight, as she proved in Linz a couple of time, when she took out Sabine Lisicki and Sorana Cirstea, both ranked close to the world best 20. She made it a long way from the 8,000 people big town of Rum, reaching a career best ranking at number 70 in the world.
Following a 2015 where a back injury did not allow her to compete as well as she hoped for, she decided to step back, put health first and also enjoy a more serene marital life with her, now former, coach. What follows is the interview, or better, the chat my colleague Michele Galoppini and I had with her following her retirement ceremony.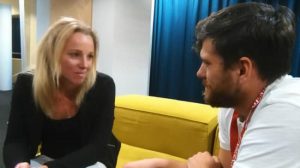 Following your loss in Bad Gastein you looked very upset with how things were going and retirement looked sad for you, but today you seem almost happy.
In Bad Gastein it was very emotional and I could not stop crying, but now it was so much better.
Actually I feel very good today, I feel as if something fell off me, pressure has fallen out: you know, when you work in this business you always have pressure on you, for the ranking, for making into a main draw, for the money, for all the practice…then you think about injuries and all, but now I don't have to deal with these and I can relax.
How did you feel walking out, with all the people clapping for you?
It was amazing, it was always amazing here in Linz for playing, also in Bad Gastein of course, but here it's different.
I remember a couple of years ago on this same court you beat Lisicki, probably the best win of your career, how was it?
Yeah, it's true, it was one of the best ranked player I have ever beaten and it was amazing, just an amazing feeling. Also the following year when I defeated Cirstea, number 21, and made it to the quarter finals where I got to play against Kerber and the stadium was full, probably 6 or 7,000 people. It was extraordinary.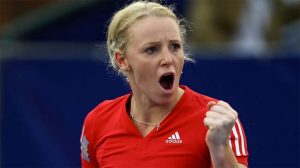 Do you think that was the best moment or reaching the final in Bad Gastein?
I mean, it's both, you know. In Bad Gastein I reached the final, so it was different, but probably here it felt even more special, because I beat a player like Lisicki and then Cirstea, then against Kerber I played a good match and she was top 10…
So what's in the future for you know?
Actually, I stopped only 5 days ago, so I don't know as for now. I mean, I have many things in my mind and I am yet to decide. I have also to decide whether to stay in Austria or move to Switzerland.
Will there be more tennis in life?
Yes, I will stay in tennis. I think I will go into coaching, starting from kids and then maybe better ones. One day maybe I can coach the next Austria star and in a few years I am back on the tour with her.
You can also listen to her words in the first part of Sunday's podcast from Linz.
Best of luck for everything that will follow in your life, Patricia.
© riproduzione riservata