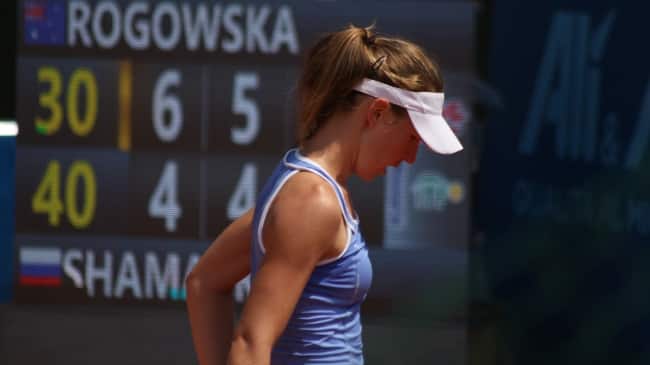 By Giulio Gasparin (@GiulioGasparin)
Olivia Rogowska is one of these names that made their first appearance on the big tour with no sign of fear and created a big impact on the world of tennis thanks to incredible results. In 2009, the young Australian was only 18 and ranked far from the world's best 200, but received a wild card for the French Open, where she stunned Maria Kirilenko in the first round. She came very close to another major upset only a few months later, when in New York City she was leading the deciding set with a two break lead on Dinara Safina. Ever since, it happened to be very difficult for the Melbourne-born to cope with the expectations of these early results, but that did not stop her from trying to improve, as much as she believes to be a better and more experienced player now. She is still young and knows how to reach the world's best 100, especially now that she has witnessed other compatriots and friends going down that path.
In the heat of a sunny afternoon in Padua, she struggled in her opening match against Marina Shamayko, but did not deny a few words afterwards and this is the direct result of our chat.

Tough match today, wasn't it?
Yeah, it wasn't pretty from my hand, at all. Usually I find first round of every tournament pretty tough, no matter if it is a 25k or a Grand Slam. I knew nothing about my opponent today, I didn't know what to expect: one shot was flat, one shot was loopy, so I couldn't find any rhythm. I played well on the important points, I tried to stay positive even though I was like snappy inside, and the whole condition wasn't easy for my first round.
You decided to stay on clay this year. How come?
I played on clay for quite few months and I felt pretty good on it. Especially before the grass I feel like I don't need so much practice for Wimbledon, so this is my last clay tournament, and I am definitely here to win the whole thing. I know how to play on grass so I don't have to play like three tournaments beforehand. I made this decision this year so hopefully it pays off.
About the clay, I know you didn't get the Australian wild card for Roland Garros. Were you a bit upset about it or did you already know it?

Tennis Australia had a very good point. — you need spectacular results to earn the wild card. So I wasn't expecting to get a wild card, wasn't even demanding one, so I was playing qualifying, I had three really good wins and I made the main draw on my own credit, which is priceless. I'm very happy it ended on that way.
This year you are getting to your best ranking in terms of ranking. What do you think you have improved this year to get so far?
You know, it was my birthday the other day, so I feel like I'm gaining experience on tour and this year I have just really relied on my experience to play against some upcoming Juniors and I felt like I was more mature on court. Hopefully I'll keep learning every day and from every match and getting experience to close things out.
You are still young of course, but you had a breakthrough year when you beat Kirilenko in Roland Garros in 2009. What do you think changed ever since. That was a big win but then the consistency lacked. Do you think you are a better player now?
It is quite funny cause I feel like I'm playing better tennis even though I had better results that year. It's much easier when you have your first year on tour: you are young, you have nothing to lose no matter who you play, you are the underdog, you can come out swinging. The year after you start defending point, you have to face more expectations to do it every single year and every single tournament. I'm still trying to deal with that. I'm playing one match at the time. Obviously I still think about that year, when I beat Kirilenko, when I had a tough loss against Safina, world no. 1. But that's the past and I am still trying to learn from that but let it go.
I recently talked with your former coach Chris Johnstone…
Oh, is that you? It was a fantastic interview, I enjoyed reading it after Jarka [Gajdosova] retweeted it. Chris is a very special guy, he is a fantastic coach, he gives absolutely everything to his players. We worked quite few years, three or four year, I learnt so much from that guy and I'm so grateful I worked with him and he has definitely helped me to achieve some pretty good results. So, I charge every moment I've had with him and I miss him sometimes.
As you read the interview (you can find it here), how did you feel reading that his most special moment in tennis was with you?
Yeah, I know, I was really touched when I read that. Chris gave a lot and I got to the stage maybe when I was a bit young and I got a bit frustrated. Sometimes he was really hard on me and I kind of didn't appreciate the way I should have, but I have learnt so much. He is with Jarka now and they are doing really well together and I love both of them, so…
One last thing. There a lot of talking about Australia because of many players getting the citizenship. How do you feel about it?
It's great for Australia to have a lot more women player and contenders in top100. Now Dasha [Daria Gavrilova] has been doing really really well, she is a good friend of mine, so I'm happy for Australia that we are stating to put ourselves there on the map. We were used to have Sam [Stosur] and Casey [Dellacqua], now we have Jarka, Dasha, the Rodionova sisters that are doing really well in doubles. You know, it's really good, it kinda brings us all together and push all of us together. Like, you know, Dasha is doing really well and hopefully I'll follow her footsteps. So yeah, go Australia, the more the better!
Leggi anche: