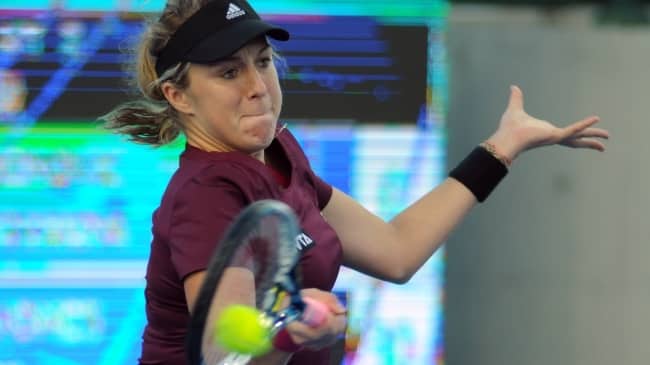 by Giulio Gasparin @GiulioGasparin (interview also by Michele Galoppini @MikGaloppini)
Aged 24, Anastasia Pavlyuchenkova has been world number 13 when she was still 19, but ever since found it hard to sustain the same level. In this finale of 2015 she bounced back by winning Linz and reaching the final in Moscow…
In Linz we met her and it was clear from the very first moment that she is a genuinely funny and nice woman, who likes to joke and have a laugh. Any possible wall crumbled as soon as I introduced myself in Russian, which left her smiling speechless. Once that shock wore down, she set down relaxed in the small back room of the media centre of Linz, holding a plush which was the first topic of this long interview that you can read exclusively here.
Nice plush! Where did you get that?
Right now, in the players' lounge. I would say it is my fifth toy already cause I got four toys in China, so this is my fifth. My luggage has reached the limit already, it's going to be crazy.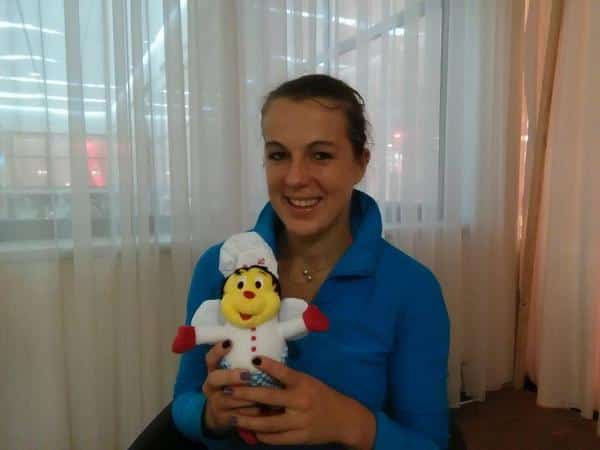 Do you collect them?
Uhm, no, not really to be honest. It is not my thing, but, I mean, this is nice and they give them to me so I'm not going to throw them away. I keep them and then give some as a present to kids I know, or if they are really cool I keep them. So no, normally I don't collect them.
Then you also won two trophies in Linz, did you find space for them in the luggage?
Yeah, I was just saying that, because you don't often get two trophies for a win, but it was because of the 25 years anniversary too, but you know what? It is a good problem to have and I will find a way to manage and it's definitely much better like that than to leave without trophies, so I will manage.
Well, they can probably ship it to you…
No! (laugh) You know a funny thing? In Brisbane in 2010 or 2011, I won the doubles there and, because I was in Brisbane and Australia and I still had tournaments to play and it was really heavy, they said "we are gonna send it to you" and then, long story short, I still don't have it! You know, because of custom in Australia can be tricky, so from then I always carry with them.
Well at least you got a smaller copy of the huge one from the ceremony.
Yes, thankfully! (laugh) But you know what? I don't mind, trophies are trophies, so it doesn't matter how they look like, small or big. I take everything!
You play often indoors, also cause you are coming from Russia and you have to, I guess. What do you think about the fact there are not that many indoor tournaments anymore?
It's a shame, really! We don't have many tournaments in Europe anymore. Even when I was coming on tour, like 2006 or 2007, there was a lot more tournaments in Europe. I think about Zurich and at least a couple of more indoor, but unfortunately now less and less. We have more tournaments in Asia, because they have money of course (ironic smile), but we have to deal with what we have, no complains, I think we are lucky we have all the tournaments and we have the chance to participate, but we need to take the maximum out of the few European indoor tournaments left. 
After one match in Linz you had a couple of words with Barbara Schett and she said that many people were cheering for you and you joked about that asking if they even know how to pronounce or spelling your name. Do you have a laugh about that nowadays?
Yeah, of course, I can't take it seriously and in fact I can't do anything, that's my name (big laughter). Well, thank you dad, I guess (smile). I'm used to it, you know, but in Russia it is not that tough like for other Europeans. But now I think they are getting used, and chair umpires as well, they are pronouncing perfectly my name so it's good. One funny thing happened in Cincinnati, they had a board to entertain the fans, they put my first, my middle and my last name and they said "say three time fast!". Well, good luck with that!
In Linz you won your 300th match, did you know about that?
I had no idea, but they told me on twitter and I saw that. I was like "wait a second, is this maybe a joke or something?". So I googled it, checked and it was true. I told my coach and he said "congrats!" and I asked him if it was a good or a bad thing, really (laugh). And he said that I was crazy, that of course it's good. You know, Venus just had 700 and my 300 is nothing compared to that, but afterall she is 10 years older than me, so I still have time (smile). It's a little nice achievement!
You said you are still young and you already have 300 wins. You came up on tour really young, if you look back the years you spent on tour, how do you think this time has been for you?
Could be better of course, could have been much better. One always wants better and more. But again, I have to live in the present and try to get as much as I can from right now. I'm feeling more motivated right now, more mature. I changed a little bit my view on tennis; I take it more seriously now, I'm trying to be more patient, before I was too young and I wanted everything now, now, now and there was no patience. I wasn't thinking about improving my game, I was thinking more about results, I was thinking "I want to be there, I want this ranking and win that". Now I'm just thinking and focusing on my game, there is still a lot of things I can improve, I think it's a positive thing and it's my goal right now, really. And if this works out I think the results and everything will follow. I'm still happy of what I did, I'm still 24 and I could make a better career.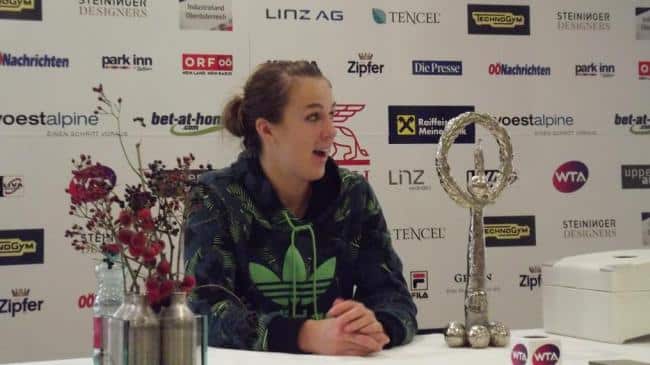 Do you think that patience is paying off in your game as well? I was watching today and I think it. You have a lot of variety, you don't just smack the ball, you have dropshots and volleys. Do you think patience is paying off also in the single rally?
Yes, definitely. It's all about patience. Like I was saying, I was 5-2 up on serve against Voegele and it didn't work out. So I had to stay in the moment, and try to finish the set. Maybe it's a little be frustrating, because sometimes players just smack the ball on return and you can't do anything, because they have nothing to lose at that point so they go for it. Years ago, when I was a junior, I actually never hit the ball hard and my dad, who was my coach, made me hit the ball, cause I had good hands, was good at dropshots and stuff, you know, but I was never aggressive. And then I learnt this from Patrick Mouratoglou I think, when he took me in his academy when I was 15 I think. He was working specifically on my aggressive game. Now I'm trying to mix up aggressive game and good hand, I guess (smile).
I think it's working quite well…
Hopefully it'll continue to (smile).
On a very different note, since we are Italian, first ITF you won it was in Italy, what is your relationship with Italy?
You mean as a junior or in professional tour?
Professional tour, it was Casale Monferrato.
Yeah, so that's why I like Italy (laugh)! Well, I actually like Italy a lot, people are really friendly, Rome is one of my favourite tournaments, I like clay as well, and city and food… only positive things about it!
I read that you like doing funny things, like singing in front of other people, putting fake spiders in your mum's bed… any new funny story?
Honestly, I'm just being sarcastic all the time, that's one of my best qualities (laugh). Sarcasm is my thing, I like pretty much joking around, also with my coach. I was making a really funny video on court after my warm up. He had his iPad on which he has that app you can use to make some music (garage band is called), I was making like some rap, it was so funny, the lyrics was out of control so I can't tell you, sorry (smile). This is kinda my before-match things.
In Linz, in the semis you came strong of 13 consecutive wins indoor, your career best ranking is 13, as it was for your opponent of the day, Fipkens. You said you don't look at numbers, but that was a fun coincidence, wasn't it?
Nobody likes that number! (laugh) I try not to be superstitious, though sometimes it's tough. Every week you end up doing some things just the same, when things go well. It's not about numbers, but I have my favourite, which is number 3!
You say 3 is your lucky number and Linz was your third consecutive title indoors!
Yeah, it feels great, but I don't wanna focus on numbers. I am really proud to get another title, it's the 8th of my career and winning it Linz, which is such a nice place, it feels even better.
You say you are not superstitious, but you always have a pink overgrip, which is not very common…
It's just one of my favourite colours and also I like to be a little be different. Nobody really uses those pink grips, you know. Wilson was really struggling to find that pink overgrip for me, they always had to make it special orders for me, cause it is really rare to have it in the stock. That's really nice from them as well. It all started when I was playing for Babolat and they did it especially for me and my face was on the box they sold and also it had Nastya written in pink on my bag. That's how it all started I guess.
Many players say they don't look at draws, only go for one match at time, do you do the same?
Oh no, I cannot do it. You know, I am just so curious! I cannot pretend there is no draw, I look at the draw as soon as it's out and not just my matches, I look at the whole of the draw.
Leggi anche: