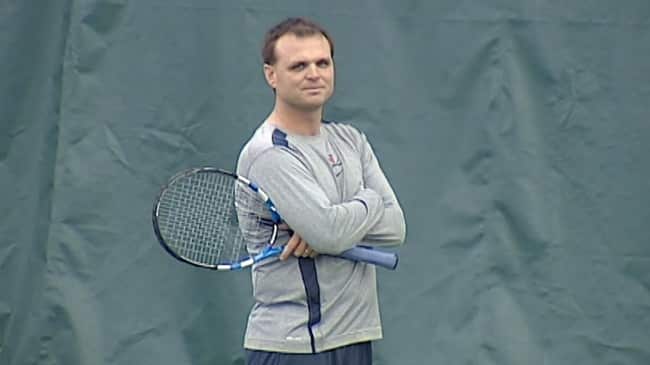 by Giulio Gasparin
Brian Boland is a name that may not be known by most in Europe, but he has acquired the status of a living legend in the world of tennis coaching overseas. Not long has passed since his 43rd birthday and, up to date, he has won with his teams most of what is there to win in college competitions. The most impressive data is that before the arrival of Boland at the University of Virginia, the school was left outside the top 75 universities for tennis in the US and only but rarely there were students from this college to compete at the NCAA finals.
In the past 5 years, though, the team led by Boland reached 4 finals, with two team titles (in 2013 and in 2015) and three individual titles with Somdev Devvarman in 2007 and 2008, and Ryan Shane in 2015. It is now a common reality to see 3 or 4 Cavaliers taking part to the NCAA finals.
Luca Brancher has interviewed him for Spazio Tennis in order to get to know him and his secret formula for such an impressive streak of successes.
How did you become the Head Coach at UVa?
I was extremely fortunate to be offered the opportunity to coach at my alma mater, Indiana State, right after I finished playing and studying there in 1996.  I was the head coach at Indiana State from 1996-2001 before being hired by Uva in the summer of 2001.
What would a typical day look like working with the guys?
Our staff typically gets in the office around 7am to tackle some of the office work required on a daily basis: replying to inquiries, dealing with academic and compliance issues, and all other aspects of running the program off the court.  We have 3 coaches including myself and we all have between 3-4 hours of individual on court work with each player between 8-3pm depending on their class schedule and then team practice is from 3:30-6pm every afternoon which includes fitness.
From the players standpoint, they have an hour of individual practice, a scheduled massages twice a week and team practice wrapped around their class and tutoring schedule.
What do you think about College Tennis, has it improved over the years?
College tennis has always been extremely competitive and a very admirable level but I think that the depth of college tennis has certainly increased compared to the early 2000's.  If you go back to the 70-80's, a majority of the top 100 was also playing college tennis and John McEnroe reach the semi-finals of Wimbledon while still playing college tennis so you certainly can't compare those years to these years but it certainly has improved since my coaching career began in 1996 . That said, the years of John Isner and Somdev Devvarman were some great years where the top 10 guys could all be top 100 players but the depth beyond the top 10 continues to improve.
How important is the recruitment in your work?
Recruiting is an extremely important component in every successful team, program and business with college tennis being no exception. Recruiting top players with the highest of character is absolutely critical in success.  Character wins!!!
The university tires also to recruite guys from Virginia, is this true?
We have been very blessed to have a number of great players come out of the state of Virginia.  There are some wonderful coaches and training facilities around us, who have produced some top juniors, not only in the country, but in the world, and to be able to keep them close to home, makes it a special situation for all involved.
Talking about your players and how does their future look for professional tennis?
We are blessed to work with players that still dream of playing professional tennis so everyone on our roster could certainly have a career in tennis if they chose to go that route.  That said, you could go down our lineup but by no means does it mean that any has a better chance than the other, they all can play and you never know where their full potential will take them.  We can start with our senior who will be setting out on tour full-time in the coming months, Mitchell Frank.  Mitchell achieved just about everything you could achieve in the college game: clinched 2 team national championships, won 3 national individual titles, was #1 in the country and was a tremendous leader and captain for us this year.  He played last summer and reached the top 600 pretty quickly so we look for big things to come from Mitchell.  He certainly has the ability and more importantly, the will to be in the top 100 so it will be fun to watch him progress up the ranks.  Following Mitchell is Ryan Shane who just captured the NCAA Singles Championship just last week and will be in the main draw of the US Open later this summer.  Ryan has a game, size wise, that allows him to play with anyone in the world since he's a big guy with a massive serve along with groundstrokes that would push anyone around the court; the sky is the limit for Ryan but he has one more year remaining before he sets out full-time on tour next summer.  Rounding out our top 3 in our lineup was Collin Altamirano who was the number one recruit in the country last year and had a spectacular freshman campaign.  Collin has won futures titles, competed in the main draw of the US Open and will be a player to watch in the coming years both in college tennis and in the pros.  Collin had arguably the best freshman year the University of Virginia has ever seen and the sky is also the limit for young Collin.  After that, we have players from 4-11 who have achieved top 1000 ATP rankings and who certainly can play at the next level.
How many college players could go on and have wonderful professional careers?
That's a very tough question but there are certainly a number of players who starred this year and I believe will make an impact on tour in the near future.  Along with our players that I just talked about, you have to note the singles finalist in the NCAA's this past week, Noah Rubin.  Noah is as good of a freshman as I have ever seen in my years in college tennis.  He's plays the game the right way, owns his shots and is very mature on and off the court for an 18 year old; look for big things to come from him.  Along with Noah, there are a number of Americans to follow with most notably Mackenzie McDonald being the highest ranked.  Mackenzie qualified for the Cincinnati Masters Series a few years ago and has had a number of successful future and challenger results since then.  Noah and Mackenzie are the most talked about, along with Mitchell, Ryan, Collin and Thai (our #4 this year) from our team but there are numerous other young Americans who have the tools to be successful out there.  Along with the Americans, you can look at a few special foreign players who have bright futures ahead as well, Axel Alverez from Oklahoma was the top seed in the individual tournament and can play at an extremely high level, a Del Potro of sorts, and then there is Julien Lenz from Baylor, Andrew Harris from Oklahoma, Soren Hess-Oleson from Texas and Sebastian Stiefelmayer from Louisville who are all in the top 10 year-end rankings and are players to watch as they tackle professional careers in the years to come.
How does college tennis help these players?
College tennis has a number of benefits for players who decide to postpone their desires to play professionally full-time and further their educations, starting with the resources provided.  For starters, there are 100's of universities that provide the coaching, courts, equipment and financial support needed to play the game.  From a tennis standpoint and speaking in terms of our situation, players have 3 coaches, a top physical trainer in the world in Pat Etcheberry, an onsite masseuse, and a countless number of staff members dedicated to their development. On top of the support from the staff, players will play 50 matches over 6 months and have a countless number of opportunities to play professional events around the scheduled collegiate events and matches.  Lastly, with the tour being as physically demanding as it is now, not every 18 year old is ready to tackle the day in, day out grind that the tour is on both your body and mind so playing 1-4 years of college tennis allows you to mature physically, mentally and emotionally while obtaining a degree and an education that you can fall back on once your tennis career concludes.  Even if you're fortunate enough to play the game professionally until you are 35 years old, you are going to have 65 years to do something else with your life and college opens up doors and prepares you for life after tennis whether you have a successful professional career or not.
When it comes to their development as people, that's where I believe college tennis benefits them the most.  Playing for a team teaches you to be selfless, to play and serve others while playing for something bigger than yourself; which can only help you both as a person and as a competitor.  College also teaches you time management, communication and social skills along with further development in a career post professional tennis.
Kozlov, Tiafoe, Mmoh and Rubin; do you know them and have an opinion on them?
What a special group of Americans we have coming up.  American tennis, like most things, seems to be cyclical and as an optimist, I believe it's only a matter of time before Americans are back in the top 10 and competing for grand slams.  As for the 4 you named, I have watched them growing up over the years and they certainly have bright futures ahead of them.  The great junior crop, along with Jack Sock, Jared Donaldson and hopefully Ryan Harrison has a resurgence, with collegiate players sprinkling in there with them, American tennis has a lot to look forward to in the years to come!
Do you follow Justin Shane and do you believe in these young players to go around the world to play tournaments outside of the USTA Pro Circuit?
We all follow Justin along with all of our former players out there on tour.  We are very blessed have a number of them comeback and train in Charlottesville from time to time; Justin, Somdev, Treat Huey, Sanam Singh, Dom Inglot, and Jarmere Jenkins just to name a few. This is extremely special for us coaches and the current players as they are just great guys to have around on top of being great players.
As for traveling outside of the country, we love and support the USTA, there are 2 pro circuit events on this years schedule in Charlottesville so we definitely want our past and present players to play them as well but we do encourage our players to get out and see and play the world.  One great benefit of being a professional tennis player is the ability to see the world and share in some amazing experiences with amazing people.  Unlike most professional sports, professional tennis allows you to decide where you want to compete, that being the case, get out there, go see what the rest of the world has to offer both on and off the court and develop a ton of relationships along the way; that's what life is all about!
© riproduzione riservata