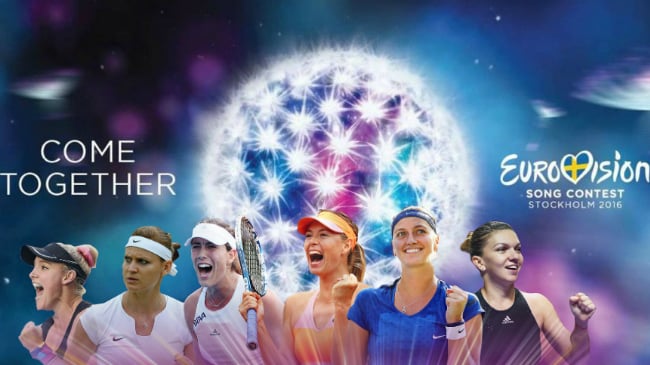 By Giulio Gasparin and Michele Galoppini
There won't be a long intro to this piece, as it's easily explained by itself, but there's a warning to all of the reader. This is meant to be a fun, silly and light hearted piece. Most of the connections are probably nonsense and we'd like no one to take them seriously. Feel free to comment though and tell us which players you'd associate differently and why! This is part 1, in two days part 2 and then the 3rd right before the final!
1) Albania
Carla Suarez Navarro – great technique and class are there for the song and the Spanish player, but they are both overlooked. Fairytale could well be the title of Suarez Navarro's first half of 2015, backed up this year with a good start.
2) Armenia
Svetlana Kuznetsova – it takes a while to appreciate this song, where there's a bit of everything and the association of colours and sounds is bold. Yet, it is one of the favourites for a strong results, just like Sveta, her outfits and her game.
3) Australia
Sam Stosur – a powerful voice for a powerful player. Just like you wonder why Australia takes part to the Eurovision song contest, most wonder why an Australian is so good on clay. And let's be honest, Sam often silently flies under the radar despite her accomplishments.
4) Austria
Vera Zvonareva – Is it just me or the Austrian singer looks exactly like Vera? That enough justifies the connection, but let's also be a bit more philosophical and say that "far from here", the title of the song, fits the position of the Russian in the rankings, compared to her prime.
5) Azerbaijan
Sara Errani – "it's gonna take a miracle", this the fans of the Italian might have thought a thousand times, but the clay court specialist has often outdid the expectations on her or fought herself out of troubles. This year started with her first Premier title, but then physical problems have put her season on hold, will she make another miracle at her favourite slam?
6) Belarus
Annika Beck – First thought was Jelena Jankovic, as the half-growl of the first lines reminded her voice, however then you realise that the song does not have a clear idea of where to go: at times 70s rock, at times a dance beat, then a very 80s pitch note…like Annika, who seems to be confused on whether be an aggressive or a defensive player.
7) Belgium
Alison Van Uytvank – what's the pressure? She's called to defend her quarter-final points at Roland Garros soon and she has a serious injury to deal with. Both the player and the singer are young, both ginger haired, both Belgian, isn't that enough?
8) Bosnia Erzegovina
Sabine Lisicki – The song has a good base, but then the vocals are just bad, until some sort of rap starts and the singer performs a scream like Xena and you realise it can't get any worse… just like Sabine of a late, who could do everything very well, but so far she's been doing it in the wrong moments and with bad execution.
9) Bulgaria
Anastasia Pavlyuchenkova – though we think the real protagonist is Dieter Kindlmann, former sparring of Maria Sharapova, who is famous for the clause in the contract that forbid intercourses between him and the Russian star. The guy now is coaching Pavlyuchenkova and the two seems very close…is love a crime?
10) Croatia
Monica Niculescu – that's a nerdy connection here, but the Croatian song talks about the hope someone gives the singer, just like a light at night. Niculescu has been working with her coach basically for ever and she said he was the first one to believe in her and was always there for her, even during hard times. The voice of the singer is also very peculiar, just like the Romanian's game, not for everyone to like.
11) Cyprus
Maria Sakkari – you either love or hate this song and apparently is the same with the young Greek player. The fiery Sakkari can be associated with such an aggressive rock and both are potential underdogs if put in favourite positions.
12) Czech Republic
Anastasjia Sevastova – it's a comeback for the Czech Republic after a few years out, similarly to the Latvian on the scenes of WTA tour. But in all fairness, unless you are a big fan of WTA or ESC, you would not have noticed either's absence. Can't you find anything bizarre in that song, fitting the unorthodox game of Sevastova? The singer has flowers instead of hairs, if that's not strange enough…
13) Denmark
Elina Svitolina – I remember an article of last year named "Elina Svitolina, the best player you've never heard of", for many she is too vanilla and this song alike can be easily forgotten. Let's not misread this, Elina is good prospect and can often set the point up very well, but often she can't close it. This song, pretty much alike, has got a chorus that starts greatly but then…
14) Estonia
Venus Williams – a very retro sound, an enjoyable beat and that melancholic taste of greatness gone. That's what we felt listening to the Estonian entry and what we see during 2016 watching Venus playing. A little harsh? Maybe, but good old times can always made relive.
Leggi anche: