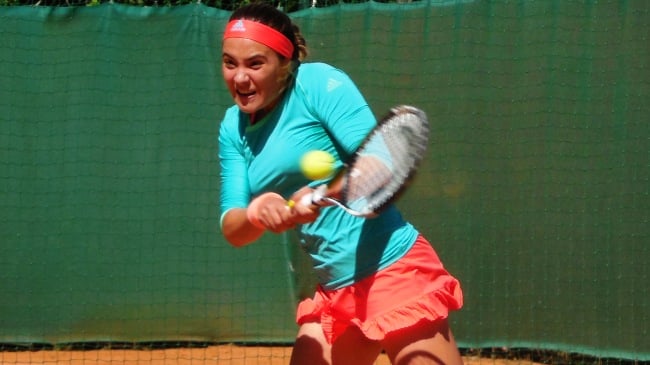 by Michele Galoppini (@MikGaloppini)
Elena Gabriela Ruse is very happy to exchange some words with SpazioTennis, mostly after the very good win she just achieved against Valentini Grammatikopoulou. Today she also reached the quarterfinals of ChiassOpen 2016, keeping alive her impressive streak of wins (30 in last 32 matches). With a big smile she introduced herself as 'Gabi' and she told us about her tennis life, what WTA Bucharest meant in her career and what she would like to achieve in next years on tennis courts.
Weather conditions are so windy today!
"Yeah, but I played last 7 tournaments in windy conditions basically, so I'm trained to play like this (laugh). And I got many wins, so maybe it helps me (laugh)."
I think you played very well today, focus, aggressive, precise…
"I could play my tennis today, I'm happy I won such a good match."
Your tennis looks suitable for hardcourts more than claycourts, am I wrong?
"Actually my favourite surface is grass! I played pretty well in Wimbledon, but I like also claycourts."
There are not many tournaments on grass though, would you like to have more chances to play on it?
"Yeah, I definitely want it, but sadly…"
Also cause in ITF calendar is quite difficult to find tournaments on grass.
"I don't know actually. When I was playing in junior circuit, there were 3 or 4 tournaments on grass if I remember correctly, but no more. Of course there were tournaments before Wimbledon and one after. That's it."
Your ranking is improving fast, maybe you should try to have a chance in WTA tournament on grass.
"I will probably try. It's not easy but everything is possible."
You arrived here with 25 wins in last 27 matches played, and now you are 30 out of 32. I'd say it is a very convincing season so far. What changed in better from past season?
"Hmm, nothing special I think. I mean, I have the same team but maybe I'm just more confident. Everything is the same, I'm just trying to properly work every day in trainings."
I talked in past days with Jil Teichmann and she told me that from junior to pro is not that different, but you have to change mental approach to tennis life and matches. Do you agree with her?
"I totally agree with her. In first tournaments in pro circuit, I didn't get the results I hoped, I lost in qualification draws even if I played good. It wasn't working like in juniors. After that I had the chance to play a WTA tournament, in Bucharest, I won one match there against Alexandra Cadantu and I suddenly was more confident and everything started to get better. I got back with my old coach some months ago, cause I changed my team one year ago but it wasn't as good as expected, and now everything is just perfect."
In Romania, tennis is getting bigger and bigger. You have a great team: there is of course Simona Halep, but also many other big names. How do you think this could help you and other youngsters to improve?
"For us, having many good players is very important. All the time this girls try to explain us how it is to be there, up in the rankings, it is very helpful."
Who is your favourite Romanian player?
"I think… (laugh) This is a good question… I think Monica Niculescu, she is very special, a very nice girl and we have a very good friendship."
And who is your favourite players in general?
"This is easier: my favourite player is Victoria Azarenka."
And do you watch often women's tennis?
"Yeah, absolutely. Also in Slams, all the time I have the chance to, I go watching their practices, their matches. Hopefully Azarenka's ones of course, she is great."
Do you also played Grand Slam tournaments, of course junior ones? How is the atmosphere there?
"Yes, recently Australian Open. The atmosphere is… pretty nice! Amazing. First time I played I was in qualification of Roland Garros, I qualified to main draw and I lost in quarterfinals. First time I thought 'oh my God, it will so tough there', but everyone has quite the same level. Only in last stages, like from semifinals, you have to be mentally really strong, and that's it! In following Wimbledon I was very very confident even if I had lost in first round in tournament before Wimbledon, Roehampton. It was awesome there and I reached semifinals."
I wrote on social network that I was coming here and I asked around which would have been the girls I shouldn't have missed. I can tell you someone said 'don't miss Gabi Ruse, she is getting a big thing in Romania!' Did you know you were getting a big thing at home?
"(Laugh) That's quite nice to hear. It's strange, cause when I go home, girls of my same age are a bit weird with me, maybe they think I have some 'problems' or I'm haughty. Actually I'm just trying to be nice with everybody and when I don't speak with other girls it is cause I'm shy. I don't do anything bad to anybody."
And do you feel the pressure of being such a good prospect for Romanian tennis?
"I don't feel much pressure. I'm just trying to play my best tennis on court. Furthermore, my family doesn't put pressure on me, and that's the best thing for a tennis players."
Last question, typical question: your goals for the season and your big dream for your career.
"My goal is finishing this season in top200, but first of all I don't wanna get any injury, cause this is the most important thing and then everything is possible. Big dream? Well, of course I want to be next no. 1 in the world! That's very big (laugh)."
Leggi anche: