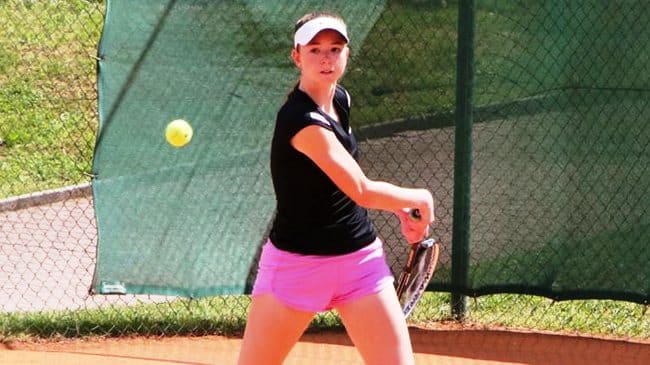 by Michele Galoppini (@MikGaloppini)
Simona Waltert is the youngest wild card for the singles' main draw of ChiassOpen ($25.000 on TC Chiasso's clay courts). Only 15 years of age, she faced Sandra Samir in first round and though she lost 6-3 6-4 she forced the Egyptian to play her best tennis to take the match in straight sets, having to recover from 2-4 in second set. Simona played some wonderful backhands down-the-line, many difficult volleys and dropshots. She showed some flaws on the second serve and in terms of consistency, but nothing that cannot be fixed with experience and hard work. Talking to her, it is immediately clear that she is aware of that and already working hard to improve and follow the Wimbledon dream.
Here's the exclusive interview with one of the brightest little star of Suisse Federation.
You lost the match today, but I think this was a good experience for you.
"Yes! This was my first tournament in singles at pro level and I'd say I didn't play that bad (laugh). It was ok in my opinion and of course I'm so happy that I played here, it was a good experience. And I like to play here, there is a very good organization, also the court are well prepared… not always you see this in junior tournaments."
What do you think you missed today to win the match, or at least the second set, when you were 4-2 up?
"I think I made too many mistakes in key moments, mostly with forehand. Forehand was… a bit a problem today (laugh)."
I saw you had problem also with your second serve, maybe cause of the strong wind.
"It was strange to play in such a strong wind, but my serve, considering how I'm playing at the moment, was ok today. Yes, I made some double faults but I'm not worried, I know I can play a better second serve."
How much helpful have been to play a pro tournament, since you are so young and of course without experience at this level.
"Definitely a lot helpful. Of course I hoped to do a bit better, but I can be only happy about today. Next time it will go better for sure."
I saw you already represented your nation, when in European Games you won a bronze medal in doubles…
"In Georgia, exactly! Yeah, that tournament was great, the atmosphere… everything was great. I played doubles with Leonie Kung, like I did in this tournament in Chiasso, and the feelings when we won that medal were… awesome!"
Switzerland has a very strong team, in both men and women sides. You have top players,  young players going up in rankings… how much important is for you to have them as an example to follow?
"This is of course very important for me, I can watch them, I can take inspiration from and see how they play. And we have any kind of player at the top, I can learn a lot."
Let's talk about your tennis. I saw your match and I must say you have a very strong backhand down-the-line. Is it your favourite shot?
"Ehm… no (laugh)! Backhand is for sure the most consistent shot I have right now, surely more than the forehand. But today yes, I have to say that backhand donw-the-line was very good."
I read you like Maria Sharapova…
"Yes!"
…And Roger Federer…
"Yes of course (laugh)! But also Bencic and Stan (Wawrinka)."
And which are the other players you try to take inspiration from?
"Surely Agnieszka Radwanska. I love the way she plays, she uses so many variations and she is very smart."
I saw, during your match, that you used many of them too.
"Yeah, thank you. I really like to slice the ball, make dropshot and volleys, to generally stay at the net. And indeed I love playing doubles."
I would say it is not that typical for the girls of your age.
"I agree (laugh). But I like to do in singles what I do in doubles. Volleys the most and today they also worked very well."
Which are at the moment your main goals?
"Surely at the moment I'm thinking about Junior Grand Slams and to… what's that word for rankings?"
Improve?
"Yeah, improve! Good job (laugh)! By the way, also to improve my ranking. About my tennis, for sure I want to make less mistakes and being more consistent, starting from my serve."
And if you could make a wish for your career, which one would it be?
"Hmm, that's complicated, I would have so many wishes to make (laugh). Ok, I chose it: I'd like to win Wimbledon!"
Nice choose, do you like to play on grass?
"I never played on grass, I don't know (laugh). Maybe next year I will have the chance to play there, in Junior Wimbledon."
I think your shots are suitable for grass courts. They are deep, they are flat…
"Well… too flat actually (laugh)."
Leggi anche: