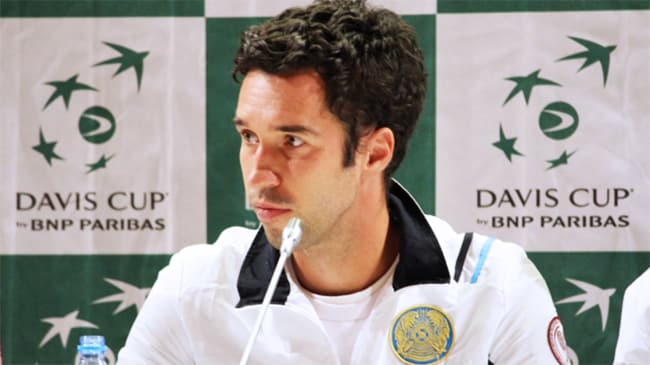 di Alessandro Nizegorodcew (Traduzione di Giulio Gasparin)
Frascati, April 2007.
It was a beautiful sunny day when I arrived at the New Country club with my colleague Christian Losito. They are holding the $10.000 Future there. I was there to follow a match, the one of Francesco Piccari, coached in these days by Simone Ercoli and Manuel Jorquera. He did not give much chance to his opponent, who retired in the second set.
I then decided to walk around the courts and suddenly my attention got caught in a process that James Joice calls the epiphany. It was not a spectacular winner, nor an amazing defence, it was not anything I saw, but the noise I heard created that shocking revelation. Have you ever noticed the sound of Bolelli's accelerations? It is not an abrupt and deep sound, but more the likes of a bang shot in open air.
I moved towards the origin of that sound, but the fence behind the baseline was too thick and I could not tell who was generating the sound that captured my attention and imagination. I tried to look through and immediately noticed the silhouette of Argentine Alejandro Fabbri, but I knew it could not be him: I had seen him enough times to know he was not capable of such magic.
I looked better and…Boom! Forehand down-the-line winner. Another glance and… Boom! Another forehand down-the-line winner.
I turned around and said Christian: "I have no idea who this guy is, but he is of a whole different league here!" Then I went checking the draw and discovered that his name was Mikhail Kukushkin, born in 1987 and, at the time, far outside the top 500. He eventually beat Fabbri, after he had beaten Bellucci, before falling to Pastorino.
February 2015.
Kukushkin is currently world number 58 and has won one title in 2010 in St Peterburg, followed by a final in Moscow (2013) and Sydney (this past January). He is the number one of his country, Kazakhstan, despite being born in Russia.
"I don't spend a lot of time in Kazakhstan, because I have to travel a lot," he revealed in an interview he gave me this week. "So I usually am there for Davis Cup, Challengers sometimes, and practice sessions few times a year. Facilities are great in Astana. We got a lot of tennis courts, gym, where former player Shukin opened a rehabilitation centre, so we have everything for preparation.
"I receive a lot of support from federation: it helps me with my practice, training, preparation and other stuff to help me improve."
With the political tensions in Ukraine, the next question came very natural: how's the relationship among Russian, Kazakh and Ukrainian players?
"We all are friends with Russian players, for us there is no difference if you are Russian, Kazakh, Ukrainian etc…" he admitted. "We all speak Russian and have good relationship. They understand why I had to move to Kazakhstan and support me in this case."
One of the unique traits of the ATP number 58 is that he is coached by his wife, Anastasia Kukushkina, whom he married in 2011, but was coached by since 2009.
"It is unusual to be coached in the ATP tour by women, but for me it's a great relationship and it helps me to improve," he said. Then he added some lines about the infamous case of Gala Leon: "For me it is tough to say something about Spain Davis cup team, but I believe that in Davis cup you need to have men captains, because you spend a lot of time with captain in the locker room, and when your captain cannot get in there, it may interrupt your preparation.
The natural ending is obviously dedicated to the upcoming Davis Cup match against Italy, when the Azzurri will fly to Kazakhstan's capital for a place in the quarter finals.
"It is going to be a very difficult match," he honestly admitted. "Italian players got good results this year, in both singles and doubles, so I expect a very difficult match for sure.
"I don't like to call someone favourite, but I can say that the Italian team has good chances, they got Fognini, who is a very good player, Seppi and Bolelli playing very good this year…Fognini and Bolelli won doubles grand slam this year too. So it will be a very difficult match for us.
"For sure we will talk with Andrey (Golubev) about it, but we all know the Italian players very well: I played against them many times, so we have a lot of information about them already!"
Leggi anche: