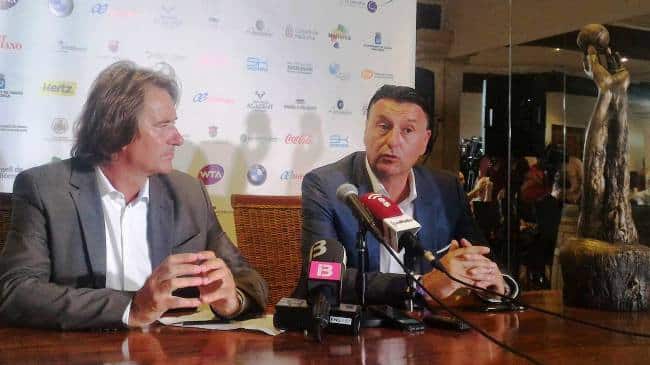 by Michele Galoppini (@MikGaloppini) and Giulio Gasparin (@GiulioGasparin)
Caroline Garcia is the first Mallorca Open's champion, and she got her second singles trophy in the span of a month, after Strasbourg's victory, reaching the top beating a very tough players' field. The big names who took part of WTA Mallorca are just one of the positive sides of this brand new International tournament, as Peer Zebergs and Edwin Weindorfer, respectively tournament director and tournament owner, explained to the press in this post tournament interview.
You must be satisfied with first edition of Mallorca Open: a very good winner, nice crowd and awesome weather.
We are really happy that everything worked out, mostly cause we started a tournament from zero, in a new place, with a new team, completely new facilities and completely new grass courts. It was a challenge, I think we had some minor issues, but everybody was happy, considering also it was the first year. We are happy also to have seen very good crowd, and I am satisfied for the very good winner we had [Caroline Garcia]. She will be a top player for sure, it is just a matter of time, and it was nice to see such good tennis.
Many big names joined Mallorca Open even if it was the first time it was in WTA calendar.
We had former number 1 like Ana Ivanovic and Jelena Jankovic, the winner of the French Open Garbine Muguruza, former no. 5 as Eugenie Bouchard and Daniela Hantuchova. Fantastic players and we couldn't ask for better for this first year. What we loved it is also the response from the players after this week: everybody stayed for more days, Jelena Jankovic stayed also after the tournament to practice, Eugenie Bouchard left only after the final despite the early loss. Many players told us they will play this tournament till the end of their career and many others also promised to come back next year. Angelique Kerber, who stayed here some days to train, already stated she definitely want to play here next year. And we also know some players already talked with other players to convince them [laughter]. This tournament has such a huge potential.
Which are in your opinion the key features of Mallorca Open?
The uniqueness of this week is being in the exact middle of Roland Garros and Wimbledon, in the week you really want to get ready for Wimbledon, after a week of rest after the French Open. This is a week when you want to get used of grass and it is a week when there isn't so much stress yet. It is just the perfect week in my mind. Furthermore the weather was great and we saw a very good atmosphere. We had of course many Mallorquin people, but also German and English speaking crowd and this was another one of the goals we had, to have international audience also here in Mallorca. And the people here were definitely tennis oriented, with tennis knowledge.
With your facilities, you are not 'helping' only women, but also ATP players who want to train on grass, thanks to Toni Nadal Trophy.
When we created the Toni Nadal Trophy we thought that many players are not willing to play a tough tournament the week before Wimbledon. So we said 'Why don't we invite tennis player to play exhibition Monday and/or Tuesday?'. And then they can stay here to train for as many days as they wish. It is no an ATP tournament, only an exhibition, but I'm sure we will have the chance to have here many top ATP players for a bigger exhibition, probably already 6 in next year' Tony Nadal Trophy. Tennis fan are here for women's tennis, but a bit of men's tennis after the tournament is the icing on the cake.
You talk about 'minor issues'. Which are the improvements you are planning for next editions?
There of course will be some improvements for next year. We already discussed with the architect for a completely new entrance, to get more life in the tournament village. Probably we also will change one of the match courts, to have more spectators also in secondary courts and not only on centre court. We will change the parking situation, cause at the moment we are not really happy about that and this is something we will surely improve. We will need also a bit more of support from the community for the infrastructures and for the promotion of the tournament, cause this tournament has a big potential for Mallorca. We bring a top class event in this island and we want to be sure this is understood. Tournament could be somewhere else, but we chose Mallorca and many investors did the same. Improvements are necessary, also cause I think that when it will come the moment to decide, so many players will choose Mallorca instead of Birmingham: here there aren't suspensions of trainings, suspensions of play, and to get prepared for Wimbledon this is essential.
And did you think about lights for night sessions?
We also thought about lights and night play, but this is a tricky issue. We know that in a place like this is not the best to play at 2PM, cause people simply go to the beach and it is hotter than usual. And also, having big players playing in the evening could bring here many fan. For example, Ana Ivanovic played often at 2PM, but only cause she had doubles also, we surely would preferred she didn't have doubles to play [laughter]. Anyway, on grass court, after the sunset, you have humidity coming and courts get too slippery. Wimbledon courtsman informed us to be cautious with this, but we checked during the week and we didn't see much humidity coming: probably they are a bit over cautious and we can find a solution. Having a night session, especially in June, would be great and we are already investigating. We for example gain a hour more of play and giving the fact the other events, in this weeks, don't have a night session, we would be put in a great position for television, cause we would be the only tournament to have tennis in the evening. It would be very good for us and also for our sponsors. We are already thinking about a lot bigger tv coverage, with the chance to see every single main draw match and also the doubles matches, in HD quality.
When you thought about a tennis tournament, why did you choose a WTA tournament and not an ATP one?
When it comes to tennis, Spain has an incredible history. Recently, this small island had Carlos Moya and Rafael Nadal and Spain in general has and had so many champions. Spain has Madrid, an ATP Masters 1000 and a WTA Mandatory, very huge and combined. Then there is and was Barcelona and Valencia for men, but now there is Mallorca, in a very right moment: we have Garbine Muguruza at the top and this tournament is coming in very right time and in this tournament you can see how strong the support for women's tennis is. There is no ATP players around, they were here for the Toni Nadal Trophy but this is just an exhibition. Mallorca is WTA, we firmly believe in WTA and we have the right timing, cause Arantxa Sanchez was much time ago but now Muguruza is here.
Leggi anche: