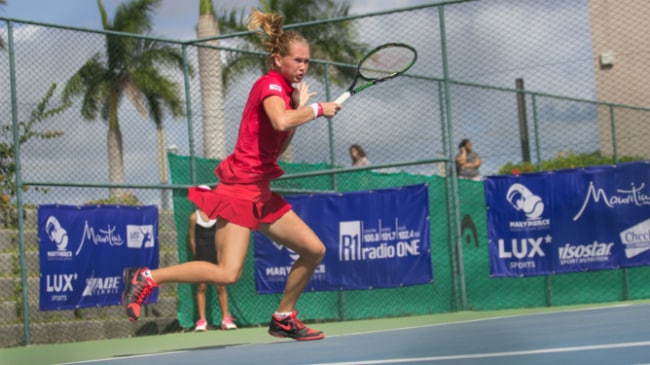 di Stefano Berlincioni
Marie Bouzkova completed a hat-trick in the Marie Pierce Ocean Indian Series. She won 15 matches without dropping a set, an amazing result.
Why did you choose to go there? Did they invite you or you chose by yourself?
I chose by myself, because Mauritius is a wonderful destination and we took our trip there little bit like a "vacation".
I read amazing comments by the players about the Series: can you give you personal view?
All three tournaments that I have played were amazing. I have never had such amazing surrounding environment at a 10K tournament. The organizers could not have done the tournament better.
What about Mary Pierce? She is doing a great job promoting tennis in Mauritius: what can you say about Mary?
I know Mary myself from Florida where we see each other at times with Emmy (Emmanuele de Beer) and Mary is such a nice person and she is always very kind to me and helped me whenever I needed.
Which is the funniest thing happened during the Indian Ocean Series?
The funniest thing that happened was during one interview with Max, the interviewer. But he never published that funny interview saying it is a private joke, so I think I should stay private as well haha
What is your schedule after these tournaments and for the rest of the year? Just pro tournaments (as you did so far in 2015) or also some juniors?
My schedule is now making, but until my birthday in 2 weeks I am not allowed to play more tournaments. So now I am back in Prague practicing and later this year I will be playing again only pro tournaments.
How did the US Open Junior title change your life?
After the US Open people started to know me a little bit more, but the main difference was on the tournaments. The girls knew of my victory as well and I felt like I am the targeted one at the tournaments. But the feeling to win US Open was amazing and all I have to do is to play the same way and improve.
You are transitioning from junior to pro tennis: can you explain how difficult is this transition and which are the greatest challenges for a 16 yo during this transition?
At the beginning of this year it was hard for me to transit. I've played few 50K's and even some WTA's, but in Mauritius And Reunion Island I entered the right track to catch up with the pros. The most challenging thing on the pro circuit is that the women play until the end of the match. No matter how much they lose or win. So my goal is to play steady and focused from the first point to the last.
Do you have any pre-match rituals?
I do have pre match rituals. Usually I warm up with my dad before the match and then we just talk about random things before the match. I always like to do things the same way during the whole tournament, like having the same breakfast.
Which was the best match you've ever played?
It's hard to tell which match I've played the best because the game always change and the opponent is always different. But I've played some very good matches at the US Open and later in 2014 in Toronto on a 50k where i reached the quarters.
What is your favourite tennis player and why?
I like how Azarenka plays, because she can be both aggressive, but still can adjust to her opponent. From ATP, I always liked Del Potro, but unfortunately he is struggling with a wrist injury. I've always loved how aggressive he can play.
Who is the toughest opponent you faced?
I've faced many tough opponents, so it's very hard to pick the toughest. The US Open had so many very good players and the few WTA's that I have played were of course very tough as well.
Three things/rules you would change on Pro Circuit if you had the power.
I would change just two. That is no restrictions on the amount of tournaments I can play as a 15, 16 or 17 year old. The second rule would be more Wild Cards I can receive.
What is your goal for 2015? Just stay healthy or do you have a ranking goal?
Staying healthy and progressing my game is the main goal. But I am working to be close to top 300 by end of the year. Mauritius and Reunion Island helped me to improve my ranking by almost 100 places.
What are your interests? What do you enjoy doing in your free time?
In my free time I have to study a lot. I don't mind studying so that helps me to do the homeworks after practice or after match. My interests are learning new languages and I love to go skiing when I can.
Leggi anche: