Interview conducted by Giulio Gasparin (@GiulioGasparin) and Michele Galoppini (@MikGaloppini)
Article by Giulio Gasparin
Pictures by Steven Pisano
Monica Niculescu is not a name that made it to fame thanks to slam wins, but she is one of these players that one never forgets after watching her once. A colleague of mine once said that watching her playing it is an experience, it is more than just watching tennis and if you have ever watched her, you know what we are talking about. The Romanian is unique and, like it or not, she brings a different flavour to the women's tour with her different style of tennis, that is, however, not free of detractors. Niculescu's trademark is the sliced forehand, but her peculiarity goes beyond that shot, because her whole game revolves around a variety of solutions that could leave the inexperienced spectator speechless. She does not win her matches thanks to powerful shots, nor accurate accelerations (though she has a reliable backhand), but she seems to have infinite plans to destroy the game of her opponents, she switches from plan A to plan D within a few rallies, giving opponents no rhythm or whatsoever.
Her complicated game, made of drop-shots, unusual slices, lobs and sudden accelerations, is her strength, but also her weakness at times, giving the fact that at times she seems to fall victim of her own spider net, losing the plot of what she should be doing. She is often described as an overly defensive player, because to play her game she needs a top physical form and she cannot allow her opponents to win easy points, so she often grinds and chases balls, but her natural attitude is to win points with her own shots, hence why of a late she has added a lot of net charges to her game.
Her attitude on court is very fiery, she screams and grunts, making her presence going not unnoticed, but off court she turns into a very bold personality, witty and genuinely funny, it is no surprise she has many friends on tour, given how much of a chatter box she can be and how she looks to be always ready for a joke. What follows is a long interview I've had the luck to conduce with my colleague Michele Galoppini with her, an interview that immediately was transformed in a chat among friends as the Romanian set a very friendly tone, making jokes and provoking our laughs over and over during the time sitting around the same table.
Let's start from this: you play a unique game, the way you produce your slices is different to anyone's. How did it happen? How did you learn to play like this?
I don't know. When I was young I didn't have a coach, so I started to play this shot and suddenly I was playing very good, I was vice European Champion and winning almost everything, and also in doubles I was good, I was number 5 in Juniors or something. So it was working and I started to play like this. It wasn't easy to be honest cause many people were saying 'what is this game?' or 'you're not gonna make it in bigger level', cause I was playing Juniors and I was winning but…
It was tough, I was struggling, first I was 200th in rankings, and then 160th and later back to 230th. I have my coach now, it's 10 years we are working together, and he started to say to me I had to believe in my shots and in my game. I'm happy now, I know what to do, I feel much better with myself and he made me believe in me, he was always believing in me. He was often telling me 'you are so good, don't worry about anything, just play and be smart', and I started to believe in myself and that's because of him.
I was playing normal when I was young and at one point I don't know what happened and I started to play this shot (her sliced forehand) like this and I continued. I don't know how old I was, maybe 7, and I was playing normal, actually I was playing better with forehand (laughs). But then, when I was playing with bigger girls who were hitting strong, I don't know what happened but, suddenly, I started to play like this (laugh). It's tough when you are young, you make no conditional training, you don't have a coach, I was always travelling with my mum, my sister, my dad… Suddenly I started to play this shot and I was beating like everybody in Juniors; well, not everybody, but I was five in the rankings, which is not bad, so almost everybody. I don't know if I was tricky or… but I was beating them so I started to play like this and now I'm unique (laugh). Nobody plays like me.
This year you played Serena, couple of times, and it was great fun for us to watch, but how was it for you on court?
To be honest, I think that with my game it is very entertaining, it is nice to watch. The people are always telling me "I love to watch you, because, you know, in these days everyone is hitting the ball hard, bum bum, good serve…and you love to mix it up, you go to the net…" You saw for example my match against Teliana Pereira (in Bucharest). I was always at the net, I made dropshots… I think it is good for the people.
And in that match with Serena I felt fantastic. I didn't know what to expect in that moment, she wasn't playing since 14 years in Indian Wells. This year she played and everybody was thinking "what's going on?" and about how people would have reacted. I just went on the court, everybody was standing up applauding and I felt fantastic. And I played great! But she is very good you know, it was tough, but I think I did a good match. I was a bit disappointed by the fact I had to play also in Miami against her because I felt I was playing good and maybe it would have been better to play her in 4th round. I was thinking I played good and, look now, I'm having so many good results, so it came in the end. But yes, very good matches against Serena, because also in Miami I played good. I know the score was tough, but with many advantages, she was serving great, I'm happy also about the match in Miami. Even though people are saying 'she beat you easily', no no no, it was good match (smile).
I saw that funny moment when you signed the autographs ball of Sorana Cirstea. Do you have a good relation with her and other Romanian players? Are you friend with them also outside the tennis court?
She asked me to sign it for somebody. I saw articles where they said I was signing it for Sorana. No. For Sorana but for somebody else, you know (laugh). We are good friend, yes. I'm friend also with Simona (Halep), with Irina (Begu)… we are also playing FedCup together now, we are doing so well, becuase we are a big team, we practice together also with the federation, so yes we are good friends! And if I need to give an autograph to somebody, anytime, so just ask! (laugh)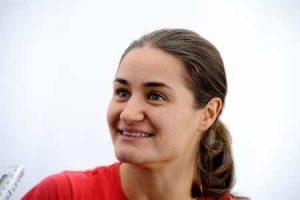 UsOpen was the Slam where you achieved your best result before this past Wimbledon…
Yes yes, and also I cannot wait for China. I like China a lot also… so a good period is coming. I just have to stay healthy, this is very important, to get some rest. Of course I have many things to improve, like second serve, but I'm happy about my performances in last month and about the great week here in Bucharest, with that unbelievable crowd that made me feel awesome. I like I could play at this level at home, cause there could always be pressure, cause I was the seed number 3, and Simona won last year, and people thought I could do the same. But I played good, so I'm happy.
And how was it to play in Romania, now that tennis and women's tennis is reaching a great popularity?
I felt fantastic to be honest, also last year I reached the semis here and they were awesome. I like it! Also in FedCup, in Galati, we played against Spain and it was unbelievable, and it was Galati, not Bucharest! And here with this hot weather there were so many people, cheering for me, saying 'Moni, c'mon!', I felt unbelievable. Maybe that's why I played very good. I'm a bit sad I lost and I didn't win the title in front of my crowd.
One of the keys to these great past month for you, I think it was the serve. You've been serving very well, as you added extra power to the first serve, starting the points with an advantage over your opponents. Have you been working on it?
I think so because in Wimbledon I can say I served very well and it helped me and suddenly I was in 4th round. I actually started to serve well in Rome and Madrid, where I lost close match with Jovanovski 6-4 in the third and Erakovic, when I had two match points in Madrid. I lost these matches but I knew it had to come, even if I didn't expected it on grass. I'm happy I proved I can serve, it is really important, because, you know, you always serve (smile) and I'm happy it is helping me to win many and many matches. And thanks for noticing (wink).
First matches back on clay were so tough, I didn't understand why the rallies were so long and why the points weren't finishing fast. On grass it is different and I was so upset when I had to leave from Wimbledon, cause I was feeling the grass really well. On clay, I didn't know why I was serving big and the ball was coming back.
Sky is the limit, they say, you are playing very well. So, what would be, now, the results you expect from you?
I improved so much lately, I hope to keep playing like this cause I know I can go up a lot in the rankings, playing like this. But now, to be honest, I need to rest a bit. It was up level here and I just need to be happy about what I did. I didn't have free time at all. I finished Marseille, I had to go to Nottingham then, where I reached the final. Then I played Birmingham, the qualifications in Eastbourne, then Wimbledon and now here. Definitely no time. I just need to rest a bit, to realize what I did and to be happy about it. Then, probably, Washington, and I don't know, I expect to play like I played these weeks, this month: be relaxed, play my game, and be smart. Come to the net, try things, you know. In the past, I was playing good but I was stressed maybe, maybe I didn't enjoy it, you know, I was stressed and I didn't show my talent and what I can do. Now with all these good matches I trust myself more, I feel much better the ball. I have to show what I can do and if I play like these days…I wish. But you know, now the hardcourts season is coming and actually I like it a lot. So…come on!
Leggi anche: