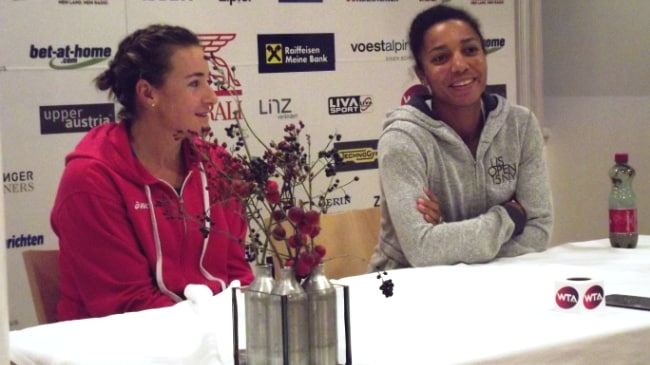 by Giulio Gasparin, in cooperation with Michele Galoppini
The American duo is only the second team of doubles-only players who qualified for the WTA Finals of Singapore, but they two proved to be a lot more than the addition of their potential as individual players through many years of partnership. By winning their third title this season in Linz, they secured a spot for the second consecutive year in Singapore and they could not be happier, as with the introduction of the Round Robin for doubles too, they see it as a chance to compete with girls they did not play against during the season.
The passion for the game and the strong friendship that unites them comes out very clearly from the chat I had with them together with my colleague Michele Galoppini in the Austrian town last weekend. Their story is an unsung one, but it is well worth the attention because it was through doubles that they managed to keep their dreams alive, reaching the top of the sport as a team after personal and professional struggle. This is particularly true for the older of the pair, Abigail Spears, who found in Raquel a companion to share the oppressingly lonely life on tour after her mother passed away.
Their friendship grew stronger and their career as a double team took off, they have won several premier events, including this year success in Doha. Now their goal is to go far in the Finals, dreaming of reaching the last match there, maybe they will bring some Austrian cake with them, as they fed themselves with desserts all week in Linz and won the title.
Congratulations for qualifying for the 2nd time to the WTA Finals of Singapore.
KJ: thank you, it was a tough week in Linz, we knew we were ahead in the race and it kinda was the only reason why we came to Austria was to maintain our lead. So it was kinda stressful and nerve wrecking, especially over the first three matches, so I think that after the semis we were kinda able to relax a little bit and in the final we played well. I think we are really happy, also because we may face them (Hlavackova-Hradecka) again in Singapore, so it was a good practice and we can be confident heading into the Finals.
Did you just call the final match of a tournament practice?
S: laughed
KJ: Well…
S: Practice as in match up against them. Definitely not practice, we were…
KJ: We were competing like crazy out there. (laughed)
This year you've had great results on fast surfaces, so the indoor conditions of Linz could serve as a nice warm up for the Singapore court that should fit your game, doesn't it?
S: yeah, that's the reason why we chose to play here, we knew we had to make the semis this week and we also knew Moscow was there for next week if we needed. So choosing to play in Linz was ideal as we were closer to Moscow and then it's the same conditions as Singapore. If we had stayed in Asia, because originally we were gonna go to Hong Kong and then we changed our mind…we are glad we came here. And it's my first time in here and I love it!
So have you never been to Austria before?
S: It's my first time, yeah. I mean, I have flown through Vienna, but I had never stayed here before.
KJ: I had played this tournament 5 years ago, but I think I lost early and probably left quickly, so I did not have as much time to get acquainted with the city, so this time was a great experience.
S: We did a little tour this time. I mean, we never do as much as people would like us, I mean, how much we would like to do! But we have done more than we would have if we lost early.
So did you have any chance to taste the Linzer Torte? It is like the typical cake from Linz…
KJ: Strudel? No?
S: I don't know…we have actually had a lot of desserts, we have been feeding our souls this week.
Both laughed
KJ: there's a place called the Jindrack? Or something…near the cathedral, it's like a bakery.
S: yeah, we have been there very frequently!
KJ: Yes (laughed) We had strudel…then she had a different thing every day.
S: Indeed, I tried to change…
KJ: I had some sort of cookie…
S: She stuck with one thing, I tried a bunch of different desserts, so I don't know if we have had that cake, but we have had a lot!
Well, you have won the title, so maybe you should bring some for the next tournaments!
S: Yes, we should do it.
(both laughed)
You have played singles before, when did you decide to focus on doubles and what made you decide to do it?
KJ: Oh gosh, that was a while ago. For me, personally, it was in 2008 I think…well I made that decision because I had done well in a couple grand slams in doubles, I think with Abbie. So my ranking in doubles went up to top 50 and my singles was around 200, so I was choosing to play higher tournaments in doubles, than lower ones in singles. I was frustrated because I couldn't find a coach and I was doing everything by my own and travelling on my own, so then I decided to focus on doubles.
S: For me it was more of an emotional thing. I mean, I had my mum travelling with me when I was  playing. Then my mum passed away the year I played with Raquel and in 2009 we played one or two tournaments…but I basically stopped to play singles and doubles, but at the end of the year I was travelling by myself and I was somewhere in Texas and I was thinking that I could not do this alone anymore. That's when she called me saying: 'Do you wanna come to Australia with me?' and I love Australia, but I knew that in singles I would have not been able to play, so I was thinking 'I really want to…' but I said I would take a week to decide and she told me: 'Look! We can play full time together, we can play together as many times as you want, travel together and all, so we won't be alone there!' And yeah, we have known each other since we were 16, maybe not as well as we do now, even if we went to two different colleges, as I went to UCLA and she went to Berkeley, but she almost went to UCLA and I am an year older…but yeah, we've known each other for a long time and I knew I was going to say yes, but I was like: 'Should I wait? Or?' But at that time we both gave up singles together, also because the prize money was not as good as now…
(Both laughed)
KJ: yeah, if we knew how it changed maybe…
S: Yeah, but I don't think we have any regrets and we've done so well together, so it's been good.
As for Singapore, last year you were not very luck with the draw, to say the least, but on a second qualification what do you expect, or better, what are you goals coming to the WTA Finals?
KJ: This year it is a round robin, so we are guaranteed at least three matches, which is great as it's more of an accurate assessment. Our goal is to reach the final or the semifinal. This year we could not play a full season, because Abbie has been injured a couple of times, so now we can showcase what we've got.
S: Yes, we are also fresher as a team, just because we haven't played as many matches this year, so yeah, I think we are pretty eager to play the top players and see what happens in the new format.
KJ: I also think we are playing advantage too, still third set super tiebreak, but with advantage system in the first two sets, so it will be exciting.
You have just called the other teams "top players", but as you qualified for the second year in a row, it's clear that you are the top players too.
S: yes (laguhed) but for example we haven't played Garcia and Srebotnik, right?
KJ: No, I don't think we have this year.
S: Yeah, so it's fun cause it is Round Robin, like last year we thought it would be as the men have Round Robin system too…but no, and then we drew who we drew and it was Black/Mirza and we were like: 'damn!' because we haven't played Hsieh/Peng and we had no opportunity to play against them. While this year it will be more fun as we will be able to see the different match ups. So it will be exciting.
Leggi anche: