Until last summer, I always pleasantly followed on TennisForum the evolution of a comic-strip series called "Tales from the Locker Room". Bobito, the pen name of Bob, the cartoonist, always showed, since first episode, undeniable skills and a brillian comic verve to describe the not-so-fictional tragicomic colourful adventures of the WTA players he draws. But since last summer, my passion for these toons grew up, thanks to my trip to Wimbledon. During the never-ending queue for the conquest of a couple of tickets, camped with our tent under the hot English sun (actually it was raining, how surprising…), SpazioTennis' co-worker Giulio Gasparin and I had the chance, together with other friends, to share two pleasant days with Bob, after we randomly met him in the queue. We talked about tennis, comics and tennis related funny things, and from those days the idea of the following interview born, with the aim to discover something more about Bob and his Tales from the Locker Room.
Don't forget! You can find all Bobito's works on his brand new website www.bobito-tennis.com and you can follow him on twitter.com/bobito64 where he shares all his works and updates.
Describe yourself a bit, who you are, where you come from… some info just to let the audience know you better.
Are you looking for something you can use in an introduction, a bit like the bit at the start of a novel that says the author lives in Surry with his wife, two daughters and dog called Archie?
If so here's some stuff. I was born in Yemen and grew up in Germany and then Bristol. I currently live in Reading which is about halfway between London and Oxford. Apart from tennis, my main interests are history (the older the better), music (mostly blues and jazz), comedy and cats. I'm unmarried and have neither children nor a dog called Archie LOL
When has your drawing passion born? And what inspired you to become a cartoonist?
I've been drawing for longer than I can remember. When you give crayons to most 2½ year-olds they usually try to eat them. I drew a tiger. I don't know why a tiger, perhaps I had a toy one. But both the artist and the cat lover in me started at a very young age it seems.
Cartoons came much later. I started drawing cartoons of friends to amuse them. I have friends who still have a cartoon I did of their wedding day hanging on their wall. In the late 1990s I also wrote and drew a couple of indie comic books.
Since when do you follow tennis? And when did you have the idea to merge the two passions of drawing and tennis?
Tennis in Britain is big for 4 weeks of the year (Queens, Eastbourne and Wimbledon). For years I was like a lot of Brits, watched it and made a very bad attempt at playing it for 4 weeks and then put the racquet away for another year and watched something else. Then satellite TV meant I could watch it all year and Roger Federer and Justine Henin meant I wanted to watch it all year. Now it's only 4 weeks in December that I'm not watching tennis.
How has "Tales from the Locker Room" project born?
A couple of years ago I had this crazy idea for a joke about Sharapova using a hypnotist so that she wouldn't be intimidated when playing Serena Williams. I was going to post it on TennisForum when I realized it would work better as a cartoon. That idea ended up being episode 2 of Tales from the Locker Room, episode 1 was a prelude to it (you can find here the whole episode).
It's one of my favourites too, especially the splash panel at the end showing Alize doing Serena's "come on!" It's also the kind of joke that could only work as a cartoon.
At the time I thought, if people like it I'll maybe do 3 or 4 more. If not I'll delete it to spare myself the embarrassment. The response was amazing and I'm now up to episode 40.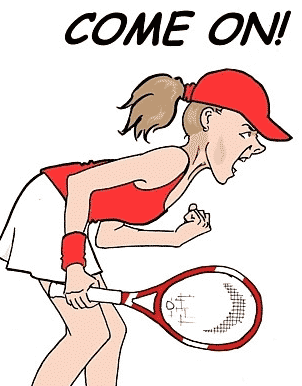 Are your drawing projects limited to tennis or do you work also on other subjects?
I paint on glass and ceramics and I've sold a few of those. I love 6th-9th century Anglo Saxon art and I'm currently working on some themes of that style to do as glass painting. But my sketchbook has plenty of stuff in it that isn't tennis.
I'm also working on a children's book that has nothing to do with tennis. It'll be called The Troll in the Hole. It starts with an innocent game of football in the park but leads to five kids being trapped underground with a ferocious troll. You'll have to read it if you want to know whether the troll eats them.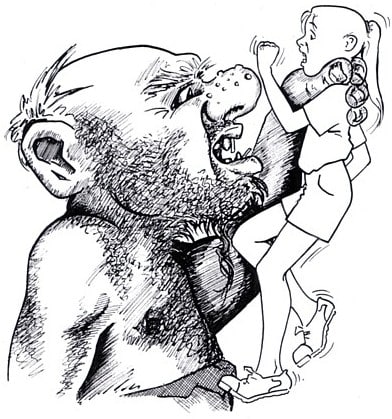 On which sketches are you working right now? Can we have a little spoiler?
I have to decide how much I want to give away about that one.
I'm working on a couple of episodes at the moment, one for Rome and one for Roland Garros. More of a teaser than a spoiler but Camilla Giorgi will make an appearance.
I'm also adding some of the men to my Tennis Legends Sketchbook, starting with the superstars of the 1970s – Nastase, Borg, Connors and McEnroe. By the time it's finished, I'm hoping this will be like a trip through tennis history, from Lenglen through to Nadal.
I'm giving you an exclusive. I don't mind admitting to feeling a bit of pressure drawing this one. There are still plenty of women who refer to Borg as "The Viking God of Love". They'd probably come after me with torches and pitchforks if I didn't make him gorgeous enough.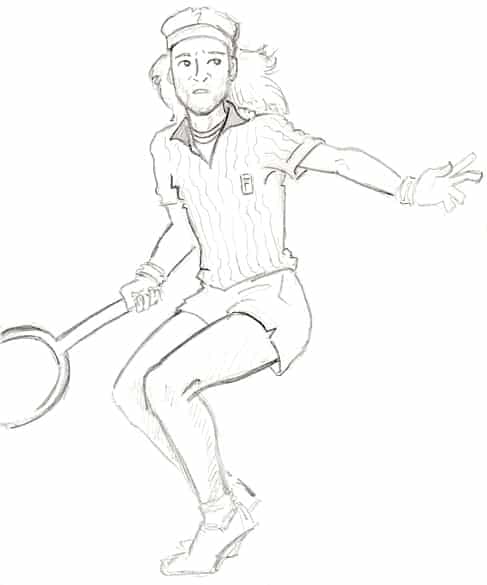 I know you've drawn Lea Pericoli. Has she made it into your Legends Sketchbook?
Absolutely. Lady GaGa seems to be copying her look 50 years on, if that doesn't make you a legend I don't know what does.
In Legends Sketchbook I'll be including not just the great players but also some of those who made the game interesting even though they may not have cabinet full of trophies.
Who are your favourite characters and why? And which are your favourite "Tales"?
Victoria Azarenka. When I started doing Tales from the Locker Room she was being vilified by the media. US pundits were particularly over the top. So I decided to have fun at their expense and make Vika a tennis super-villain. Her own fans loved it. The great thing about Vika is that she has so much personality that you can put that into it as well. I've actually become a fan as a result of cartooning her.
Favourite Tale? I think last year's Roland Garros carton which was all about a ball girl having a really bad day. Tennis isn't just about the players and it was fun to put a ball kid centre stage. It was also the first time I had a co-writer and Max was a blast to work with (you can find here the whole episode).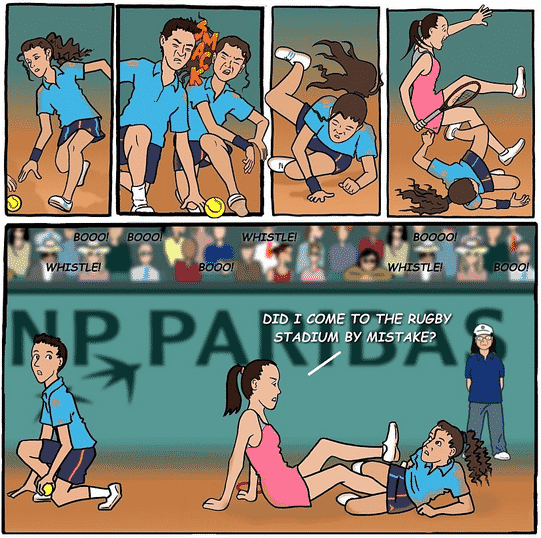 Why are you concentrating on WTA rather than ATP?
There's some great tennis being played on the ATP tour right now but I'm not drawing great tennis. The WTA tour has a far more interesting cast of characters. Serena Williams, Vika Azarenka, Maria Sharapova, Jelena Jankovic, Flavia Pennetta and others create plenty of drama. Had I been doing this when Nastase, Connors and McEnroe were around then I'd have been concentrating on the ATP for sure.
Some ATP players have featured quite prominently in TftLR though. Nadal, Murray and Tipsarevic have all had major roles. And a few of the younger players coming through are more interesting characters so I've no doubt I'll be featuring the ATP in the future.
Did you manage to get known by any tennis player you have drawn? Did any of them share your works?
I've had replies, retweets and likes from a few players, Dinara Safina, Sara Errani, Sabine Lisicki and a few others. I've also had acknowledgement from coaches and PR managers. It's always nice to know they've seen and liked what I've done.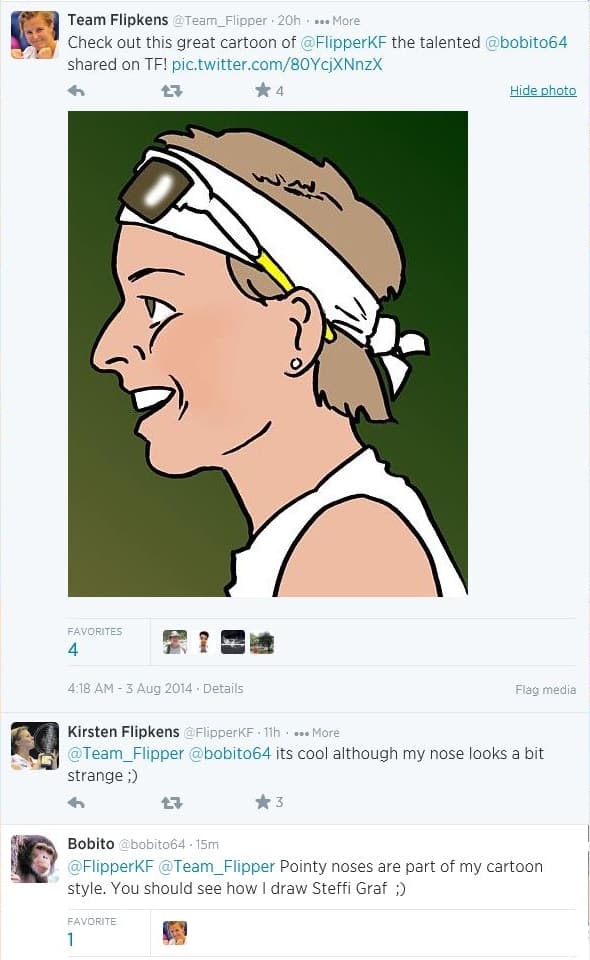 I saw you in Wimbledon while you were drawing players live, during their matches. How do you choose the perfect moment to draw and how do you fix it in your mind? Which are the moments or the movements that inspire you the most?
Drawing a player playing a shot from courtside is very difficult. So for the action pictures I did a few very rough sketches at the time and worked on them later with reference to photos.
From courtside it's a lot easier to capture those little moments of drama between points – players arguing with the umpire or their reactions after hitting a winner or missing a shot. I'm looking for moments that reveal a player's personality.
Fortunately I'm pretty quick at sketching which means I don't miss much of the action.
Have you already drawn any Italian players?
Francesca Schiavone, Flavia Pennetta, Sara Errani and Roberta Vinci have all appeared in Tales from the Locker Room and I sketched Fabio Fognini at last year's Wimbledon.
Fognini? Did you draw him arguing?
Of course. I'm going to have to feature Fabio Fognini. He's a cartoonist's dream. Normally you have to exaggerate the crazy when drawing a cartoon but the challenge with Fognini is capturing how crazy he really is.
Who would you like to draw but haven't yet?
There will be a few players making their debut this summer who I'm quite excited about featuring. But there's one former player who I really would love to feature and that's Martina Navratilova. I've done a few former players in commentary booth scenes but when (no if, when) Martina appears, it'll be a major role not a cameo. She deserves nothing less.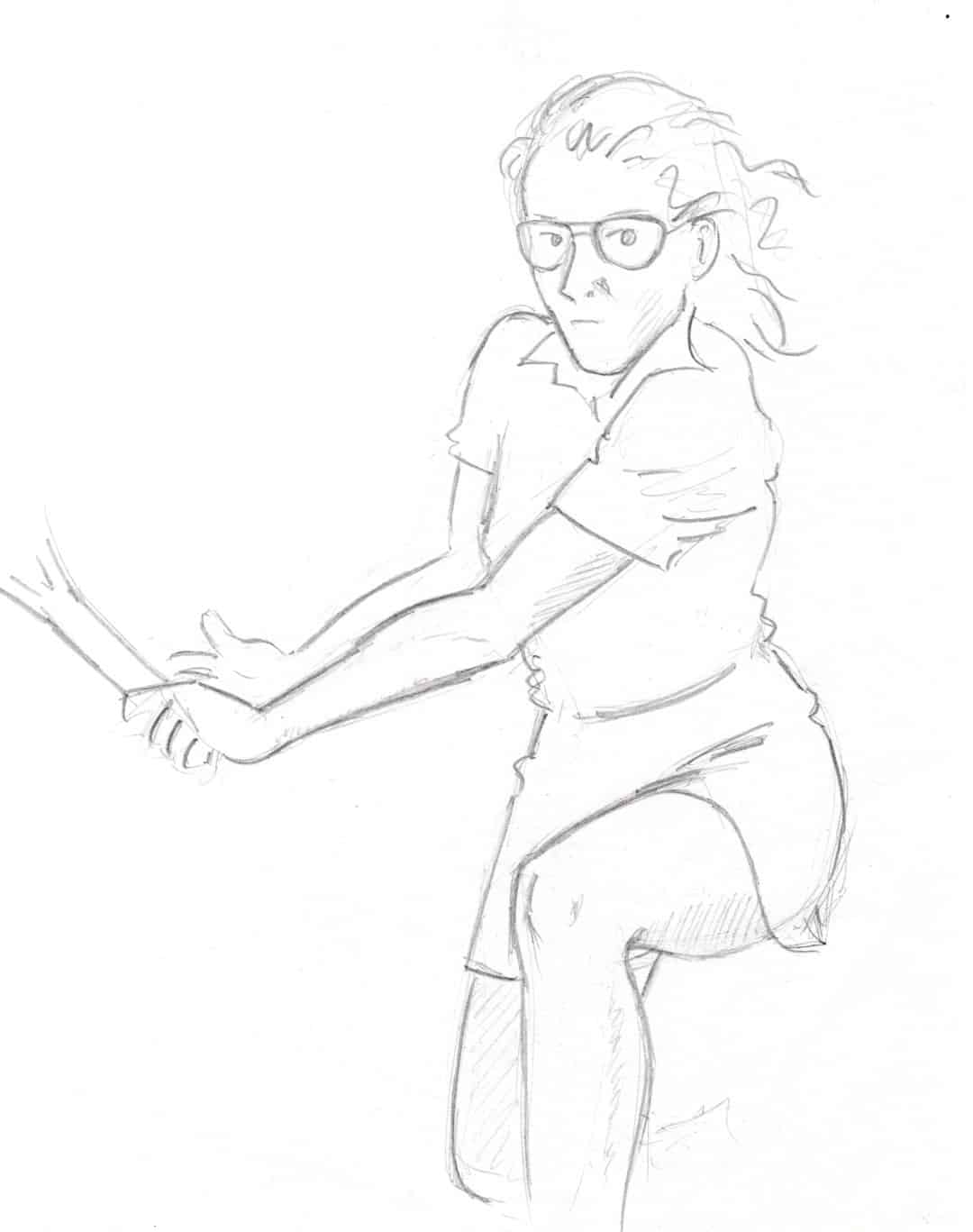 Which is the hardest part of your job? I mean, drawing faces or expressions or outfits or…?
The body is usually more difficult to draw than the face, especially when it's in motion. I try to capture each player's technique and style of play as well as it's as much part of their identity as their face. Two handed backhands are difficult. But I really enjoy drawing figures in action so I love those challenges.
I find drawing architecture both difficult and not a lot of fun. For that reason I usually keep backgrounds very simple.
And which was the hardest player to draw?
I always draw Serena too flat both in front and behind, if you know what I mean. I even made fun of this in last year's Wimbledon episode. There's a scene showing me sitting on Henman Hill, drawing Serena. Venus passes by, looks over my shoulder at my sketchbook and says "not bad but her butt needs to be bigger".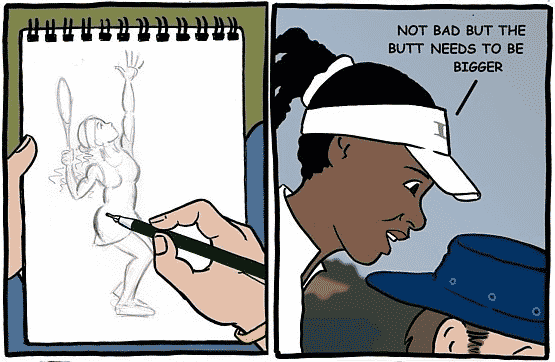 As tennis fan and not as cartoonist, who are your favourite tennis players (active ones but also the ones from the past)? Did you already dedicated a toon to them? Or is it in your future projects?
Obviously the British players Murray, Robson and Watson. Also Federer, Kvitova, Pennetta, Halep & Dimitrov. I've featured most of these and plan to feature the others soon.
My all time favourite would be Ilie Nastase. I'd love to have seen more of both his fantastic tennis and his outrageous antics. I was also a big fan of both Gabriella Sabatini and Justine Henin. Justine's the only one of those three to have appeared in TftLR.
What are your future projects?
Apart from TfrLR, my main objective this year is to finish the children's book I mentioned earlier. I also plan to take my sketchbook to Wimbledon again this year so if any of your readers are there and they see a guy in a blue, wide brimmed hat sketching the players, come and say hello.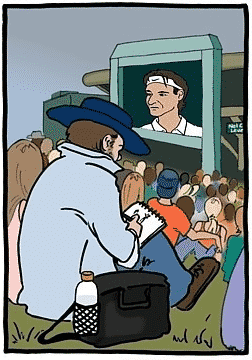 Leggi anche: