photos by Mathias Schulz
After a long list of injuries that ruined her career, Mihaela Buzarnescu ended her 2016 season at position 351 of the rankings. But in this 2017, 5 ITF titles, her first slam main draw at UsOpen, her first WTA main draw here in Linz (where she is already in quartefinal) and her brilliant and aggressive tennis will bring her, next Monday, in the top100 of the rankings for the first time, making her the oldest player in last 10 years to break in top100 for the first time (she is 29). The Romanian, following the example of her compatriots, doesn't want to stop dreaming and she told us her story in this interview she had with us after the win against Ajla Tomjlanovic (4-6 7-6 6-1).
Many congratulations Mihaela. Also considering that here in Linz you are playing in a WTA main draw for the first time and you already are in quarterfinals, also saving two match points today. How does it feel?
I am really happy! I didn't even realize Tomljanovic had two match points. It was an amazing match for me. In those key moments of the match points I was even laughing a lot, cause the umpire called me out a forehand down the line, which was in, and I was talking with my coach who was saying it was in… in my head I was like 'how can it be worse than this?!'. I wasn't thinking anymore about the score, about the match, I was just playing.
In the live ranking you are now 95th, but most important you are now sure to be for the first time in your career in WTA top100. It must be great for you after all you've been through.
For me it's a dream. I didn't believe it could have happened so early after all the injuries I've been through in last few years. This year I started playing with a very bad rank, outside top350, I even thought to quit… but then suddenly I started playing well and… here I am.
You broke another record today: you are the oldest player… [Buzarnescu laughs out loud] to break in top100 for the first time in last 10 year. I am not say you are old of course [laughter]!
Wow… well I think it is something I have to be happy about it, right? [laughter]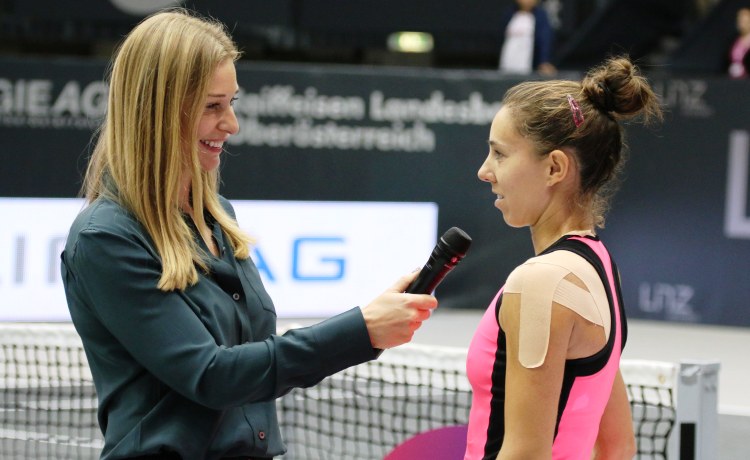 Being 29 is not anymore like before. There are still many years to play, look at Serena for example.
I used to tell to my friends, when I was winning many matches, 'Oh my god, I am 28 or 29, I'm the oldest of this tournament and I am playing against 16 or 17 year-old' and they replied in the same way you said, like 'look at Serena!'. Now I don't think anymore about that, I don't care if I am older than other players. Maybe my time is now?
You suffered many injuries like you said. How long was the journey to be the player you are now, how did you react to all that bad luck?
They were such bad times for me.  When I started getting injured when I was young, everybody stopped believing me, even Romanian federation. I had only my family and my boyfriend, who kept saying 'you can make it!'. Then I had two surgeries for the same injury at the left knee, but the pain didn't want to go away. It was so hard and twice I wanted to quit playing. So I decided to study, I got a PhD after that second surgery I was talking about. I went to some tournaments in 2015 but then last year I had to stop again for 6 months for the same knee problem. Again, I thought I should have quit, but then this year, after a bad start at the beginning of the year, I played some team matches in Netherlands and there I've found myself again. I started playing well, they helped me a lot, pushed me to do well and to believe in myself. I have to thank them actually, cause then I started playing tournaments… and winning tournaments.
Which PhD you got?
Sport science. I graduated and then had the PhD, everything in Bucharest.
It looks you are taped like everywhere. How does your body feel now?
Actually I feel very good [laughter]. I always have some small injuries that don't go away, so I have to play taped. And actually it helps me cause I feel more safe and comfortable with tapes.
Since this is your first time in a WTA main draw, describe your game and your game style.
I am lefty and I would say I am an aggressive player, not that defensive. My backhand and my forehand are kinda the same. Some days forehand is better, other days backhand is better.
You have a curious record against lefties: you won 20 matches out of 23 matches you played against lefties. What is the secret when you play against a lefty?
To be honest it is always tough to play against lefties. But I generally try to play my own game, I don't focus on the fact the opponent is lefty. I feel generally more comfortable when I play against them, probably also more comfortable than them playing me [smile].
There is another first time for you this year. You played for the first time a main draw of a slam tournament: at the UsOpen you qualified and then played against Caroline Wozniacki. Would you tell us about that experience, the sensations and the feelings of those days?
Wow, I think that was the happiest moment of my career till now. And I was so happy to play against Wozniacki, even if I was a bit under pressure in the first set of that match. I know her since we were both juniors and she was kind of the only player who have been kind with me when I started getting injured. She and Cibulkova actually. We talked many times when we met. We were at the same level when we were juniors, but then they jumped in WTA and I was injured. I am also happy to have played in a big court in UsOpen, the Grandstand. Actually I would have liked to play more hours there, it was very special for me [smile].
Is this Linz tournament the best moment of 2017 if we don't include UsOpen?
Here for me it's great. I came here without any expectation but luckily my coach pushed me to come. For me it is also great to play against top100 players. It is a chance I've basically never had, stuck in ITF tournaments.
While you were coming in the press-room, you were telling me you are a bit superstitious. Do you want to explain a bit more in what you are superstitious?
I don't know if it is a superstition, but not knowing who I am playing against the next match makes me feel so much better, till the night before at least. So I never check the draws, only schedule. It is something I'm doing in last couple of years. For example, when I played Wozniacki, everybody, friends, family were writing me, the day I qualified, that I would have played against Caroline… and I was like 'great…' [laughter]. C'mon, let me relax one day at least! Now they understood and they don't tell me that anymore [smile].
Many Romanian girls are doing well in WTA, considering also Simona Halep got at world no. 1.
I know Simona Halep pretty well, we practiced a lot together when we were younger, but then again she jumped in the rank and I got injured. So we are not that close anymore and we don't see each other often. Hopefully one day I will have the chance to talk more. Other Romanian girls are close to each other, because they play the same tournaments, they are often in the same place. Maybe I will too, soon… or maybe not.
Would you like to durably play for Romania in FedCup?
Well, I already played few times for Romania in FedCup. Last time was in 2012 but then, again, I injured and stopped playing for my country. But sure, if there is space, why not, I'd like to, but there are many players before me and it's fair they play instead of me at the moment.
Leggi anche: