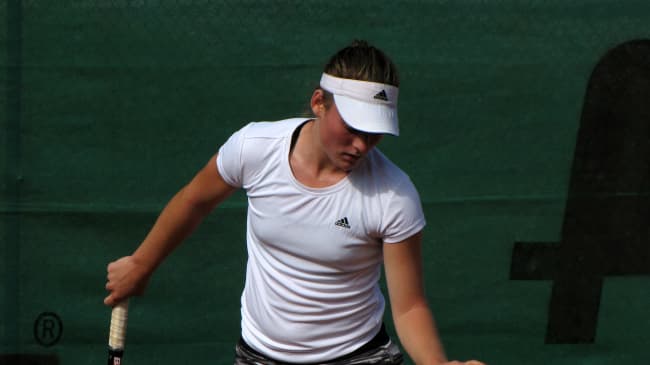 Article by Giulio Gasparin
Aged 17, Tamara Zidansek will be looking for her 17th consecutive win on Wednesday in the second round of Tarvisio $10.000. The Slovenian looked very convincing in her round 1 win, as she overcame in straight sets Italian Nicole Fossa Huergo without any trouble. Despite the young age, she walks like a veteran on court, looking as if she knows how to handle with pressure, opponents and different conditions. Her game is fairly solid from both wings, with the forehand as her best weapon, but a good mobility and a powerful first serve help her to start well the points and defend efficiently when needed.
What follow is the result of a quick chat we've had after her win yesterday.
Congratulations for your 16th straight win, how does it feel?
Oh well, it feels amazing, I am going for some kind of record I guess (laughs). No it's great, 16 wins is fantastic, but you know, we will see what the future hold.
Most of these were in Georgia, now you are back to the continent and not too far from your home…
No, indeed, it's only a few hours away from my home and we are staying in Slovenia, as it's just a few kilometres away across the border and it's great, you know, the nature is awesome!
Can you tell us something about you and your tennis? I've been looking at your game and you look very solid with all the fundamentals, so what's your favourite shot?
Oh, my favourite shot is definitely my forehand, but I guess I also like to play backhand slices and dropshots, but I love the forehand and so I would favourite that.
In Slovenia, like in the rest of Europe, you play a lot on clay, so would you say it's your favourite surface?
(Starts laughing) Hopefully not, because most of the tournaments nowadays are played on hard courts! But yeah, I haven't had that much practice on them, so right now clay is my favourite surface.
Of course you are here, but where are you off to next?
Next week we are heading to Romania and after that, I don't know, maybe I start playing some 25k.
Well, thank you so much and good luck for the rest of the week and the year, and keep your streak alive!
Thanks.
Leggi anche: