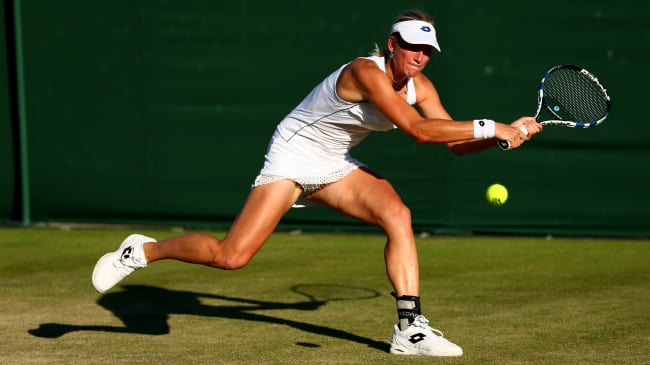 Article by Giulio Gasparin
Interview by Daniele Sforza
I don't know about you, but I am feeling 22, everything will be alright, you keep me next to you! These are the lyrics of a famous song by American singer Taylor Swift, but it feels like Denisa Allertova could have wrote them at the end of this amazing 2015 for her. The Czech player started the year at number 110 in the world, having never played a Grand Slam first round and finished this season inside the top 60, strong of a round 2 showing at every grand slam, a WTA International final in Guangzhou and a victory over world number 2, Simona Halep. On top of it, she finished her season next to her boyfriend, Jan Satral, also a tennis player.
For many players, switching from ITF to WTA tour is a struggle, but the young Czech coped with the pressure of the new circuit more than finely, closing the season with a series of great results. This will surely give her great motivation to work even harder in the off-season for the top 40 goal that has set for herself in 2016.
You have had quite a good season, breaking into the top 60 for the first time in your career. Are you happy about it?
Yes, for sure. It was an amazing season for me and breaking the top 60 is more than the goal I had for this year.
In this 2015 you have also beaten Simona Halep, who's world number 2! What do you remember about that match?
It is hard to say what I remember of that match, because as a whole it was an amazing tournament for me. I mean, I would have never expected to beat her, of course, because there's a reason why she is the number 2 in the world. But I played my best tennis there, I tried to stay focused on each point, doing everything I could. It was such an amazing feeling to take the win against her. I am still happy about it.
In the same tournament, Guangzhou, you reached the final, which is the best result of your career so far in a WTA tournament. It must have been pretty special…
Yes, it was. I mean, it was the first time for me in a WTA final, so it was very special. I now hope it won't be the last time and I can improve from this result.
Two years ago you started the year out of the top 600 in the rankings, then last year you won 7 ITF titles and this year you improved again. Did you expect something similar?
No, of course not! I did not expect such great improvement, even though I worked hard for this, I wouldn't believe I'd be one of the top players if you asked me a few years ago. But of course, now I hope it won't be my best season, because I want to keep getting better and better. Still, being a top 100 player is great, but once you get there, you want still to improve and do better.
So what's the goal for next year?
Well, I think to break the top 40, but most of all, improve my tennis and be a better player.
This year you switched from ITF to WTA tour, how did you find the change of circuit?
You know, the main difference is that you get to play with the best players of the world in every stage of every tournament: WTA and Grand Slams alike. It is harder because of that and also because the tour requires you to travel a lot and then you have to keep the form as you play with the top players week in and week out.
As you mentioned, you are always on the road, how hard is it to keep a relationship on the tour, I know you date Jan Satral who also plays tennis?
You know, relationships aren't ever easy, even if you can see everyday. But we also have to accept that our lives are dedicated to tennis and this is the life of a tennis player: you travel a lot, so there is not a lot of time to meet. But we try to keep in touch as much as possible and if we play the same tournaments it is of course better, but we have to focus on our own careers. I think it's great that we understand each other on that and we support each other every day, even if we are distant. It is also much easier thanks to the social media, smartphones and Skype! Then when there's the chance, like this past week in Andria, I was there with him the whole week as for me it is off-season and it was great to share so much time together.
Leggi anche: