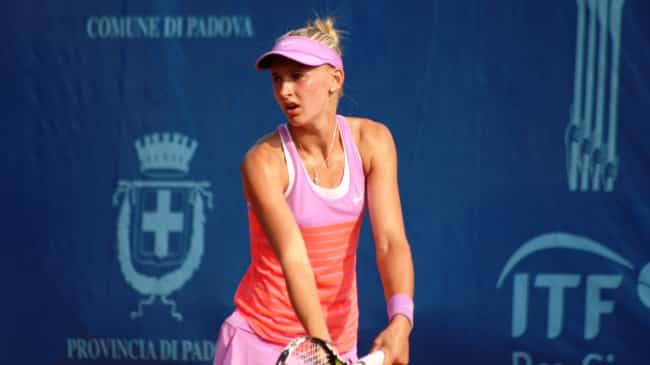 By Giulio Gasparin (@giuliogasparin)
For some players, the transition from Junior to Pro is as easy as a walk in the park, but this is not the general rule, as most girls and boys need a little time to adjust to the experience of their opponents and the different environment that ITF tournaments offer to the players. In same cases, the transition straight to the top of the game is made easier by strong federations or sponsors, who provide Wild Cards for the main tour events, so the youngsters can get a step into the elites of tennis as soon as they leave the juniors. However, once again, this is not the case for most and the climbing of the rankings starting from the lowest level of this sport, which are the ITF $10k, can suck lots of energy and delay the arrival to the very top.
Jil Belen Teichmann is going through this stage, having decided, after a very successful 2014 in the junior tour, to break away from it slowly and to focus more on her raising in the Pro tour rankings. We have met her in Padua after a very impressive win over Mathilde Johansson in the first round, to which she eventually added a few more wins to reach the semifinals. Thanks to this result, she has reached this week her best ranking at world number 459, but it is very likely that we will see her name going higher and higher on this list with the time passing.
First of all, good game today. I think you must be happy with the way you played.
Yes, definitely. I think I played well. She didn't play her best but it's always tough to play a player cause you never know what is coming, so I'm happy because I beat her.
This is the second year you are a Pro tour ITF player more than a Junior ITF player. How does the change from Junior to Pro make you feel?
Lately I'm hearing this question a lot (laughs). It is a big change, cause here the girls, the women are more mature and especially mentally it is tougher. They don't have this big "holes" as Juniors, so I think mental game changes a lot.
Today you proved yourself you can beat a player with great experience, she has been almost top50 in the past. She's also giving you confidence to going forward in the tournament.
Yeah of course. This match gives me a lot of confidence, I mean, she is a great player, she is experienced. I knew it before, so I knew I'm the "baby" but still I had nothing to lose. This is how I went on court, this is the first time I saw her play, so I didn't know what to expect.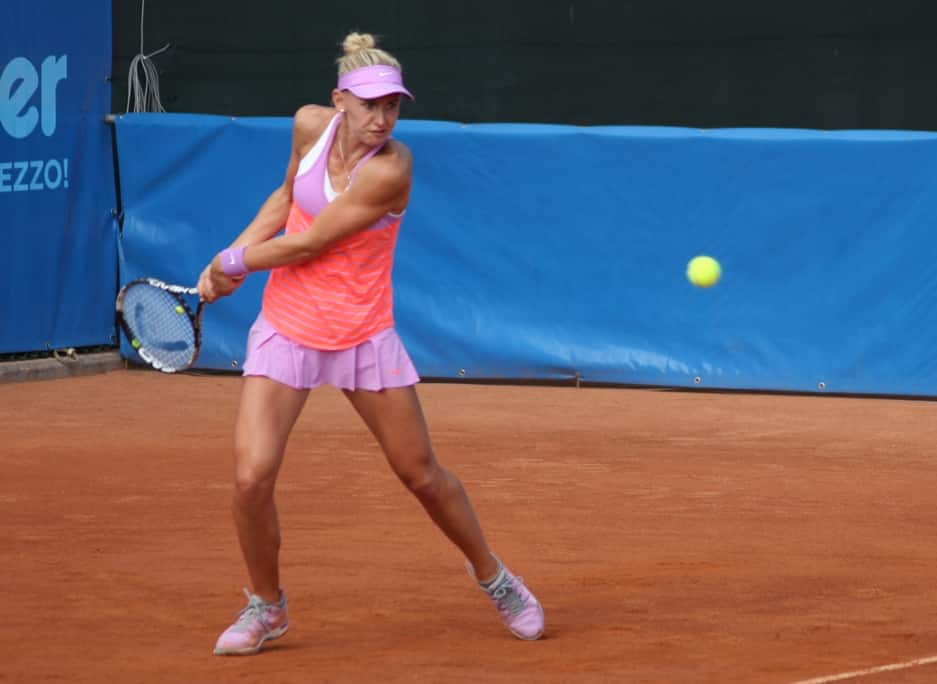 Last year you won the doubles at the Us Open Junior and then you won the mixed doubles and gold medal at Junior Olympics. How much all these achievements in doubles are important for you?
Of course it's amazing, it is a great experience, especially with different partners, but still I'm focusing more on singles, mostly because junior's doubles is nothing like Pro's, I can't even explain, they are all professionals and know how to play it, whereas in Juniors doubles adds points to the normal rankings, so that's why Juniors play doubles, and, nothing against it, but I think most of them don't really know the game. It's normal, we are inexperienced. Yeah, it's always the same game, always the same.
This year is tough, as you said experience wise. Going forward, for your game, what do you need to do more?
These last six months I didn't have great results in the pro tour. But there were tough matches, I didn't play my best in some deciding moments and this makes the difference. This is what I'm learning. In important moments, whatever it means "important moments" cause every point is important, you have to be there and take them, cause if you take these little chances, it changes everything. I saw it today, at the beginning. It wasn't a 6-0 just like that, it was a tough 6-0, I won all the game after the deuce. I was taking all the games and this is what matters. Everyone will see 6-0 6-2, but it's not a 6-0 6-2 that everyone thinks. [Handle these situations] is one of the big things I have to learn, to feel and to make experience from, to take the chances. This is gonna be a big step.
Switzerland is now a leading country in terms of tennis. I mean, last week Wawrinka won Roland Garros, Bacsinszky is doing great… but in Switzerland there's no many tournaments, you can't take as many wild cards as others can do. Do you think this is making your breakthrough harder for you?
Yes, but…we have great players, especially on the women's tour. Of course we have Wawrinka and Federer, but they are a bit "old", let's put it like that, and there will be a big hole behind them once they will stop. But in women's side we have a lot of young players, Timea is doing very well, Belinda [Bencic] is doing well, we have got few others, like Steffi [Voegele] is in top100, there are few around top200. I think this is good for women's tennis, cause in last years tennis was only Federer, no women, even though we had good players. Now  I hope we will get more attention and maybe we will get tournaments, cause if you look at the calendars men have 3 ATP and then a few Challengers and Futures, while women have like three tournaments: this year one 50k, two 25k and maybe a 10k or something. Back to the question, of course it makes it hard, but on the other hand it makes the motivation even bigger, because when you get there, you feel even better, but of course I hope to have a wild card in a bigger tournament also if I can't do anything. I really would like to have the chance and to get the experience to play with better players, but that's life, I can't change it anyway (laughs).
This is a good way to take it.
Yeah, I mean, I can't change it. So I'm just gonna go through it. The same is for 25k, cause this tournament gave me a wild card for example cause I won in a masters for Juniors, so I'm trying to get these chances, because in the other cases I always have to play qualies and this waste a lot of energies. It's just the beginning and everyone as to go through this.
You say in ITF profile your favourite surface is hardcourts…
Really? (laughs)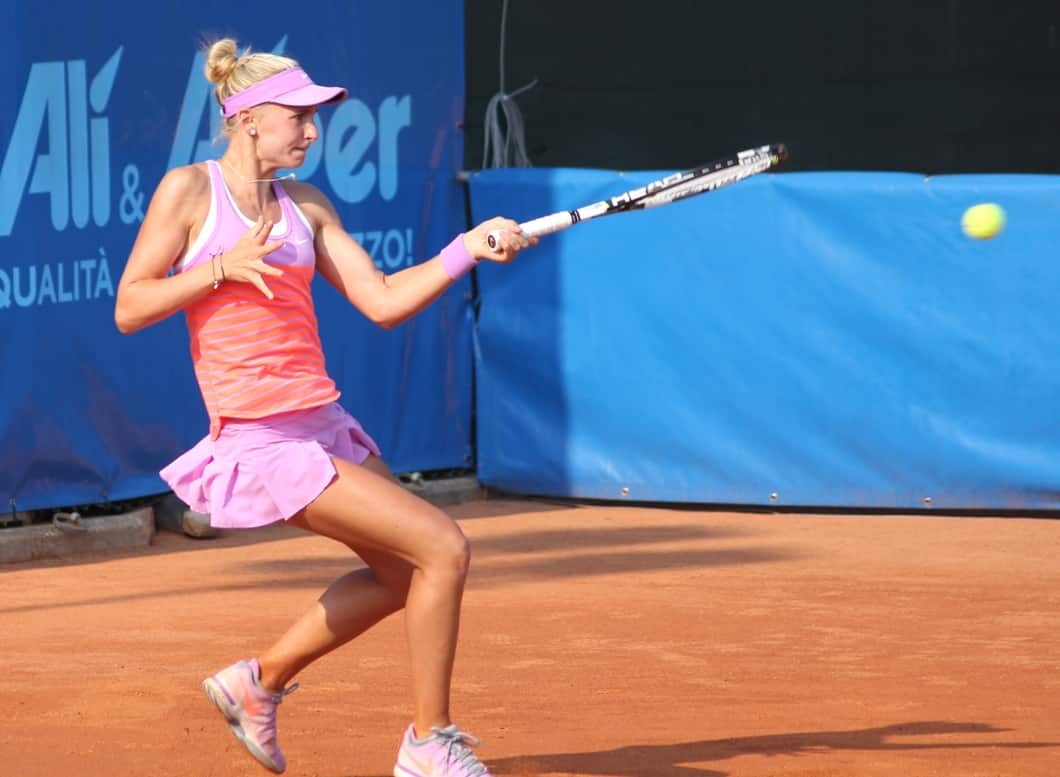 Well, did you change your mind?
Actually I don't have a favourite one. I mean, I have good results on hardcourts, on clay, where I grew up in Spain. I grew up on clay, it's my home, but the same for grass, I love also grass. I think as a tennis player has to get used to all the surfaces. Also if we are playing a lot of tournaments on hardcourts right now, I like everything, there is not a particular one. It's like these questions like "who's your idol?" I don't have one, I simply take a little from each of them.
You are anticipating me, because I was about to ask about Spain, as I know you were born in Barcelona and then you trained in Spain as well, so how is your relationship with Spain?
Well, it is my whole life until 14 year-old. I grew up there, all my childhood was there. All my friends from school and tennis were there. Same with Alyona Bolsova e Paula Badosa, I grew up with them and now I see them in tournaments and it is nice to see them again on tour. I didn't lose everything, cause I still see them  sometimes and I'm happy. Of course it has been a big change. Now in Switzerland it is different: the weather is different, the mentality is different…I knew how they are because my parents are Swiss, so it's ok, it's actually good because where I can practice is amazing, I've got everything I need so I'm happy for that. It's in Federation, in Biel with the Swiss Tennis. I really have everything, every part is covered, I'm really happy that they help me that much. And back to Spain, sometimes I try to go there again, but all my friends now finished school, they also have to travel. Like I have one friend now in Berlin studying medicine, another one is going I don't know where. Everyone is moving nowadays and I'm travelling a lot, so if I stayed in Spain it would have been similar.
As you like travelling, how do you like Italy?
Italy? I like it a lot, I love the food and I love eating, the food is amazing here, you know "Italy? I am gonna eat well" (laughs). I played in Sardinia two weeks and two weeks ago I played in Grado. I'm loving Italy lately, I don't know why. Ask my coach! (laughs)
Maybe he likes the food as well!
Yes, Prosciutto di Parma… but yes, people are very nice, they remind me a bit of Spain, how they live life is similar. So I always like to come back here.
One very last question. You must be speaking a very good Spanish, very good German, your English is good. How many others?
French… and then I knew Catalan but I'm losing it cause of my French (laughs). I understand Italian but it is one thing I want to learn in my life, but not yet (laughs). I also know Swiss-German, even though it is not a language, kinda half as it is a bit different. I love languages, there are people saying 'wow, you speak everything!', but sometimes it is not even good, because I don't know what to say as there is a big mess in my head.
I could tell today as you say 'c'mon' 'auf geht' 'vamos'…
Yes, I say everything cause also in doubles sometimes I play with an Australian girl and I say 'c'mon', then I'm alone and I say 'vamos', then I'm with another Swiss and I say 'allez'. And then I'm like 'ok, what should I say now?' (laughs) It is just whatever comes out of my feelings I guess.
© riproduzione riservata