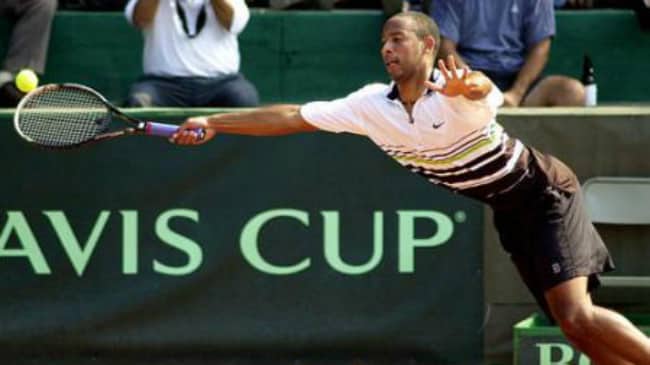 by Alessandro Mastroluca
I't not easy to play like Boris Becker when you grow up in Haiti, where tennis is not so popular. So, Joel Allen decided to attend college in Miami and study Finance and Marketing. With a solid record in singles and doubles between 2003 and 2004, icon for more than a decade of the Haitian Davis Cup team, he left tennis in 2012 to work in the corporate world, in the construction business, alongside his father. In 2010, he travelled for a year with Sergio and Camila Giorgi. "She is a very hardworking girl with the attitude of a champion" he said us in this exclusive interview. Allen can offer the uncommon point of view of a man knowing and watching tennis through the dark side of the moon. A man who knows the efforts, too often hidden and unconsidered, that you need to pursue a dream. A man capable to identify and never betray his priorities in life, for better or for worse.
What's your first tennis memory?
I remember turning the tv on to watch Boris Becker play against Stefan Edberg at Wimbledon. It was unbelievable to see how those guys could serve and volley and dive on the tennis court. I instantly became a fan of Becker.
How did you start playing tennis? Did your parents play? Could you tell us a bit more about them?
Both parents were born and raised in Haiti. My father is an architect and my mother a banker: she is retired now.. My father and my uncle were fans of sports in general, and decided to build a tennis court in my uncle's backyard. I started for the first time at the age of 5, hitting against the wall.
Was tennis popular in Haiti? Where there public courts or just private clubs? How was it like to try to become a tennis player there at the time?
Tennis is not a popular sport in Haiti, football is. However, I remember being inspired by a solid group of young kids when i was growing up. Everyone played at about four different private clubs, since there were no public courts. It is very difficult to become a competitive tennis player in Haiti. It gets to a point were a kid needs competition at the local level, but can only play with a very small amount of people. It requires a lot of dedication and most of all, a passion for the sport. That's what kept me going.
In 2004 you went to UCF. Why, after the Lycee in Port au Prince, have you decided to move to the USA?
The educational sytem is not well structured in Haiti, once you get to University. Since the United states are near Haiti, and offer opportunities when you are an athlete, i decided to move to Orlando, where i received a tennis scholarship.
What did you study there?
I studied Finance and Marketing.
I found on their website that you chose that college because of the location. Is that true? What, in its location, did persuade you?
Coming from the islands, I don't really like the cold, so Florida was the best place for me to go to.
In your opinion, why so few players actually decide to finish college? 
It all depends on each players situation. Some athletes hate school. Some start and think that they have a chance to play profesional tennis and quit after a year or two. It really depends on what they want to do in the future.
Is the NCAA good enough to make young players ready to enter the circuit?
The NCAA really helps you mature and make you realize what your priorities are in life. Adding to it, the level of tennis is very competitive. One spends a year playing tough matches against very good players. If you're focused on tennis, it will definitely help you enter the profesional circuit.
In 2004, you posted a 19-19 mark in singles play and a 17-11 record in doubles in the NCAA season. Did you play better in doubles?
I'm not sure that this information is correct. However, i started playing the best tennis of my life at the end of the 2003 – 2004 season in singles. In doubles, I always felt like I had the ability to undestand the game more than a lot of players. I could serve and volley well.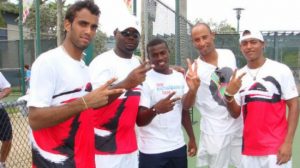 What kind of player you were?
I've always had an attacking style. Growing up I idolized Boris Becked, so I wanted to play like him, and come to the net and volley. Unfortunately, I was never able to dive.
You played 39 Davis Cup matches, considering singles and doubles, up to the Group II relegation playoff in Guatemala in 2013. What's your best Davis Cup memory?
My best Davis cup memory was when Haiti qualified to go to Group II in El Salvador in 2002. I was part of the least doubles match that ended 14 – 12 in the final set. It was an unbelievable feeling [partnering Bertrand Madsen, they beat Jose Baires and Augusto Sanabria].
You were at the 2013 Roland Garros as Camila Giorgi's hitting partner: what do you remember of that time? How would you describe her?
Before the French opne 2013, I spent almost a year travelling with Camila and Sergio in 2010. We met on the practice court in miami and it clicked right away She is a very hardworking girl with the attitude of a champion. She i salso very shy off the court, but when you get to know her she's fun and cracks jokes.
What other players have chosen you as their sparring partner? Who do you remember the most and why?
I've only traveled with Camila, and a player from Haiti who was ranked in the 500. I know the player from Haiti better, but i remeber the experience with Camila. We went through a lot together in regards to her financial situations. In the beginning of 2012, we were getting ready for a great season, when her sponsor pulled out. So from one day to another, she couldn't travel anymore that year. I witnessed those difficult moments, but I'm proud of her for being a top 40 player today.
Why did you leave tennis?
I moved back to haiti in 2012 because of a better opportunity in the corporate world with my father. We are in the construction business. But I haven't left tennis, I still coach in a part time basis and attend seminars at least once a year.
Just a final question: more and more players are complaining for the low prize-money granted by the ITF events. Some of them recur to crowd-financing websites to continue their career, while others simply decide to leave. In your opinion, what tennis governing bodies could do to let mopre players make ends meet?
The answer is very sample. Increase the prize money at the loweer level. It doesn't make any sense for a tennis player to make $1200 as winner of a future, after a week of expenses.
Leggi anche: