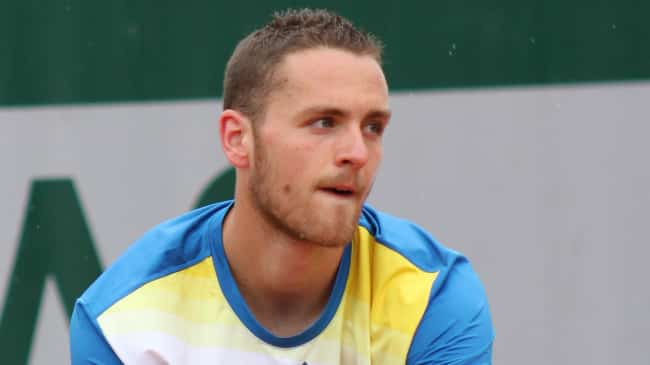 written by Fabio Valente
Many aspects of sports, and of tennis in particular, have always interested me, attracting my attention more than that of many other casual fans. Among those aspects, the most unique concerns undoubtedly the so-called comebacks. I'm sure you understand what I mean: how many times did you happen to see your favourite player being forced to leave the court and competitions for a certain period of time due to a more or less serious accident? I struggle not to imagine the obvious despair, sadness mixed with hope and broken expectations, but not everything is lost. Just like always a descent follows the climb, even from the darkest tunnel you can come out with a smile, stronger than before. As Latin taught through the motto "per aspera ad astra", so it is through the difficulties that we can reach the highest peaks; to given an echo to this rule, today we present you the story of Albano Olivetti, the crystal giant.
Born in Haguenau, France, twenty-four years ago, the tall Franch player did not take long before seeing his name reach the attention of many curious tennis followers. Mother Nature gave him an imposing, statuesque body and Albano takes advantage of it when on court: his service is a devastating weapon, capable of annihilating almost every opponent he faces. Being 2 meters and 3 centimetres tall, the French giant proves capable of serving phenomenal hits, which are able to reach and sometimes exceed 250 km/h. With a physique like that, however, a sport like tennis is not necessarily easy: all the high-ranked giants (Karlovic, Anderson, Isner) show how much work is needed to enhance other attributes, first of all the movements on court. For that, Albano devoted a lot of time in his early years taking care of this aspect of his game, while milling victory after victory in the Futures circuit and quickly climbing the ATP rankings.
While travelling around the world, many are the anecdotes about the French giant which are funny to remember: for example the words of a friend and compatriot of Albano, Roman Jouan, after a qualifying match in Segovia, 2012. After facing Olivetti, Jouan explained how unpredictable and powerful his opponent's service was: "A second serve from him, bounced so inside the service area I was overtaken by the rebound…I was literally amazed" he explained sheepishly. Not luckier was Joe Salisbury, a British tennis player who, after playing Albano, politely said: "It's crazy, I never faced a player with a serve as powerful as this one. For the whole match, I was forced to try guessing where he was going to serve. I swear, it was the only way to try to hit the balls…"
Albano Olivetti rose to prominence in 2012, when he became the protagonist of a perfect week in Marseille, during an ATP250 event. He was able to enter for the first time in his career in an ATP main draw thanks to wins over Vaisse, Ouanna and Jouan. He reached first round and was able to get rid of German Bachinger thanks to a fine serve and volley style, giving himself the chance to play a second round of excellence against a top ten, American Mardy Fish. Against all odds, Olivetti played an almost perfect match, surprising and defeating the American for the delight of the French fans, reaching what to date remains his only quarter-final on the ATP tour. His following match, lost sharply against compatriot Michael Llodra, without diminishing his great week. The challenge had been accomplished.
The year of the hoped consecration, 2013, brought no smiles for the giant of Haguenau: an elbow injury excluded him from all the events for several months, tormenting him more than it should. The rehabilitation time revealed long and Albano Olivetti's patience was the best medicine. Finally back on court, Albano's hopes for a great 2014 were rapidly broken apart: the Fate materialized in the form of a scary car accident. Olivetti was forced to undergo major surgery just a short time after seeing his name rise to number 161 of the ATP rankings, which remains as the best ranking reached by the young Frenchman. Joy and sorrow mingled in the soul of the giant crystal, forced to bed dreaming of a glorious comeback.
It's 2016: new year, new life, maybe, but Albano Olivetti has not changed at all: the soft-hearted giant has only one thought on his mind, to go out on court and to win again. He is 24, neither too young nor too old to chase a dream. Who cares if you have to start from the unknown ITF Future tournaments held in Schwieberdingen, Bressuire, Veigy-Foncenex? Who cares if the opponents' names (Prudnikau, Žgombić, Gabb, Tabatruong among the others) can not be identified except by a few experts? Who cares if the courts are empty, far from the ones of the rich European tournaments? First game, first win. And then another one, and another one, seven in his first nine appearances on court, plus almost 150 aces, more than 20 per match. Confidence increases and while you are reading this article, Albano will be on a France court fighting for a small Future's semifinal, but it is a big, big thing.
The crystal giant is finally back, smiling more than ever.
Leggi anche: