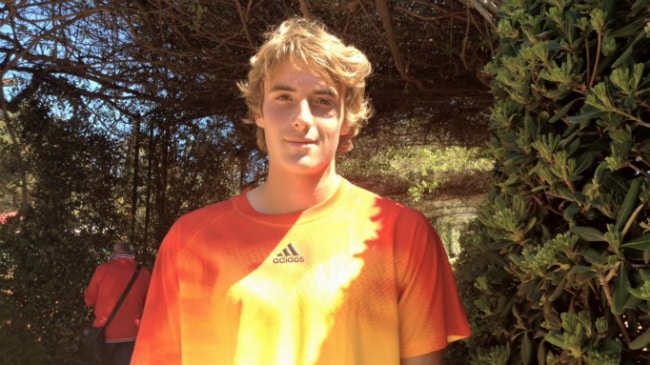 di Luca Fiorino (@LucaFiorino24)
Availability, right in the head but especially one handed backhand. Stefanos Tsitsipas is one of the best talents who are growing up in Atp Tour. The greek is ready to make the big jump and get close to the top. His goal is improving day by day because he knows that haste trips up its own heels. We interview him during the tournament of Santa Margherita di Pula.
We are here with Stefanos Tsitsipas. You won your second title of your career last week, here in Santa Margherita. Are you satisfied about the way you are going up?
"Everyone has his own path and I'm satisfied with mine. I keep getting better every tournament, trying to do my best. My develop is slow but I'm happy about it, cause I don't get injured, I don't have any problem, so I'm satisfied".
Can you describe your game style? And in which fields do you have to improve? Tactically, technically, physically…
"I'm working mostly on physical part, it is where I have some lacks. My academy is helping me a lot with that,with many physical exercises, the best trainings… and I'm really happy to work with them".
Also your parents played tennis, is it right?
"Yeah, my mother used to play tennis…".
…And your father is your coach.
"Yes, my dad is my coach".
Which are the good and the bad aspects of working with your dad as a coach?
"I don't think there is any bad thing about it. I see it only in a positive way and I really like to be followed by my father, to have him as a coach and also as a father when I need it. To me it is the best combination. Actually I don't know how it feels to have a 'real' coach".
How much difficult is to raise, tennis wise, in a country like Greece?
"I have to say it wasn't so difficult, also because my father was a gym teacher and he had some knowledge about tennis and knew many things about this world, so it wasn't bad for me".
We don't see often a one handed backhand, like yours. Aren't you feeling a bit like a Panda, close to extinction?
"I know, you can't see it often, many players prefer to use double handed one, but I grew up with my one handed backhand, I always felt comfortable with that and it was a natural choice for me. And actually it is one of my best weapons".
Who is your tennis idol?
"Roger Federer!".
There are many young players of your age or similar, also older: can you say three names of them for the tennis future? 
"I'd say Andrey Rublev, one year older than me. Then I'd say a player I really like a lot, he is Canadian and he is achieving many good results lately, Denis Shapovalov. And I'd say Alexander Zverev, he is doing really well right now. But also Stephan Kozlov, Michael Mmoh. There are many really good players".
You are saying yours is a really good generation of youngsters.
"Yes, definitely".
Last question: what are your goals for this season?
"I don't actually have many goals, right now I'm just focusing on the present, getting many wins and stay healthy".

Leggi anche: