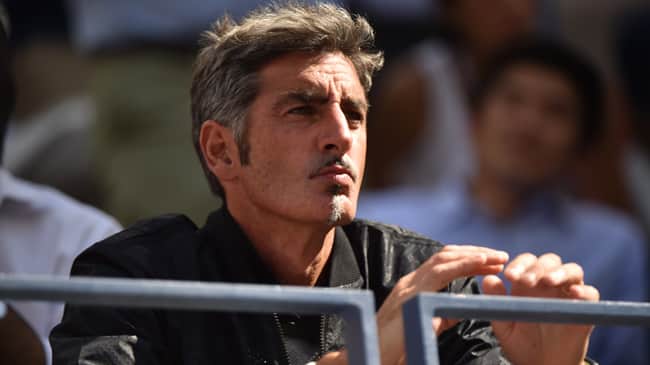 Photo by Ray Giubilo
By Giulio Gasparin
This is a translation, you can read the original interview in Italian here.
 The world of tennis seems to divide in two these days when it comes to coaches: the ones who stick to one for a lifetime and the ones who change them faster than the season change. Francesco Cinà has been working with Roberta Vinci for long enough to fall into the first category and in this long interview explained us the reasons why their relationship is that long, together with his views over the Italian's summer renaissance, her success over Serena Williams and the difficulty to go back to normality after such huge results.
Let's start with some sincere congratulations.
Thanks!
As you'd expect, the first question is about what happened little more than a week ago, when Roberta made THE upset of the tournament by beating Serena. What do you think of that match now, with some days in between?
Well, first of all it was such a surprise, because to be in a slam semfinal is already a terrific result, then you are facing Serena, you are in the US, she is playing for the Grand Slam, in her stadium. You go in knowing you've got nothing to lose, but at the same time many girls would walk in sure of losing: I talked to Roberta before the match and tried to make her understand that in Toronto, though she lost to her, she played a great match and they were pretty even, only Serena got out of troubles thanks to her serve. So I gave her some indications on how and where to return her serve and everything worked. It was a very strange match, especially on the mental level, because Roberta was training in the second set, but came back to win it: that big scream at the end of the set was very hard to get out of her, because of whom and where she was playing. Then, of course, there was that point that TVs showed a gazillion times, on 3-3 40-30, when she asked for the public to support her and it was incredible, because everyone came to cheer for Serena, they wanted her to win, but from that moment they started to cheer for Roby too. It was amazing.
One must say, that tactical-wise, Roberta played a superb match, by mixing up and being very solid, but like you said, she was so mentally tough. This was quite the contrary to what happened over the summer, when she suffered tough losses to Rybarikova in Istanbul and Wozniacki in New Haven, when she was leading by margin and lost.
It's all true, but let's start from one point: this year was the toughest and most difficult Roberta and I ever faced. The last period before coming to America, was the lowest point: we were in the UK and Roberta never went past round 1, but most of all she was showing a terrible attitude on court. It was not like she was doing it on purpose, but she was overwhelmed by many bad thoughts and it was just so bad for her. Then she went to Istanbul and Bucharest by herself, without me, because in these past two years, ever since she failed to break into the top 10 (the year after this happened, she lost 7 consecutive matches at the start of the season and managed to get things better, but still finished the year around world top 40 only and then again this year started very bad), I tried to help her out of this crisis, and probably I pushed too hard and stayed too close too her, but this only resulted in a heavier environment for both of us.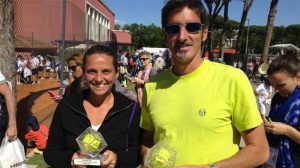 I guess it's normal, because the more I wanted to help her, the less we could have breaks from another, so I sent her alone for these two tournaments and it paid off. When we met again, we asked each other if we wanted to keep the coaching going. So I told her that I still had all my trust in her and that it was all due to her mentality, that she could go back to where she belongs. She told me: "I want to go to the American tournaments to win a match and get some 30points." So I replied: "Look, if that's the case, I won't even leave. For me, if you go and you show with a positive attitude, you can still get many satisfactions from tennis. You cannot go there just to win a match and reach second rounds, you can reach better goals that these!" Obviously, I did not expect what followed, but I really believed in each word I said.
So we left and she had a terrific American swing, so I would take the Rybarykova's loss out of the equation, as it was before this change. In the US she was great: she double bagelled Knapp, who did not play her best, but she did. Then she beat Lucic Baroni, who's always dangerous, then Pliskova…with Serena she lost, but it was a close match. In Cincinnati she lost to Pavlyuchenkova, but the Russian was unreal that day, she played out of her mind and yet Roberta made it close, so I was happy with her tennis and the way she fought throughout. In New Haven she had to go through qualies, and she did not play well, but she was just so mentally sound: she played on remote courts, where I could only see her from two courts afar, but she did not complain a single time and got though. Then she annihilated Bouchard with a stunning 6-0 6-1 and in all fairness, her loss with Wozniacki was still one of her best matches of the whole summer. Both played some terrific tennis and I have to admit I was happy even if she missed a few match points.
Then we went to New York and she clearly felt the pressure of coming from a good streak of tournaments and a favourable draw. She didn't play well early on, not with King, Allertova and Duque Marino, but she was just so tough mentally. She was trailing 4-2 with King and yet looked so relaxed. With Allertova, she was down 6-2 and missing every second ball, with Allertova playing very well, and I thought there was little we could have done that day, but she stayed calm, tried to regroup, found her game little by little and played a superb 3rd set. With Mladenovic it was different because both had so much pressure, but I think Roberta wanted it very badly, as the previous two times she was at the quarter finals, she faced two Italians, Errani and Pennetta, both were the favourite too, but this time she knew she had a good chance and seized it. Then against Serena it simply was superb. So what can I tell you? This American summer was terrific, but most of all it was well deserved, because I had never seen her like that, not even when she was world number 11, beating Kerber and Stosur in the same week, when she was winning Palermo, no, I had never seen her with such a positive and strong attitude before.
I am glad you are telling me that, because it was the same we could guess from home, but courtside it's different. It seems like it is a shame we could not see the match with Wozniacki, as cameras were off.
Indeed, trust me, it was a superb match. Wozniacki is the kind of player that either you face with full aggression, or she enters your mind and you cannot get past her, because she rarely misses and makes each point so hard to gain. Roberta lost the first set, when she was leading, but then she did not give up, despite I thought she would have, because the first set was so tough it was hard to stay focused after losing it. Instead she did it, won the second and took the lead in the third, but these are matches you lose or win for a couple points and though she had match points, the other played so well, both did, so it was a stunning match, even if Roberta lost.
There are some cases in which you can talk about "positive losses", aren't there?
Yes, and this was one. Of course, when we were driving to New York City that night, Rberta was feeling down and disappointed, but immediately told her: "look, it's natural that you are sad, but you played great out there and this should give you extra motivation for the Open, because Wozniacki was just so good, she wasn't missing anything" and indeed Roberta had to win each point she was taking.
I dare say that she eventually took the positives from that match…
It is pretty clear she did, even if the first few rounds at the US Open were very bad, because her tennis wasn't there, but she was just so mentally tough and, in the end, mentality, serenity, the will to do well and accept mistakes is what makes good tennis. Every girl knows how to play, some area little better, but they all can play, they all serve well and the speed of the balls has gone up lately, so what really makes the difference is one's head.
Last year in an interview you said that, when you started working with Roberta you had never coached a woman and it was so different to anything you had done before and you had to take a step back and learn lots. After this year, which was as you said the most difficult of your careers, what have you learnt new about coaching?
In general, I think that this road I shared with Roberta taught me lots and I will never stop saying that coaching a woman is so much more difficult than coaching a guy. With women you have to be very careful of what you say and how you say it: so many problems are due to the fact that women tend to be more reserved and some small things don't allow you to bond as much as with men, like you can't go into the locker room or share the same room in hotels. With men it's easier under this aspects, like when I was coaching Aldi we were sharing the same room and it was normal to play playstation after training…also, when you have an issue, with a guy you can be more aggressive and almost rude, while with a woman you must be careful of what you say and how you phrase it. I could imagine it was something like that, but living the experience made me a better coach, now I can think better and faster, I rush less and consider more. It once happened that I told Roberta a couple bad words after a negative training and she did not talk to me for hours, the problem was that she had a match in an hour…so year, with women you know you have to be more delicate when you have to say something negative, you need to create the right moment for that.
You had worked for long with Aldi and now you have been working for a long time with Roberta. There are not many top girls who stick to a coach for so long, how do you understand that you are the right coach for a player and that you can indeed create a long term project?
Well, I think it's all about synergy. In my opinion, and I say that after many experiences as a coach, if you want to have a positive synergy you need to give so much more than your coaching knowledge. I think that many of my colleagues do not agree on what I say, but I think that it is as important to work on the relationship you have with a player: I want them to know my family, we have dinner and lunch together and all of these things. I've always done it, with Roberta, Aldi and some juniors I coached before, with all of them I've always tried to have a great personal relationship in and inside the tennis court. Players like Bouchard and Sharapova, do not want this kind of relationship, because they come from different realities and do not have the same openness and "warmth", they only want a coach to tell them how and where to hit the ball, maybe some more technique, but that's it. I think you need to know your player inside-out to be able to do it. For example, once I was coaching Aldi, he had just had a fight with his girlfriend, so when I was telling him to do something, he was just not performing and I was going nuts. I learnt from there and now I know you must know them deep, then of course, like in any relationship, the moment to end it can arrive, a player might feel like he or she needs more space, but if you want to do a thorough work you must be part of their lives. Some other coaches think otherwise, like this guy who coached Azarenka and Bouchard (Sam Sumyk) and now is trying some time with Muguruza…I have no idea what kind of work he can do, the kids of Muguruza are very cold and hard to reach…I don't like this kind of people, players and coaches alike..
So, to come back to your question, if a deep bond is created, it is very hard to part as well, so that's the reason why Roberta and I are still working together, despite we had our peaks and valleys, but we overcame many problems and in the end the will of working together is stronger than her idea to look for someone new or mine to search for another player to coach.
I heart that Francesco Caputo talked to you the morning after the US Open final and reported that you had not slept because you were thinking about how to improve Roberta's forehand, is it true?
Yes, it's true. You know, this sport brings so much pressure than one can believe from the outside. All these girls, the champions and their coaches, I talked about this with Djokovic and Federer's coaches, all of us are under great pressure and each of the players feels it, inside and outside the court. Roberta included. The problem is that with her game, she is done if she cannot find a good compromise between fear and tranquillity: she cannot make her game work and her first shot to desert her is the forehand. I believe that she needs to hit the ball in a different way that she does now, because this way doesn't give her serenity. You can see that when she is nervous she would like to avoid hitting the forehand and sometimes she mimes it, though I tell her not to do it as opponents could notice.
So now I would like to work on it, even though she is always busy with interviews and tv appearances these days, I would like her to do exercises to find a new impact on the ball. I noticed it during the final, because she was very nervous, but so was Pennetta. The difference was that Pennetta, by hitting harder, she could make her game work despite the nerves. So I wondered how to make Roberta have a more stable forehand in these situations, how to get away from this problem and that night I kept thinking how to transform that with exercises.
I think this is a sign that you are not satisfied with that result and you want to make Roberta improve from there.
Yes, deep inside me I know that now it will be very hard to start back. I mean, I am happy that she is taking everything that this result is giving her, because it was a sick result, it looks as if she was the one winning the US Open, because she won the public with her game and personality and it's just right that she enjoys this popularity, she goes to TV, to interviews and all…so I told her to take a week and enjoy it fully, but I know it is hard mentally to go back on court and fight as much as before. If one looks at recent breakthroughs, for all of them was hard to live up the expectations: Muguruza flopped after Wimbledon, Suarez Navarro broke into the top 10 and ever since barely won matches…then I am sure that they will come back to great level, because they are young, but look at Bouchard, after last season it was a disgrace. It's a matter of maturity, you need to be ready and I will need to talk about it with Roberta, tell her that it could happen that she loses early in Bejing or Wuhan and it won't be the end of the world. I hope it won't be the case, but one must be ready for every possibility now.
Leggi anche: