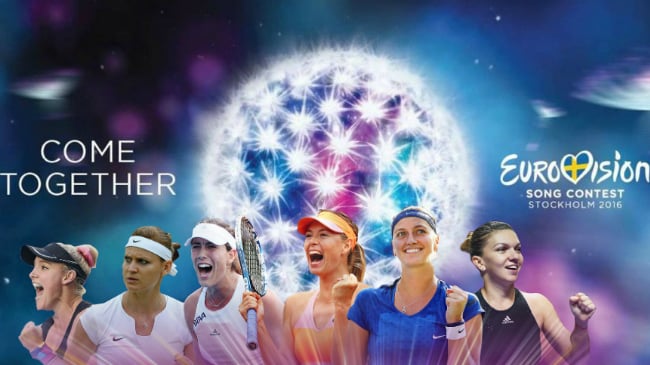 By Giulio Gasparin and Michele Galoppini
There won't be a long intro to this piece, as it's easily explained by itself, but there's a warning to all of the reader. This is meant to be a fun, silly and light hearted piece. Most of the connections are probably nonsense and we'd like no one to take them seriously. Feel free to comment though and tell us which players you'd associate differently and why! This is part 2, you can read part 1 here and then the 3rd right before the final!
15) Finland
Bethanie Mattek Sands – the video of the Finnish entry features some correspondences that not even symbolists under absinthe would think, which often is the case with Beth's outfits. The Finnish singer wears leather, leopard prints and the sky is purple, the American would be proud of this choices. Sadly the song is no good, but that girl can sing, so can Beth play tennis!
16) France 
Belinda Bencic – France was given as one of the early favourites to win the competition this year, but the more the final comes close, the least it seems likes. It's a young tune, it's fresh and it's bilingual but it seems to currently lack something. Similarly Bencic seems to be having a hard time recovering from injury following a great start to the season.
17) Hungary
Timea Babos – yes, the most representative player of the Hungarian tennis fits her country's entry and the reason is easy: it's a powerful song, but it also features unexpected and random variations, probably won't make it to top 10 but it's a funny tune. Similarly Babos can be fierce on court, hit big and use slices, as well as being hilarious off court!
18) Georgia
Anna Karolina Schmiedlova – if there was a thing you could count on in Eurovision, it was that Georgia would send a solid entry, generally a nice duet/ballad. Well not this year and let's be honest, the should have kept their traditions as after many good entries and good results, this year is just a big no. Doesn't this fit the terrible season of the young Slovak?
19) Germany
Victoria Azarenka – The first impression is that the German singer can't really sing, her outfit is trying too hard to be alternative as the whole staging. I am sorry for Vika, but she gets the direct link to it, thanks to her terrible singing and outfits.
20) Greece 
Laura Siegemund – like the protagonist in the video of the song, Laura can run for hours and just like the song, she has some nice solutions, but also a lot of noise. And as we discovered last week, she's not well liked in the lockers, maybe that's also connected to Greece not reaching the final?
21) Iceland
Timea Bacsinszky – The connection between the Swiss player and this song was made before the first semifinal, where surprisingly Iceland did not pass the cut. But in our opinion the link remains: the tune is a bit unorthodox, the staging was surprising but there's a big part of the nerds for the show that loved it. Isn't it similar to Timea and her funny, yet very different style of tennis?
22) Ireland 
Donna Vekic – just like the song, Donna seems just another one among many that look/sound the same. Coming from a country with great traditions, you'd expect more.
23) Israel 
Kurumi Nara – "searching for the secret promise" seems about the right line for the Japanese, who this spring went to Charleston to play the last standing green clay tournament, but ended up in the wrong state…ouch!
24) Italy 
Agnieszka Radwanska – even though the Pole was the only top player to skip the Italian Open, we think she is the good one to be associated with the Italian entry: you know it will do well, you know you can expect classy shots and gracious rallies, but you just as well know that it won't win the whole thing.
25) Latvia
Ana Ivanovic – can we compare "feeling your heartbeat" with "check her blood pressure?" probably not, but hey, we've just done it. Let's not forget, this song is ranked on top 20 projections and you can't understand why, just like the Serbian's season so far.
26) Lithuania
Jelena Ostapenko – No, we are not confusing the countries, but this song is a bit of a "I think I've heard this one already", there's nothing new in there, yet it's quite ok and like the lyrics say, Latvia has been waiting for a young gun for a while!
27) Macedonia 
Lucie Safarova – Kaliopi was the star a few years ago with her Cerno&Belo, just like Lucie and her amazing final at Roland Garros last year, but it's unlikely both will make anything close to their best this season.
28) Malta
Simona Halep – a "small" player, for a small country: ESC in Malta is big, just like tennis in Romania. This song is among booking faves, but so far Malta has never won the contest, similarly Halep is looking for her first major, will the both be lucky this time?
Leggi anche: