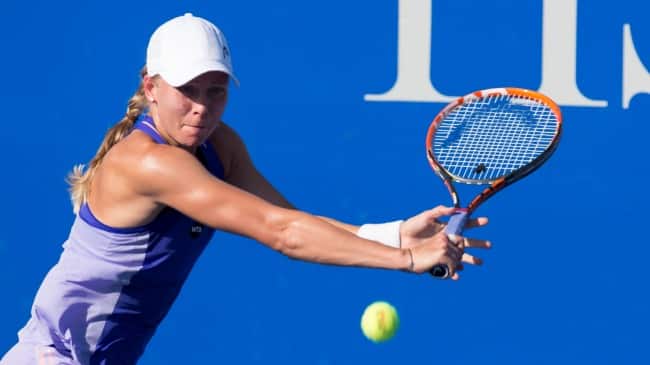 by  Giulio Gasparin (@giuliogasparin) and Michele Galoppini (@MikGaloppini)
Coming into the only WTA event left on the home soil of Sweden, Johanna Larsson had not won a match on the main tour since the tournament of Miami, in March. An injury had forced her to skip the beloved clay swing and the first wins had arrived only a week before in an ITF tournament in Germany. But uneven years in Basted had always been a good charm for her, she was finalists in Basted in 2011 and in 2013, but both time the chance for her maiden title fell short. This time it was different, the slow clay felt even more like home, the timing was there, the motivation too. Without dropping a set, she took the first title and it felt like a dream come true. The season picked up from there and more good results arrived, so that everything looks bright ahead of 2016 for the Swede.
We came to talk to her and we met a nice, gentle and kind woman, the kind of all-Swedish (to steal the adjective from overseas) you'd expect her to be. Calling her shy would be too harsh and could be seen not as a compliment, but we were surprised by the very humble and gentle tone of her voice, which made us sympathise for her as she talked about her season, her love for Sweden, but most explicitly of home.
First of all, congratulation for your latest results. But we want to go back to this summer, when you won your first WTA tournament after some attempts in your hometown…
It was of course an incredible week and something I will always remember in the future. I had everyone there: family, friends, sponsors and all tennis mates. We were all together that week and to be able to win the tournament was really amazing.
Tennis used to be massive in Sweden, how do you think it is catching up now?
Uhm, we really had some superstars in Swedish tennis and it is really hard to compare myself with them, and I think it will be for everyone who's coming up now. We have a really good tradition but we fell a little behind at the moment. We are trying hard, and I'm trying hard, to put tennis on the map again in Sweden; we have the goal to make it a little bit more popular and have more kids playing, to be again a great nation.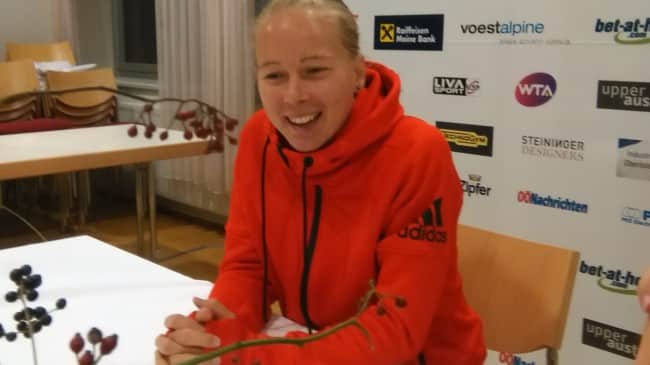 For Sweden you played a lot of matches in FedCup. How is it to play for your country? I guess you like it.
I love it indeed, it's a very special feeling to play for your own country and have Sweden on your back. Usually, the other fifty weeks of the year you are playing by yourself and for yourself, while in these two weeks you are playing with your team and it is a very special feeling. Especially when you win it is nice; you can celebrate all together! But when you lose it is even more painful. It's a unique thing.
Recently we talked with Aleksandra Krunic and she said that most of other girls thinks she is crazy but she thinks Olympics are more special than Grand Slams. What's your position on that?
I think slowly tennis players are changing their minds about Olympics, but for me I'd rather win a Grand Slam (smile). But she is not crazy for that, it's just her opinion (smile).
As we searched your WTA and ITF profiles before this interview, we noticed something interesting: you have different favourite books, different movies, but there is one thing which remains the same in all your lists of favourites: mum's cooking.
Yeah, she cooks very good (laugh). When you are abroad so much and you are travelling so many weeks every year it is quite nice to come home and eat the food you grew up to. I think almost everyone recognizes oneself in that. I think that when you have to eat in restaurants every day it is really nice to go home and find mum's cooking.
You said skiing is one of your favourite sports. Did you ski when you were younger? I mean in a "professional level".
No no no, not at all at professional level, because tennis took all the time since when I was really young. I grew up in Northern Sweden where we have a lot of snow and I was skiing a lot, mostly cross country. At the beginning of my tennis career my dad was always telling me, when I was losing, that I should have chosen skiing cause I was much better at that (laugh). But in the end I think tennis worked out really well (smile).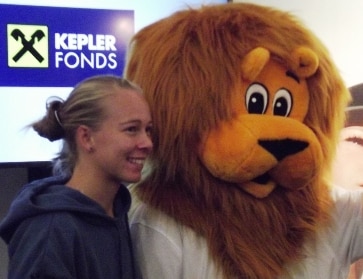 You said indoor is your least favourite surface, but growing up in Sweden you must be playing a lot indoor…
Yeah, that's a thing. I grew up playing on… plastic (laugh)! I don't know, I guess my game style fits more clay courts: I have big swings and my groundstrokes and my spin fit best on clay. One has to adapt and make the best of it, the Tour is played on all surfaces and one has to try also indoor and don't be so negative about the surface (laugh).
In last weeks you played quite well and I think your backhand is quite good in this period.
Well, thank you (laugh)!
I know it is not the shot you are most confident on. Are you working on it or it is just clicking lately?
It kind of is clicking a little bit, but it is going better, the longer I play the more my game is taking on and it is a good thing!
Definitely. You spent quite a few seasons on the tour. This year has been difficult cause of the injuries, then the home title, now again good results. Can you just say how you got through this season, how you fought injuries?
It was hard but on the other way it was my first big injury, I had to stay away from the tour for two months, which is not that long if you look to other players. I've been very lucky so far in my career, but even if you are gone for one week or two it's hard, because you keep thinking about how much you want to come back on court and things like this. But it also makes you appreciate tennis, it's like it is almost "good" once in a while to get an injury to realize what you are missing and how much you like being out there on court and competing. It is hard at the time but it also brings something positive. I have seen many examples of girls coming back from injuries even stronger and more motivated than ever before, so it was kind of the same for me.
Talking about the long season, what about the off season? What are you planning in your break from tennis?
Yeah, after Linz and Luxembourg I started my off season, and I took some weeks off. Off season started sooner than I had wished for (smile), but there are six or seven weeks now in which I will train as hard as I can. My three weeks off already finished.
Have you been skiing then?
Uhm, there was not much snow sadly, I was actually skiing when I was injured in May and it was fun (smile).
So, what are your goals for the next season?
This season has been going pretty good, I won one singles title and two doubles title so far and it has been my most successful year. Of course I hope for more successes next year, but let's see how it goes. It would be nice to go far in a Grand Slam and reached the second week. This is probably my main target.
May it be in Roland Garros then?
Hopefully Roland Garros (smile), but I'd take it anywhere (laugh).
© riproduzione riservata