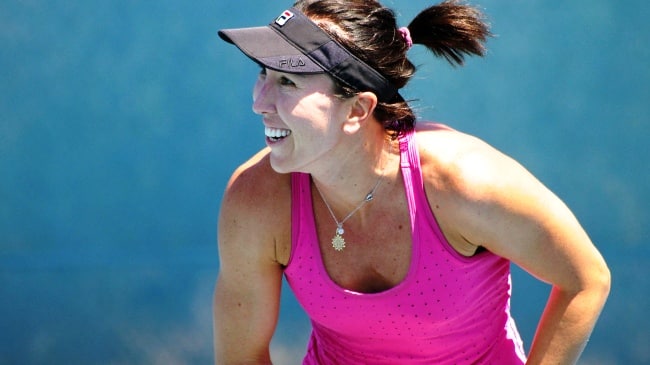 by Michele Galoppini (@MikGaloppini) and Giulio Gasparin (@GiulioGasparin)
Photo Naparazzi – CC BY-SA 2.0
Versione italiana
There are players that no matter how difficult their moment is, there will always be that star effect surrounding them: it is not a matter of success or fame, it is about their personality and ability to make an impact on and off the court. One of these is most definitely Jelena Jankovic, who was among the big names that starred at the first ever WTA Mallorca Open: an exuberant personality, the sense of irony, the ability to turn herself into the character of a comedy show whenever she steps into the press room are all among the reasons of her popularity. In Spain it was no exception and the Serbian ran the show from the first to the last match she played, engaging the crowds and the journalists alike with a good showing of tennis and a fantastic display of her funny personality in the press room.
During the week she touched many topics: from her difficult season to her renewed love for grass, from her struggling with injuries to the presence of goats around the court. There is never anything banal in her words and that is why cutting down her answers is not an easy task and most of her interviews, this one alike, end up being lengthy. Thus said, hardly any of these can result in being too long, because it is hard to get enough of JJ in the press: so after a 'What time is it? 4PM?! Oh God, I almost collapsed in the sun!', coming straight from the centre court to the media room, we couldn't expect less than a great conversation.
First of all, what do you think about Mallorca and its tournament? "I am very happy to have joined such a beautiful tournament, it is awesome to have a tournament here in Mallorca. When it comes to grass, we usually play in rainy and cloudy places, and to play here is refreshing: you can play at 8PM and still see the sun and it is still warm. Also you can spend time at the beach, you can have your breakfast with such a beautiful view… it is peaceful and relaxing. Unluckily I still haven't gone at the beach, because I am… working? [laughter] And for example when you play at 7PM it is not a good idea to go to the beach before the match!"
Thank to Mallorca's sunny weather, players could play and train without any interruption. And you, in your tournament, also faced so many players with very different styles. "In this tournament I played every kind of player. One that hits strong, one that plays flat but slow, one that makes many variations. I am glad I can play against so many different players and different styles. It is good for me in this moment, to play as many matches as possible, to challenge myself with tough opponents who are playing well and to be able to test my tennis. And I have to admit Konjuh is probably the player who hit the strongest. When I played with her I was thinking she would have broken my wrist with that power, or my arm [laughter]."
On grass, you had ups&downs in the past but also some important wins. How do you feel on this particular surface? "In the last years I actually got some important wins on grass: I beat Maria Sharapova in Birmingham, I beat Petra Kvitova in Wimbledon. I have beaten champions of this surface and many girls who play really well on grass. It means I can play well on grass, but my problem on grass is more mental than everything else, I probably put on my head that I am not good on this surface. You know, I fell a few times and I was scared to move freely, I was a little bit tentative and quite doubtful when I had to run to recover the ball and shoot. I think this is the problem, cause on other surfaces I move without thinking about it, I hit my balls, I hit my shots, but on grass I am scared. I fell again this week, even when I put new shoes and I fell again and I was thinking I could have twisted my ankle! I was fine but I was uncomfortable. In tennis you have to run corner to cornet to hit another shot, but I didn't want to run, and you can't lose point just cause you are afraid to get injured. Luckily here, during the day, with the hot and the sun, conditions are really nice and grass is not slippery. To be honest, I am falling down so many times, I can't stop! I am like a Bambi on ice… am I the only one falling here?! [laughter] I am sure I am the one with more falls, I have new shoes and I keep falling down."
I am sure falls and feeling uncomfortable are an issue for you since you are still recovering from recent injuries. "Indeed, I am coming back from an injury, an arm injury specifically, and I feel like I am improving day by day and I am getting stronger. This year I had so many injuries, I basically had to skip all the clay season due to a rapture in my arm and I wasn't able to do anything. This took so much time to heal, and now I still need time to get back to a good form, to feel comfortable. Oh and recently I also fell down and I scratched my skin here on my leg, I almost could see the bone. But I am fine with this, I just have to cover it to avoid the dirt and get infected. Maybe I should go to the sea, sea water is good in this case. Pff, I cannot wear my mini dresses, I have to put long pants every time [laughter from everyone]. In every party I had my long pants, I was the only one with long pants, every time! Not even the tight ones, but the wide ones! And now I also have a cold. I think it is cause I had cold water in shower in the hotel. But please don't write it, this is just for you cause I don't want to take excuses [laughter]. I went to shower yesterday and the day before and it was cold cold water. I put the shower gel and the shampoo and I was freezing. I got so sick and I am coffing like crazy, but please don't write it! [laughter]"
You talked about what grass means for you, but what do you think about grass in general in WTA? And also Wimbledon is coming… "On grass every match could be a surprise and there are no easy opponents. On grass everything happens so fast, you always need to be really focus and go after your shots. Also top100 or top150 players can play so well and get wins also against top players. As you can see also here qualifiers had deep run. Cause of that, of this unpredictability, there is a lot more excitement on WTA tour. Years ago there were maybe easier matches on first rounds, now from first match you have a tough task, you never have an easy opponent or easy points, nothing is going to be given to you freely. This proves the high level of women's tennis, as well as men's. About Wimbledon, I think anything can happen. As you could see in last couple of years we have had so many different Grand Slam champions and some are in their 30s. Everyone can have two good weeks and win it. Anything can happen if you believe in yourself and you are hungry enough and determined enough to win such a tournament. I believe I can do it as well if I stay healthy and I have the right motivation."
Anything can happen in Wimbledon, even an interruption cause of goats like here in Mallorca? "A goat interruption? Oh right! [laughter] We could hear the bell, ding ding ding, and I was like 'What is this?!' At the beginning I was thinking it was something coming from the kitchen, maybe something had fallen down, or maybe it was something moved by the wind. Then I realized it was an animal, but you know afterall we are playing on grass, it is where animals belong [loudy laughter]. Oh my god, and they were just behind the court! But why are they there while we play? [laughter] It was so loud, ding ding ding. Maybe they are tennis fans, I don't know, they should have invited them on court just to say hello [laughter]. Sorana [Cirstea] was serving and we heard that noise, you know we need some quiet here! We were laughing, everyone was laughing."
After Wimbledon, Olympics in Rio de Janeiro will be very close. You are qualified in singles, but will you play also in doubles or mixed doubles? "Yes! I want to play Olympics also in mixed doubles. I will play with Zimonjic, but only if we will get in, and I am not sure about it, because he also had some physical problems and got injured in the off season. We were supposed to play in Australia, but he was not able to. I think now his rankings dropped, like mine also. So, I am not sure we will make the cut. We will sign up to play and we will see. If we get in, I am sure we will have the chance for a medal. I am not really a good doubles player, but I have so much fun playing [laughter]. I mean, I won mixed doubles in Wimbledon! Everyone said 'You are not good in doubles!'. Yes, true, still I won it [laughter]. I try to follow the directions of the man and I let the man do his work. I am still learning and doubles can help my singles too."
You have been no. 1 in the world and conquered so many trophies. Now you are 31… "You said my age in that question, you shouldn't remember the age to a lady [loudy laughter]. On this subject, I was so happy in my first round when they presented me as '25 year-old'. Too bad it is my ranking, they were wrong [laughter]."
So, without telling any age [laughter], what pushes you to keep fighting in WTA? "I have been no. 1 in the world but I still am hungry. I am a fighter by nature, I never give up and I always try to be the best I can be. Ok, I had many injuries and I have been unlucky many times. It is tough to come back when you get injured, it takes some time to get back at your level. And I get injured and something else gets also injured cause I compensated. It is one after another, I was having hard times. When I injured this muscle in my arm I couldn't run, cause you use it also for run, for breathing, I couldn't do anything, even wash my hair. But I am glad I am healthy now."
Being no. 1 in the world is one of the many goals you achieved. And together with Ana Ivanovic, you took Serbian tennis to the top. What do you think about Serbian tennis nowadays? "I think Ana [Ivanovic] and I have done so well for women's Serbian tennis, but not only for women's, also in general for Serbian tennis. And like us, Novak [Djokovic] has done so well and so much. Such a small country like Serbia have had 3 no. 1 in the world! And Serbia had not such a tradition in tennis and not even proper facilities to train. This proves everyone can make it if you are hungry enough to follow your dreams and do everything it takes to become a champion. I am proud we had so many successes and hopefully we will have more champions in the future. Some of them are already coming up, but the problem is that financially we are not strong at the moment and for younger kids is very difficult to travel, to get sponsors and to get facilities in order to improve and develop their games. It is not easy but they can do it. The most important feature is the head: we showed we are strong, we are mentally tough, we want to be the best in the world; it doens't count how much money you have or where you come from or who you are."
Leggi anche: