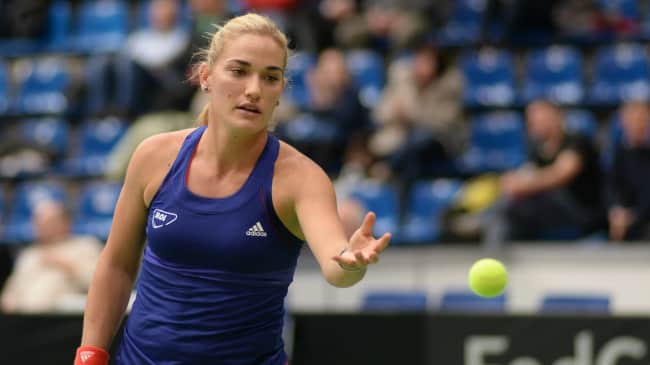 Written by Giulio Gasparin, photo by Tatiana CC BY-SA 2.0
When 2015 came to an end, Timea Babos was right outside the top 80 positions of the WTA rankings and today she sits at world number 40, but in the race she is well inside the best 20. an exceptional doubles player, the 22 year old from Sopron, Hungary, has already won 10 titles on the WTA tour, two of them coming from prestigious tournaments like Rome and Dubai, without forgetting the finals she played in Wimbledon in 2014 and a couple weeks ago in Indian Wells. Her aggressive baseline tennis has found with the years a good mix of shots and now she is capable of throwing some nice variations with slices and drop-shots, as well as using her doubles skills to take the net often. The result of this maturation in her game is visible to anyone and it is evident more in her game than in her numbers, which however look very promising.
Having never spoken to her before, my biggest surprise was to find a very charming woman, happy to chat and share some funny stories, making what could be a difficult duty like a post-match interview late at night an extremely pleasant and full of laughters chat.
"It's my first ever time in Stuttgart and it was a very late call as I arrived just last night," she said with a broad smile which announced the reason behind her late arrival: "I knew I would play today, but I also had my 5 years' high school reunion on Saturday and I wanted to attend that. Of course I was practising and doing everything, but this is why I arrived a little bit later, but I thought this could be a good opportunity and I was really happy to be able to play a night match on the centre court especially right after the opening ceremony."
In all honesty, given the aggressive display of tennis she and Sabine Lisicki are capable of, but also the possibility that one could go erratic, not many expected it to be the entertaining and good quality match that it ended up being. "I took this as a good chance and I knew I had to play solid against Sabine, she had many good results and was playing in front of home crowd and I tried to stay focused and solid. In the second set I think she found that the match was going away from her and she started to punch the ball as hard as she can and she started to serve even better, which is a huge weapon for her."
This good win is, however, just a starting point for the Hungarian, who sounded happy, but reported that not everyone was satisfied with her performance: "I'm here only with my fitness coach now and he said I didn't move so well! Obviously there is place to improve and this was only my first match on clay after a whole year since French Open of course and I need to adapt. The fact that it is played indoor helps my serve and I am an aggressive player so that helps a lot, but with the movement it still needs some adjustments, though I grew up on clay and I like clay, but I need some adjustments to get used to the surface."
This is especially true, given that she knows how to play on clay, where no longer than a year ago reached a WTA final lost to Elina Svitolina in Marrakech, but ever since she struggled. "I had a good start, but then it was an awful season on clay! Last year was interesting because I think I played a lot better than my results say and I had to play a lot of matches in the qualifying, like 8 in a row in qualies at the beginning of the season and everywhere I qualified and then lost. So basically I won twice as many matches than I lost and yet did not improve my rankings. It was also hard to combine with my doubles rankings, which was of course higher. I started on clay and I got to the final in Marrakech, but then I did not play the way I should have played and I played in Morocco and finally got killed at the French Open by Angie, but thankfully after it was over and I could go on grass. But this year I was looking for clay more, because I had some good results so far and I improved my rankings a lot and in here I came as a last minute player and I am trying to have fun."
Things changed quickly in 2016, even though she might been missing the big scalp, she has got herself into a level of consistency she had known before and now sits at number 17 on the Race to Singapore. Her recipe? Hard work, mental training and a long term plan.
"I think my latest results are the result of the work I put together in the past two years, I'd say since 2014 Indian Wells, when I changed my coach, but also my fitness coach and we've been working very hard on my tennis and the combination with physical. It is not easy to make another step when you are 10 in doubles and 80 in singles, because so many times I wanted to play different tournaments in singles and doubles. I also think that this year things changed a little bit because I decided to put more focus on singles and doubles would be a little bit behind and it worked out good. The off season we tried to focus more on basic things, like my biggest weapons and try to work on them to make them stronger, so that they could make my weaker spots a little bit more hidden. I think I work a lot in general and I am known for this on the tour, that I am always on court and practice a lot, so this is one part. The other part is that I enjoy all of this better and I handle the pressure a lot better too, I started to work with a psychological team in November and they are helping me a lot. Everything is getting together and I am getting more mature, so it is a combination of everything."
Given that the prize for the winner here in Stuttgart is a Porsche, we investigated her abilities as a driver and we immediately realised she knows what she talks about. "I am supposedly a very good driver. At home, when we have the F1… well Hungary is small and everyone knows everyone and I am the only tennis player so this gives me some open doors. But I really really really like driving and also, I am sponsored by Mazda and there's a new MX5 cabrio coming out in the summer, and I am the test driver for it."
Because of that she has got some speed tickets: "Yeah, a few… but thankfully they all go to the company and not to my home address, so it's ok!"
But right before we called it a night, she came up with the funniest of her stories, about an awful travel experience in China: "Oh Jesus…it was in China, they had this $125k in Suzhou, but what I did know, and like me many other girls and trainers did not know, that there are two Suzhou in China and that there is no airport to either, so we had to fly to Shanghai and then take the fast train to this place, which takes 4 hours and it's the closest. So I arrived there and I took the wrong train, because obviously no one spoke English in the airport and arrived to the wrong Suzhou and with me 14 other players… and it's a WTA tournament! So we arrived to the Suzhou, the wrong one, and I called the tournament desk and they are telling me that they are waiting for me in front of the main door, but of course they were not, so we figured I was in the wrong Suzhou. All of this combined with the fact that my luggage had not arrived, so my coach went back to Shanghai as in the meantime a plane had arrived with my luggage and I went to the other Suzhou by train.
"Then I arrived and it was 41°C with 76% humidity… I had never played in cap and sunglasses before, but there I did with double wristbands and I am not a sweaty person! Of course I have never gone back and my physio neither… I mean, the ice-bath… the water was brown and disgusting, so I told her 'Fede, this water is brown!' and she says that the measurement said it was clean water and I was like 'but it's brown!' so we never went back!"
Leggi anche: