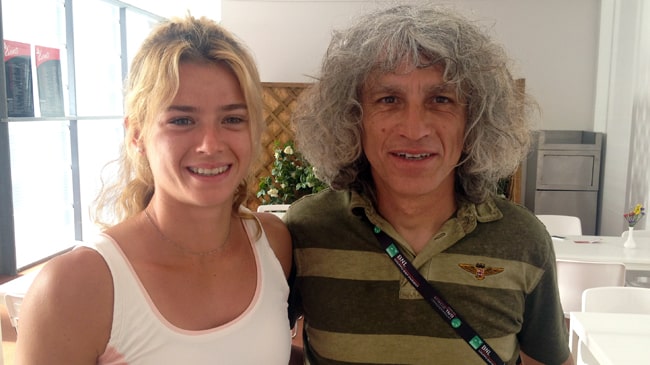 (Camila and Sergio Giorgi)
Interview by Alessandro Nizegorodcew (@Alenize82)
Translation by Giulio Gasparin (@giuliogasparin)
"I love crazy people if they have something brilliant to offer, I can't stand commonness, clichés and the ones criticizing for criticizing's sake." That's how a long and in-depth conversation with Sergio Giorgi, the often discussed father and trainer of Italian rising star Camila Giorgi, started. Her daughter has recently won her first WTA title on the grass of s'Hertogenbosch after falling short in the three previous finals. How important is this success though? What are the aspects that Giorgi needs to keep working on? Sergio wore his heart on a sleeve during this interview, showing great satisfaction for the victory, but being, at the same time, absolutely aware that this isn't but a small milestone. "It must be very clear," he said. "Camila hasn't won Wimbledon, but mentally, especially, this could be a fundamental step in her growth, tennis and personal wise"
Let's start from the recent win in s'Hertogenbosch and above all the tough quarter final's match against Yaroslava Shvedova, when Camila had to save three match points…
"I am very happy about how Camila played in that match, especially in the decider, serving well and playing great tennis in the tiebreak. Had she lost, I would have been satisfied with her attitude on court. As soon as she won that match I knew she had a chance for the whole thing."
The final against Belinda Bencic was almost close to perfection though…
"Once again, she served so well, resolving so many complicated games with that shot. Camila had lost the previous three finals and the day before the match against Bencic I talked to her for long, it was some sort of a monologue of about an hour and a half. Defeating the young Swiss on grass isn't any easy, but Camila read the match very well, showing everything in her repertoire. There's one stat that makes me even happier: 39% of Camila's shots were hit inside the baseline, which is what we are trying to do in trainings."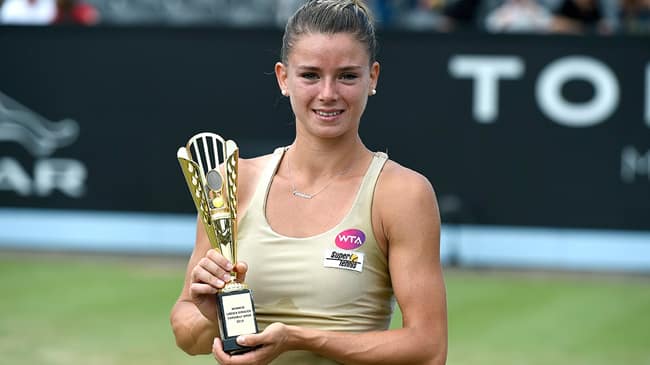 We can safely say that Camila is another player on grass. Is it because of her game being most suited to it or is it mental?
"Both are equally true. Camila's game is suited for this surface because she can play following her instinct, without thinking too much, as her shots need little adaptation for grass. On the other hand, I believe there's a mental side too, because she loves playing on grass and believes in her chances more than on other surfaces. As soon as we arrived in the Netherlands we started training on some courts that were in awful conditions, with holes and many bad bounces, it was very windy and so it was tough to train, nonetheless, Camila was all smiles and playing her best tennis."
The same cannot be said for clay…
"I think it's about her mental attitude on it, because I am sure she can play well on red clay too. However, today something has changed for the good. I should admit that the signals were there when she played Muguruza at Roland Garros. She was trailing 6-1 5-1, when she started playing her game, with more will and trying to win it. She came very close to turning the match around, but what mattered to me was the reaction to the situation e that was the starting point. In a way, I could say that the victory in s'Hertogenbosch started in Paris."
Has Camila changed her racket? It didn't look to be the same.
"During the past tournaments, I noticed something wasn't quite working. We tried a few changes in the balance, taking some weight off the head of her racket. Camila was struggling to generate power, but now she is more free to play her game, without forcing too much and her net game has improved with that change too. She is very happy about that."
One of the most recurrent critics about Camila's game is the lack of an interlocutory shot and a more reliable second serve, with less speed. Basically, many times we have heard about Giorgi being always the same, whether she'd lose or win. It is clear for coaches, at least, that she has improved under many aspects, but what are you currently working on?
"I think she has improved a lot on some aspects, but I still want to see her develop them. I am talking about serve and return mostly. We have worked a lot on them, especially the serve, to which we added a slice serve and improved the kick. On the return she is moving better, whereas before she used to lean forward too early and she ended up "eating" the ball. Now she moves better side to side, hitting the ball on a better balance. On her serve she is also finally finding a good discipline, by coordinating breathing, bounce and toss. Another thing that has improved immensely is her reactivity in the first couple meters. This is especially good when she is chasing drop shots, because she used to reach them too fast and wasn't able to stop. I still think we need to work on her serve: I believe she can add 5 to 7 km/h on her first serve, because she isn't really using her hip at the minute. She is turning her shoulders, but her hips aren't helping during the serve. Her forehand has improved a lot, but it is very interesting to see that Camila is obsessed by working on her backhand in trainings as she feels more confident with the forehand. My main goal is to reach a point where she is free to play her best tennis, by being confident in her strengths and possibilities."
Let's go back to the match point of this past final. What did you think before it?
"You know, if you play well, but you lose, you can't improve mentally. But if you play well and win, it's a whole different story. I knew it was a very important point for her growth as a player. It wasn't an easy time for Camila, because she has turned 23 and that's the age her sister Antonella had when she died four years ago after an incident happened in Paris. It was a very dramatic time for the whole family and it's still with all of us, but of a late it was really making Camila suffer. The support of my wife, Claudia, and my two sons Leandro and Amadeus was key."
We know very little about your wife, Claudia, she is not often around to be seen. How come?
"She doesn't want to be a public figure, she is very reserved, just like Camila. Claudia was and still is fundamental, she is the glue of the family, she is the one finding always the right solution, no matter what's the problem. Without her, nothing that we are and have made would be possible. The few times she came to see Cami play, she sat far from me and I remember once she was photographed and she was furious about that. There is no other definition but that Claudia is the core and the heart of the family."
His brother Amadeus seems to be a fundamental person for Camila…
"Yes, they talk a lot, when they are both in Italy they hang out together all the time. They are there one for the other and help each other every day. Camila wore a necklace with Amadeus's name during the ceremony in s'Hertogenbosch…"
You were talking about how she has matured. I would focus on that, but on the human point of view, it looks as if she is becoming a woman now.
"You are right indeed, during trainings we are talking a lot more than we used to, there is more of a dialogue, whereas before she used to listen to me even when she did not understand me fully. Camila does not trust anyone, mostly because there had been many problems in the past and she doesn't want other people being part of the staff. However, it has been her choice to introduce some professionals for physiotherapy and conditional trainings, she took her decisions like an adult. I will still be her coach and follow her trainings though, while my wife is taking care of papers and bureaucracy."
On a very different topic, is it true that you always travel to tournaments by car?
"I do, I always try to travel by car, but there's a reason: I always take with me so much stuff I use for her conditional trainings and the exercises. If I was travelling by plane, I couldn't do that. It is no surprise that sometimes Camila takes a plane and we meet at the venue. I am telling you about her trip after leaving the Netherlands. Camila had to fly to Birmingham in order not to pay the fee for withdrawing, because she suffered a small hip injury after the final. So while she was flying home from Birmingham, I drove my car to Italy, went to Milan Malpensa, where she landed from the UK. It was around midnight and we drove home, only after stopping for a while in a service station, where we talked about her feelings, her victory and her future. If you are asking about whether I will go to the next tournaments in the UK by car, the answer is 'Of course'."
Don't you have problems about driving in the UK? I mean, they are driving on the 'wrong' side.
"Actually, the only time I had problems was when I rent a car with right-side driving. I basically destroyed it as soon as I tried to park it. If I am driving my own car, I have no problems…"
Going back in time to when you arrived in Italy. We do know a lot about you ever since you started coaching Camila, but who was Sergio Giorgi before entering the world of tennis?
"I was born in La Plata, about 50 km from Buenos Aires. In Argentina I was studying medicine, but after the first two years I won a scholarship and went to Italy. I moved to Macerata, where I should have kept studying, but in two years I only passed four exams, as many as I tried, because I had four children and I couldn't go on… My wife used to teach history of contemporary art at university so I started to work for her, but it was not my place. I was feeling oppressed by working in a office, I was bored and I used to exploit my relationship with Clauda, alias my boss, to run away and do other jobs. I worked for CUS di Macerata (The university sports teams) and I was coaching conditional trainings on the side: I coached kids who were doing the most various sports from football to hockey. Even when we moved to Lombardia it was still thanks to these private hours I was giving in the Lake Como area that I could earn some money, and it wasn't bad at all to be honest."
Then tennis stormed into your lives, but you brought your past as a physical trainer in it…
"I always say that Camila is first of all an athlete and, only after that, a tennis player and I am sure about it. I think that she is one of the best athletes in the WTA tour. I use other sports for her preparation too, starting from boxing (it is no surprise her sports idol is Oscar De La Hoya; editor's note), to javelin throw, but we use artistic gymnastics  as well, as it was the first sport that Camila took on when she was 3. We work a lot on her movements and other aspects that other coaches ignore, like balance. In the past I received a great deal of criticism and I now feel very proud for my job, especially after that time when a coach from USTA came to me telling that they are studying the movements of Camila with the youngsters through video analysis…maybe I am not as crazy as they thought afterall…"
I know for sure that one of your inspirations doesn't come from tennis, but from the world of football…
"I am a massive fan of Marcelo "El Loco" Bielsa. He used to say that in order to defend well you have to know how to do the 7-8 fundamental things you can train and improve. But when you want to attack, there are plenty possibilities that you can use by exploiting a great talent, if you have it. Every day I watch videos of Bielsa, of his speeches in the locker rooms, and he is mad and I love it. Not long ago, I read that Napoli was interested in hiring "El Loco" but it did not go anywhere. Such a shame! It is the clear example of genius-like madness that I love. I hate commonness and clichés, these fire me up."
About Camila or in general?
"About Camila and in general. It's been years now that I hear that she has to change coach, she has to hit slower balls, that with another coach she'd be top10, I hear awful criticisms on Sara Errani because of her serve or, even, on Francesca Schiavone because she is not giving up playing tennis. Do people realise what they are talking about? Do they remember that Errani was world number 5? One can dislike her tennis, but results speak for her. Sara is an amazing girl that I got to know only in the past few years and she most definitely doesn't deserve any criticism by people who have no idea how to hold a racket!"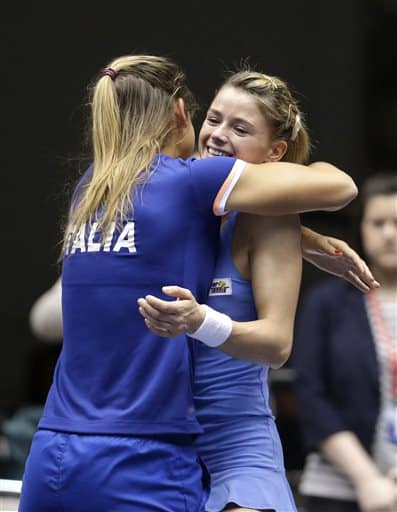 As you are talking about Errani e Schiavone… I noticed that, after a few years in which the relationship looked quite cold, now all the Italian players are very protective with Camila. Is it only me imagining that?
"I think they did not know her before, because Camila needs to know someone before trusting them. Now things have changed and Pennetta, Knapp e all the others got to know who Camila is: a very sociable girl, always ready to joke and laugh, she isn't as shy and quiet as many believe. I know that she has been talking a lot with Flavia (Pennetta) lately, I have no clue what was the topic, but I think their friendship is growing stronger."
You mentioned that you think that Camila is second to few in terms of physical preparation, who is stronger than her tennis wise though?
"On a pure tennis perspective, I believe there are only two players to be better than her: Serena Williams and Petra Kvitova, as they are absolutely fantastic. But we are working to fill the gap day after day. Talking about rankings at this point would be a bad mistake. Now we have to think about improving, winning matches and getting better in each aspect of the game. The ranking will only be a consequence. One win can't erase all the mental lapses that Camila suffered in the season so far, so it can happen that she loses in the first round of Wimbledon, even though I hope she won't! I think she is playing very well now and she looks to be feeling well too."
© riproduzione riservata