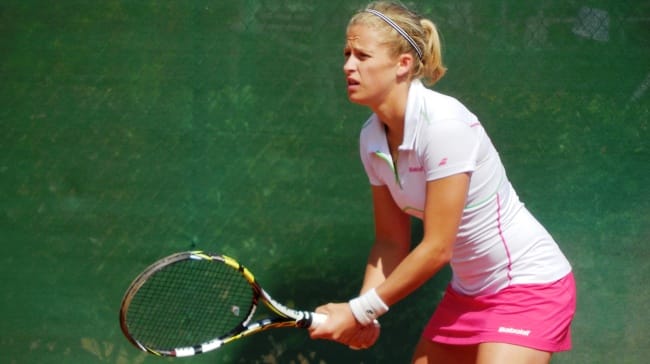 by Michele Galoppini (@MikGaloppini)
Day of semifinals in Chiasso. In the ITF tournament of the little Suisse town, $25.000, the last 4 players remaining in the draw played on TC Chiasso's courts to reach the last stage of ChiassOpen.
The only seeded player left in ChiassOpen's draw won her semifinal and now waits for Amanda Carreras in tomorrow's final. Isabella Shinikova played a really solid match against the qualifier Julia Grabher and reached another final in this very positive 2016. The Austrian though, despite a severe 2-6 2-6, gave everything she could and make Shinikova run and fight more than the score shows. While Isabella Shinikova refused to be interviewed after her match, Julia Grabher was happy to share some words with us.
Here's the post match interview with Julia Grabher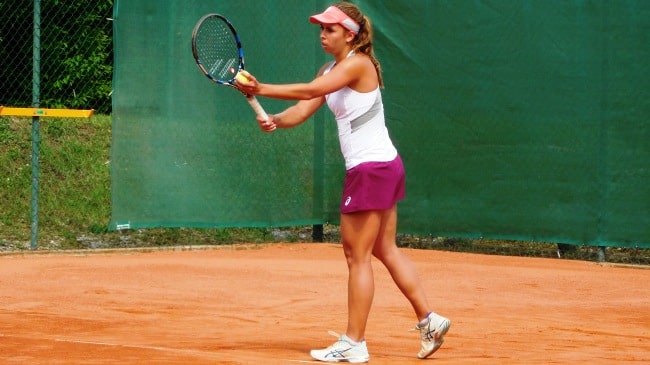 Hi Julia, today you lost, but the match was a lot tougher than what result says. What do you think about it?
"It's right. I played many games when I had game points or break points and many other went to deuce. Sadly in many of those game I lost my chances. Today I made too many mistakes, yesterday it was so much better. That's tennis after all, sometimes you win, sometimes you lose, and today it wasn't my day I fear…"
You must be satisfied anyway about this tournament. Probably this semifinal is your best result so far in pro circuit…
"For sure. I had a very good week here. I played also qualies, then I had three tough matches I won after three set. Today I'm not satisfied of course, but in general it is a very good week."
How do you feel about your leg? I saw you called the trained in second set. Maybe it was also caused by tiredness?
"I was for sure tired, yes. Like I said I had three tough matches in past three days. But I didn't lost cause of the problem to the leg."
With this tournament you'll get also a new best ranking.  What are your goals now?
"I'm really happy about my new best ranking. From now I will try to play more $25.000 tournaments, cause Chiasso was the first of the season. My first goal is to reach the top300 as soon as possible, then we will see after that."
Top Austrian players, like Patricia Mayr or Yvonne Meusburger, retired in last seasons. Could this be a source of more pressure for you and the other young Austrians?
"No, I have to say I don't feel much pressure right now. We know that we don't have many Austrian players in the rankings, but I don't feel pressure thinking about that."
2016 is a very good season for you, you won a title in Hammamet and you got many other good results. What changed in your tennis, compared to your 2015 season?
"I learnt a lot in last season. It was also my first season as a pro. Surely the fact I finished school in last summer had a great impact on my tennis, cause now I can focus only on tennis. Hopefully I'll keep improving!"
————
Amanda Carreras is the second finalist of ChiassOpen, $25.000 on TC Chiasso's courts. The British player from Gibaltar improved her last year result, a semifinal, and got the best result of her career. Today, with a very good display of fight and consistency, she defeated the 18-year-old Romanian little star, Elena Gabriela Ruse, 6-4 2-6 6-2. People on stand could watch a really pleasant match full of high quality shots.
Here's the post match interview with Amanda Carreras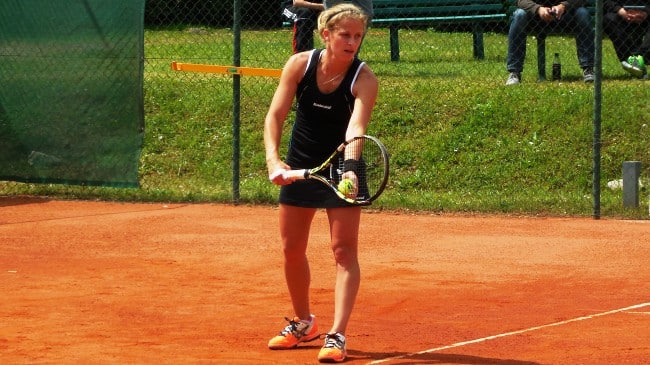 I see you have many fans here in Chiasso!
"Yeah, it looks like many people cheer for me here."
After your first round you told me you wanted to improve the semifinal of last year here in Chiasso… and now here we are in final…
"I've done it! I don't know how but I'm playing good this week. I also won my second round against no. 1 seed, getting the best win of my career given the rank of Rodina. I'm so happy about this week. Hopefully tomorrow I will win the title, but if I don't I'm really happy anyway."
In the second set Ruse won 6 straight games after being 0-2 down. How did you react to her great moment?
"I mean, she is a very good player, her game is really attacking. In first set we were both missing a lot, but in second set she hit many winners, but you have to accept that opponent can play well all the time. I just stayed there, played my game and in third set it worked."
People were commenting the match on stands and we said that in third set you were on every ball, you were everywhere on the court.
"Yeah, it's my game (laugh). I like to run a lot and I'm small, so… (laugh) But at least I'm fast, it's a positive thing for me."
It was nice to see that both of you showed in many occasions really good sportsmanship.
"It's a very important thing, we all play the same sport, we always must respect each other. If opponent does a good shot you have to accept she did a good shot. That's tennis."
Tomorrow the final is against Isabella Shinikova. Did you already played against her? Do you know her?
"I don't think I ever played against her. But I know she hits everything very hard, it doesn't depends on me, really. I will try to play my game as good as I can and if she beats me… she beats me. It won't change the fact I'm very happy about my week."
Here's the post match interview with Elena Gabriela Ruse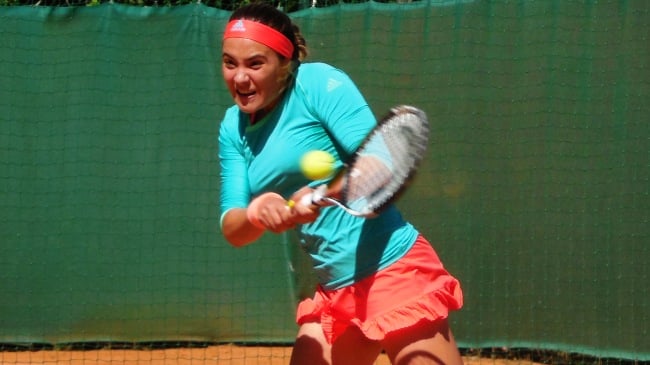 Probably today's semifinal didn't go in the way you hoped, but Amanda played a quite good match in this semifinal. What do you think about yours?
"I have to say she played really good. I was a little bit tired also cause I was in semifinal starting from qualies. She started from qualies too and probably she was tired like me, but she played much better than me, I can only say congratulations to her for the final. For next time I'll work a lot and it will be much better than today."
Did you feel the pressure at some point, maybe after that second set won in such a brilliant way?
"Oh no no! I tried to enjoy today's match and play my game, but like I said I was very tired and sometimes when you are tired you are not able to think properly. I tried to do my best, I was fine but not amazing like yesterday (laugh)."
I was talking with Amanda about sportsmanship on court. It was really nice to see you clapping your hands more than once when she made some shots.
"I always try to be a fair player, first of all because it's normal and then my family and my coaches always said me that if I wanted to be a good player I should respect my opponent. So this is one of the most important thing players have to know."
A general comment about your long week here in Chiasso?
"It was a pretty good week for me, I played really well. I have to say a big thank you for everything, for hospitality, transportation, to all the guys who helped us, the sponsors. It was definitely nice here. I will try to don't come back next year (laugh), of course only cause I would like to play in bigger tournaments with a stronger rank. Here it was everything perfect."
Leggi anche: