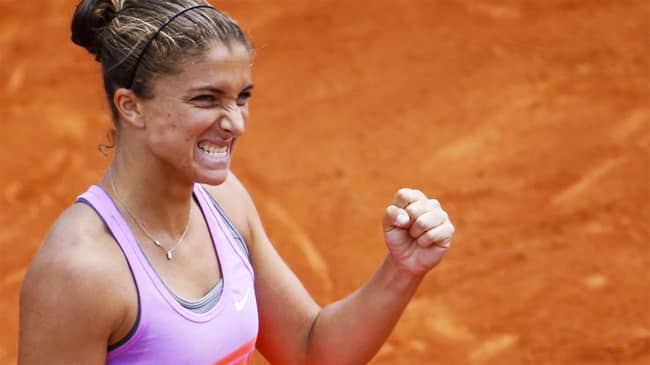 By Giulio Gasparin (@giuliogasparin)
There is no doubt Sara Errani is one of the last true clay courters among the top players in the WTA rankings. Results speak in favour of the Italian, who has reached at least the quarter finals of Roland Garros in the past four seasons, with a final and a semifinal in her pocket too. Her heavy topspin, great movements and tactical acumen make her a difficult opponent on the dirt, where she has captured, 7 of the 8 titles in her career.
The Italian is an exceptional doubles player too, having completed a career Grand Slam with her friend Roberta Vinci, but she has decided to take a break from doubles to focus on her singles this year and keep improving every day.
During this interview, she talked about her seasons and goals, putting a special attention to her philosophy, for which she is happy with herself as long as she gives her very best, even if this means a season not as good as some before. Not only, she talked about Serena Williams and her golden chance for her first Grand Slam and the general level of WTA tennis.
So we are back on clay, but the grass season has just ended. Given your style and characteristics I think you should be pretty happy about it..
Absolutely, contrary to the past seasons grass did not disgust me as much (said laughing) I found myself more comfortable and, most of all, the fact that it was sunny and warmer helped me staying calmer on court when I had to run. In the past seasons, whenever a couple of raindrops were falling, I was scared to slip and injury myself. This year I did not have this fear, the temperatures were different and so I felt better, more relaxed and, consequently, I played a lot better.
Did you find that the courts were any different from the past years? Some players talked about the grass having been cut a little longer and so slower.
No, I haven't noticed anything alike, but maybe with the heat the balls were slightly heavier and the game was slower, but nothing else I guess.
Talking about scheduling, the grass season is over, now you are here in Bucharest, next week in Bad Gastein… then basically it's non-stop until the Us Open.
Well, after Bad Gastein I have a whole week off, then I am in the entry list of Washington. I basically signed in for every tournament, but then I don't know what I will really do, at the minute I cannot tell (said again giggling.)
How are you training for the hard courts?
Well, at the minutes I am on clay, so I am focusing on these events, for the hard courts there's still some time left.
We got past half of the season, three slams have already been played too. How would you rate your season so far?
I am gonna be honest, I am happy about it, I know I might be saying always the same things, but when I go on court and fight at the best of my abilities, no matter if I win or lose I am always content with myself afterwards. There are seasons when this is enough to be on top, seasons when it does not go your way, but my happiness is not rankings-related. I try to be calm and serene, so that when I go to bed I can say: "today I have done everything I could." In the WTA rankings I am world number 20 at the minute, I have been higher, but I could be lower. I think there are so many amazing players that are winning a lot this year and yet they are ranked between 10 and 20, so it's hard when you see someone ranked 15 struggling to get into the top 10 despite playing amazing tennis and obtaining great results all year long, because you realise that the competition out there is stronger than ever.
So, in your opinion, women's tennis is reaching a higher level?
I think so. Maybe there are not the same three ones at the end of the week, like in the ATP, but there are so many girls playing great. You only need to see Muguruza's run at Wimbledon or Safarova's at Roland Garros, Suarez Navarro… then you have Pliskova winning many matches…there are so many girls that you can expect doing something extraordinary every week. They may not be the same three, but many have their chances.
Despite that, Serena Williams is one step away from closing a Grand Slam. Why do you think it is this year the good one? Is she playing any better?
I don't know, honestly, she has always been an incredible player, but, you know, sometimes it simply does not go your way or you play one match slightly less well and it's done. In the past seasons little things did not well like with Lisicki and Cornet at Wimbledon, you know, it takes just a bad day. This year she saved her chances at the very last moment with Watson at Wimbledon, many times at Roland Garros. The fact that she knows how to win in these bad days is the main reason why she is the strongest out there.
She also saved herself against you in Fed Cup this year…
(Laughing) But that was not a Grand Slam, she doesn't care about it!
Talking about Fed Cup, you played doubles with Flavia Pennetta there. This year you are pausing your doubles' career, but since you played so well with Flavia, might there been a chance for that duo in the future?
We will see, I've always said that at the minute I am not considering it, but things might change. Playing doubles has positive aspects, but negative ones too. You never know, maybe some weeks I will decide I need to play some doubles, but at the minute I am only focusing on singles, but never say never.
What about the Olympics, have you thought about pairing up with Flavia as you have played very well every time you stepped on court together?
I don't know just yet. I am not thinking about the Olympics as there's still a long year ahead.
There is a curious detail about you and you coach. You have been working together for so many seasons now, which is something different from most coach-player relationships nowadays. How do you keep finding new prompts?
(In that moment Errani stopped the interview to grab her phone in order to show us a picture. "Look, that's what he does right after a match was over!" she said showing us a picture when she is still wearing her tennis kit but got gagged. We all laughed). When you see that, you realise how we do, we found a perfect match, we know each other in and out after 11 years working together. He knows how to talk to me and how to work on technique and tactics. I am happy and I feel lucky, because not everyone has the luck to find the perfect person to travel on your side for so long. Of course there are peaks and valleys, like in every relationship, but I feel so well with him that I couldn't be happier.
One last thing. With the social networks it seems its is always harder to deal with fans and haters on the internet. There are many great aspects about them, but as many negative ones. Many girls have showed their frustration over some situations. How do you cope with this?
I think I know quite a bit about haters (said laughing). But I always try not to consider the people that loath you and throw hate on you with no reason why, because in the end fans are always kind with me, so if I was giving an importance to the ones insulting me I was somehow insulting all the people that show me their support. By that I live all the social networks in a serene way, I use them to keep in touch with the fans, to say a couple of silly things and to show to the new generations what I do, so that I may inspire some. Of course there will always be some insults, sadly, but it is not a problem.
Leggi anche: