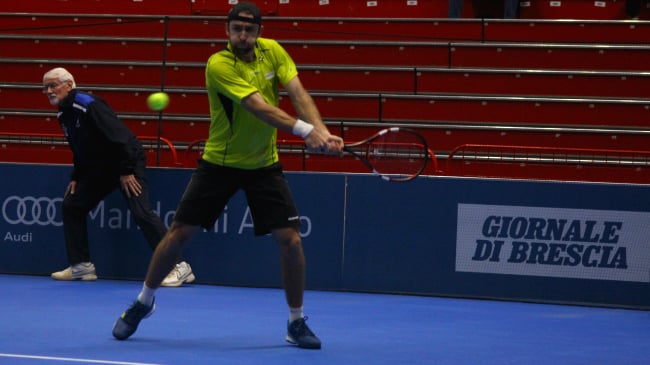 By Giulio Gasparin
34 years of age, Benjamin Becker is known to most because he put an end to the career of Andre Agassi, but the German is so much more than that. Last year, around this time, he was knocking at the door of the ATP world top 30 players in the world, but an injury, some form being missing and a little bad luck got him leaving the top 100, just to get back inside it in the past few weeks.
It must have not been easy being called Becker and being German in a decade where the memory of the results of Boris was still alive, but there was no other slam winner in the Teutonic squad. His breakthrough was the famous match against Agassi at the US Open, but the expectations on him were higher than what he could sustain. His passion for the game and dedication to the sport are second to none, as much as that he managed to work his way to being one of the best servers on the tour despite a limited height.
Today in Brescia he found a good win over compatriot Daniel Brands, adding another win to a good autumn of this 2015, which won't be his last season as a professional player, because he still enjoys what he does and this latest results gave him the confidence to keep it going for at least one more year.
It was a tough match, long and very well fought from both of you. But in the end, on such a fast surface, it always goes down to the serve, doesn't it?
Yeah, of course, I mean, he is serving big and it is really tough to get his serve back. At the beginning I really struggled with my return, but the more I played, the more I got my rhythm on the return and of course it helped me to break in the second and then get the early break in the third. On this surface when you get a break, you know it's done, because it's very tough to return, so you know you "only" need to serve normally. In the end, I did it and I am happy about it.
You have played already a few indoor tournaments the past few weeks on both ATP and Challenger level. Do you think this surface is faster than most of them?
Yes, it is! But I like it lots, because, I mean, I am more for a variety of surfaces, though it seems that on the ATP tournament every surface is the same now: same speed, all quite slow. I think it's good that we change it up, just to have a different surface and so a different look on the game. Maybe I am biased as I like faster courts, but I like that there are still some fast courts and I hope there will be more like these.
As you talked about big serves, Fognini recently said that he is too short to be the one serving big, but you are even shorter than him, but owns one of the best serves. So what do you think about this?
Well, I think it's up to you. I mean, you can work on your serve. Obviously when you are short you cannot have the angle of the big guys, but you can still work on your serve, even if it's tougher. But we have lots of good servers that are about my height: Berankis, Almagro…they all have really good serves. But I think Fognini does quite well, he is wrong at saying that his serve is not that good, I think its more than ok!
Around this time last year you were knocking at the doors of top 30, now this year has been quite different, also because of injuries. What can you tell us something about it?
Well, obviously, I injured myself in Paris and I played, but I wasn't healthy and it takes a long time for me to get back, because now I am a bit older. So it took around a couple of months to get back with my usual rhythm and my game. You know, I did not play well at the beginning of the year and then the injury came, but that's how it goes that in tennis, as it can be about a little bit of luck as well. You know, you can lose some matches and you don't get the confidence, then you don't play as well as the year before, but you have to hang in and find a way. These past few weeks I've been playing better and it will transition to the next year.
As you said, you are not young as most of the players, but what keeps you going?
Well, the fun for the game, the fun for the travel. It's my job and I've done it for quite a while and I am not ready to give it up yet. Now I am healthy again and I don't have long term injuries. I've had some injuries, but these happen sometimes and I feel like I am moving well and I can compete with these guys on the tour and as long as I can do it and I have fun doing it I will keep playing.
In Germany, now, you've got some young kids coming through, what do you think about the German movements? Today you played Brands too, who isn't as young, but missed a few seasons because of injuries, so probably still qualifies as young.
Yeah, he is still young and he has had these health problems and some bad luck. But he was in the top 50 two years back, so he has the skills. But we have some young kids coming through, there is Marterer and Zverev obviously. I hope the German tradition keeps going, because we have always had lots of guys in the top 100, maybe not in the top 10 as of late, but we hope to keep it going and have at least 1 or 2 top 10 guys in the next years and this would be good for the movement.
You obviously said that having fun is the most important key for you to keep playing, but have you got any goal set for the next season?
No, I mean, really right now the main goal for me is to stay healthy and at my age that's the main point. And as I said, as long as I have fun with the travel and the sacrifices you do for working hard and keeping the motivation, then I will keep going. Next year I will just see how it goes and at the end of the year I will decide what I am gonna do.
© riproduzione riservata