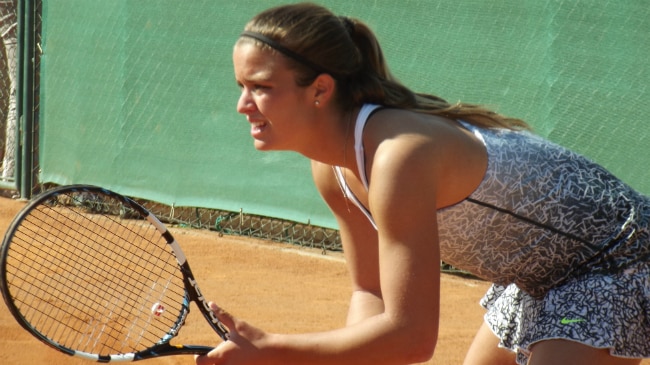 by Giulio Gasparin
Sport is full of stories of children taking on parents' passion and ending up living the same career, challenging their records as athletes. The story of Maria Sakkari is somewhat the contrary, because the daughter of Angeliki Kannellopoulou, former top 50 WTA player, was not expected to pick up a racket.
Can you imagine being the daughter or a former top player in your country and the granddaughter of her coach and pillar of Greek tennis and be not aware of it? That was the case for Maria, whose family knew tennis very well and did not want her to go through the same difficult life. But sometimes fate has a strange sense of humour and history seemed to happen all over again: this must have been the thought of Dimitris Kannellopoulou at the news of Maria being in love with the sport. "We are in trouble again…" he said back then, clearly remembering how hard the life of her daughter had been in the world tour.
Angeliki happened to be exposed to tennis at a young age and in several interviews she said it happened by chance as she went to watch her dad coaching in Athens. She fell to the ground and grazed her knee: his dad rolled a ball over so that she could focus on something else and stop crying. She gripped a racked that day and never looked back, becoming a star in Greece thanks to her results in tennis. It was not that easy, though, with money being an issue and Greek Olympic committee being far from happy with her accepting money from sponsors – she once was sanctioned with two years ban from national competitions! Many recall her her Roland Garros run in 1985, when yet to turn 20 she captured a third round appearance where she gave Chris Evert, the eventual champion, a great fight. Angeliki who reached the quarter finals at the Olympics in 1984, achieved a career highest ranking at world 47, but decided to call it a career at the age of 25, when starting a family became her priority.
Maria was very athletic from a young age, but her mother hoped she would not get involved in tennis. Now they recall that she tried some karate but it was not her passion, while her attempts are ballet are still making most of her family laugh. At the age of 5, though, a friend of the young Maria decided to try tennis and asked her to join him. Angeliki could not deny her daughter a try, so once again the Gods of tennis came knocking at Kannellopoulou's door and once again they made an impact.
At the age of 11 Maria played her first tournament in Lamia, where she reaches the final, starting from qualies. That's when the Kannellopoulou's knew tennis would have become the life of another member of the family and that's when Maria got to know the history she has inherited. But these were not good years for Greek economy and Greek tennis could only count on Eleni Daniilidou, so little money was available and structures for trainings were also not up to the level it needed to make an impact against a world of professional players. Maria had foreign coaches and thanks to the experience of her mum on the tour and her grandfather as a coach, she opted for difficult but wise choices, including leaving her home country in 2013. In Barcelona she found everything she needed and her improvements started to make an impact on her ranking as well. She rose from world 610 to the doors of top 300 and broke into the top 200 no later than last autumn.
In the latest days of last summer, for the first time she made it inside the cut off for a slam qualification draw, thanks to a strong showing during ITF clay events in Europe. Despite saying that red dirt is her favourite and best surface, on the hard courts of New York she won three consecutive matches, in all of which she was the underdog, becoming the first Greek qualifier in slam since 2002.
Coming strong of the boost of confidence derived from this achievement, Maria played some good matches against higher ranked players in the first weeks of the year. But it was in Melbourne that she found her best tennis, once again raising the bar on the big stage: she came back from a set down against experienced Turkish player Cagla Buyukakcay, edging past her 7-5 in the decider; then again she fought back from the same situation against Elise Mertens and finally won in two over Lin Zhu to capture the second consecutive appearance in a slam main draw. A clear record of 6 wins and 0 losses in slam qualies so far. In New York her run ended in the first round to Chinese Qiang Wang and fate did another of its tricks, so in Melbourne she will play another Chinese Wang, Yafan this time.
When she was still ranked 601 in the world, she said her goal is to break the top 50 and join her mum in that achievement. She is not close in terms of rankings yet, but the game, the will and the talent are there, the genes too, so who knows, maybe 2016 is the year history will repeat itself…
© riproduzione riservata