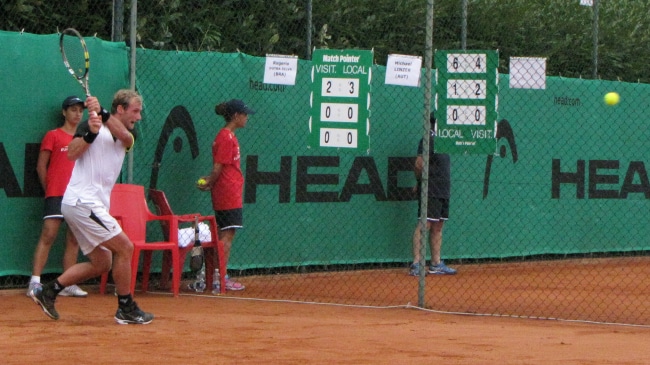 Article and pictures by Giulio Gasparin (@giuliogasparin)
Michael Linzer had to battle for more than two hours against the better ranked Brazilian Rogerio Dutra Silva, but he managed to capture his first win in Cordenons after the injury he suffered on these courts three years ago with a 7-6 6-4 score. The match was very intense, with both players battling to their own limit on each point for most of the first set, whereas the second set saw less equilibrium, with one player dominating the games, though at patches.
After a couple of seasons, following his injury, where he was not too much under the spotlight, the Austrian is now coming back closer to his best ranking and his game is definitely among the ones to watch.
Congratulations for this very tough win. The first set was very intense, especially.
Thanks, at the beginning it was more hot than by the end of the match and, moreover, at the beginning the rallies were long and tough, so it was physically very tough, but we both played at a very good level, but he is a tough opponents, especially coming from many many wins in the past months, so it's a very good win for me.
The second set, you started off paying the toll for the effort of the first set, especially the tiebreak, where you spent lots of energy, mentally mostly. Then your opponent dropped his level…what do you think?
Well, of course, after the first set, I was really tired and in the second set I knew I had to shorten the rallies and finish the points very soon. So I was trying to finish within the first few shots, especially when I fell 3-0 down. I came back to 3-all and, in the end, yeah, I captured my chances.
You are having quite a good season so far, many many wins. Are you feeling confident?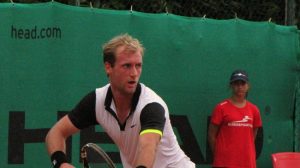 Yes, you know, a few years ago, here in Cordenons, I broke my abdominal muscles when I was in really good shape: I was close to top 200 and I had some good 6 months and I knew I had very little to defend in the next 6, so I had a good way to top 100, but unfortunately I had been injured for 3 years afterwards. Now I could play for 4/6 months and I am back to top 300 and I don't have much to defend until the Australian Open, so I hope my ranking can improve now.
You've got this very bad injury here 3 years, is coming back a way to exorcise that?
Yeah, three years ago I broke my abdominal muscle here on the centre court, but, yeah, you can see my coming back like that, but I try not to think about the past too much.
I know you will not go to the US Open for the qualifications…
Unfortunately not. I decided not to go after the points I needed for the US Open qualies, because two months ago I could have got them if I played some smaller tournaments and reached the semis or the final there, but I decided to play the qualies of some ATP, but I lost, once after having 7 match points against a very good player and once 7-5 in the third with Hanescu. But you know, some times you lose these matches and that's why my ranking is not good enough to make it this time.
Leggi anche: