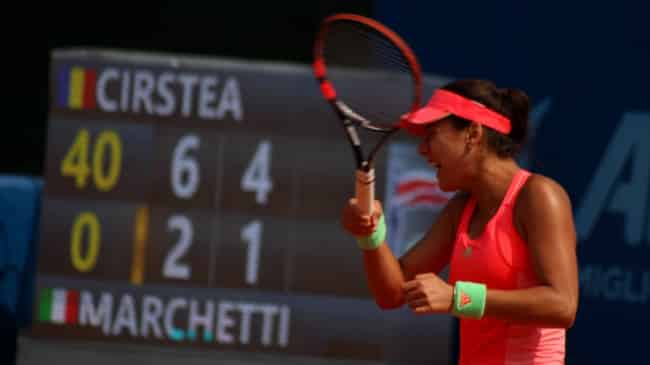 by Giulio Gasparin
The number 1 seed Sorana Cirstea easily won her first round match at the 2015 Padova Challenge ($25,000, clay). She beat Giorgia Marchetti 6-2 6-1 and now she's facing the Slovakian qualifier Petra Uberalova. We met her after the victory.
It's tough when you don't know your opponent and start a new tournament nd the conditions are unknown. How did you feel out there.
I didn't know her much, I had to try to  figure out everything quickly at the beginning. As always, I just tried to focus on my game. I'm happy to be here playing, I love Italy, it was a good first round match.
How do you feel? This year has been very tough for you, now are you feeling well?
Yeah, it's been a rough year and also the previous one, I was struggling with the shoulder for two years. Now I'm starting to feel better, finally. I'm very happy to be able to play again, and to be pain-free and just enjoy to compete because this is what I love to do. It doesn't matter where I am, I always try to do my best. I'm happy to play here, and hopefully I can stay as long as possible.
What are your plans now for the summer?
I'm gonna stay on the clay for next week as well, then go and play qualifying in Wimbledon, then come back on clay and play a few more. I'll probably be around Europe and try to build up everything again. It's a long road, now I'm feeling better as I said but I'm trying not to rush and take everything step by step.
There's a rumour saying you're gonna take a wild card in Bucharest, your home town. How do you feel about playinh in front of your home crowd?
Yes, definitely. I really wanted to play there last year but unfortunately by shoulder went bad and I had to take 8 weeks out during that time. This year, if everything goes according to the plans, I"l be playing in front of my family, my friends and the Romanian people. I'm very excited, I'm very proud of my country; it's an honour to play there.
You've been the first Romanian to have a great breakthrough at the Roland Garros, now a lot of Romanians are following your example. How do you feel about that?
It's amazing for such a small country where we don't really have a proper system, suddenly we have so many players. We are pushing each other, we grew up together, we're all kind of the same generation, this is the key, I think. For the first time in so many years Romania is in the World Group in Fed Cup and it's amazing for my country: next year you'll hear a lot more about Romanian girls.
For many years, you played doubles with Lucie Safarova and now she has just reached the final at the Roland Garros. Have you spoke with her after the match?
Yes, I used to play a lot with Lucie, she's such a lovely girl. I'm so happy for her, I sent her a message of course afterwards. I'm very happy because she deserves it, she's such a nice girl, she works so hard, she's so prrofessional, I'm happy to see these girls coming and making big surprises because these days the level of tennis is very high, everyone can be very high and it's very interesting for the public because there are good matches in every tournament and they don't know what to expect.
A last question, of course you love clay, but our game is very powerful and very good on hard courts, you reached the final in Canada few years ago. What's your favourite surface, actually?
My favourite is hard court, I feel the most comfortable there. I like power, coming in, being the one dictating the game, i thing hardcoutts suits better my game. But as I've said now I've been struggling with a lot of problems with my shoulders and I've just starte to play again, two or three matches for the first six months and I think clay is softer. So I'm gonna try and stay on clay for a few weeks, build it up, and if everything goes well then we can go on on hardcourt and hopefully have a good end of the year.
Thank you and good luck gor this tournament and for the rest of the season.
Leggi anche: