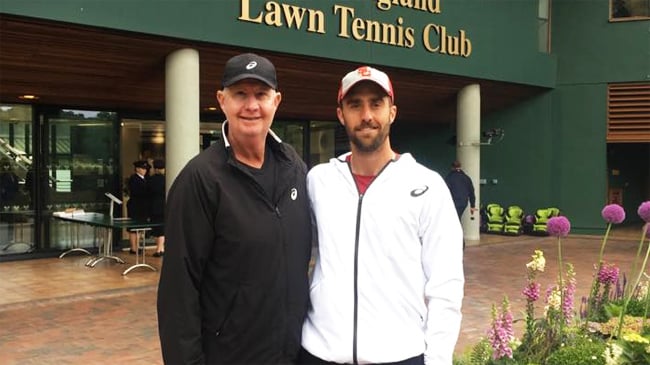 Interview by Salvatore Greco, English version by Giulio Gasparin
26 years of age, Steve Johnson has made his way to the top silently, through hard work, little talking and numerous wins. He took his time, he did not rush, he improved steadily and now he found himself with his maiden ATP title, a top 30 debut and a solid showing against an event hero like Roger Federer in the 4th round of Wimbledon. He is your all-American player with a strong serve-forehand combination, but his game is also done by little adjustments that make him a lot more than this: his serve is good, but John Isner's good, his forehand is strong, but not Jack Sock's lightning strong, yet he is steady and sturdy and he seems to have got there to stay.
Following this great achievement by his son, we had the pleasure to talk to his father, Steve Johnson sr, who is not only his first supporter, but also the supporter of a more relaxed way to the top, where the stress for big results earlier in players' careers is not a necessity.
"At 26 years old, Stevie is just now beginning his 5th year on the tour. It takes about 3 years in my opinion to get comfortable", he said: "the male athlete is usually hitting its peak around 28 so I feel he's going to be right on track to have some great results in the coming years. Physically and mentally comfortable with what he needs to do, and now with a title at Nottingham he will have confidence to make a move up in the rankings. Stevie has always been a great competitor and I feel that will take him a long way. He has represented the USA playing on the Davis Cup Team and will be in the 2016 Olympics in Rio. These were some of his dreams as a kid. He's got more dreams to chase and I'm excited to see what he will achieve during his career."
It has been a long journey, but Johnson Sr remembers very well how it all started: "Stevie was hitting beach balls and balloons with a Jr racquet around the yard when he was 2 years old. He loved hitting any ball, baseball, golf ball hockey puck. He just wanted to be outside hitting balls and running around. He would come with me to the tournaments and hang out with my other students and ask when he could play. Practising sets with his mom Michelle, he proved that he could play a set without any help. He played his first USTA tournament at 5. Won his first round at 6 and won a 10u tournament at 7. Shortly after that win I put him in a 12u and he won that too. Realizing then that he was better than most kids and had a love for competition. I would get help from my coaching friends to keep Stevie challenged and to help grow his game. No matter what was put in front of him, he always embraced challenge. Loved it and wanted more".
Not only the family environment around him helped developing his growth, but the whole of his home state feels like a good place to be when tennis is more than a dream: "Living in Southern California we have a great situation with the good weather and plenty of kids to compete with. We never had a problem with getting quality court time for practice or competition. I think the status of American tennis is on the rise. The media likes to put it down because we don't have a player in the top 10 right now or someone who's winning Slams. Reality is that there have only been a few guys winning the majority of them. As of today, the USA has 4 guys in the top 30 and a group of young guys who are making their way up in the rankings. I feel like we are going to see USA tennis rising in the coming years".
Many see Johnson as an anomaly, having started to play on the pro tour only after college, finding himself with a lot less experience on the tour than most of his rivals, yet his father believes he reached the tour with a much bigger confidence and set of experiences: "I was able to coach Stevie until he went to college. He played at the University of Southern California under head coach Peter Smith. The team won 4 titles and Stevie won the individual title his last 2 years. At 18 years old, Stevie was not ready for the professional tour. Not many are, however there are always exceptions. His time at USC helped develop him as a person and as a player. The tour is so tough that I feel you need to be ready in more ways than just hitting a ball. You need to be mentally and emotionally strong with high character to survive week in and week out of losing and then moving on to the next tournament. Lots of good players come on tour and only a few survive. Not really the glamorous life that people see on tv".
Is that then the right solution for everyone to take, the magic receipt for success? Of course, not, but it is one more possibility to consider, an alternative route, if you prefer. "I am not in a position to tell anyone which path to take to the tour. I can only give my opinion on what was right for Stevie. I am a believer in college tennis for obvious reasons, but each player's path needs to be the right one for them. When I speak around the country I deal with the issue that people want a blueprint on how to do it but that's just not real. Each player is an individual and needs to figure out what path is right for them".
So if everyone has different needs and different paths, it is good to know how all these players found their personal way to the top. "As a father of a top 30 player looking back at what we did with Stevie, I wouldn't change anything. He went to regular school and played several sports until he was 14. At that point, he really wanted to go to USC and play D1 tennis for a school that had the chance to win an NCAA Title. USC was a great fit and was close to home so that our family could be a part of it. Very important to us as a family. Peter Smith, assistant coaches, trainers and support staff at USC were instrumental in improving and getting him ready to move into the world of professional tennis. In closing, my final thought is very simple. Have fun. That's my message. Have fun!" And we could not agree more.
Leggi anche: