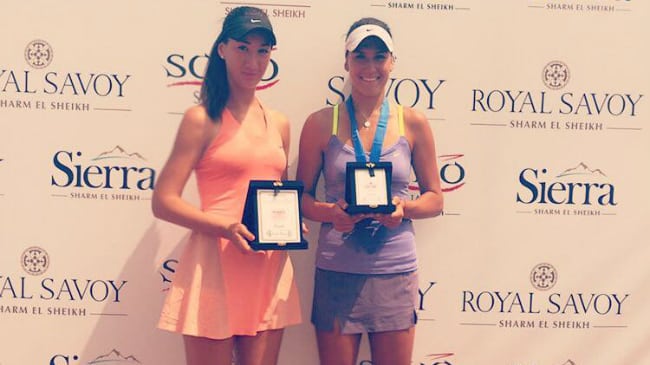 by Daniele Sforza
When you hear about professional tennis, but also about life, a word that comes up every time in your mind is "fight". You have to fight for everything, when you play a sport at pro level many can be your problems or the variants that bring yourself to leave your activity, even for good. An important variant for every professional athlete is related to injures, that could trouble for days, months or even years.
So, we are talking about the story of a girl, who always had to fight against those injuries and finally, hopefully, will start her new career, at the age of 21. We are talking about Aminat (or Anna, as you can read below) Kushkhova, Russian, #389 as best ranking reached in 2011 , and with a great story to tell.
If you read her Itf profile, you find the name of Aminat, but often she isn't called with this name. "In passport I am Aminat but my parents call me Anna or Ania, it's in a shorter way since I was born. I don't know why, but they never call me Aminat so I got used to Anna already so much, but some people call me Aminat or Amina and I don't mind really. I have a lot of names and I like all of them"
Aminat starts telling us how she started playing tennis, even if it wasn't love at first sight, because his father insisted to see her to play. "I started to play pretty late, at the age of 8, in Sochi (recent Olympics venue); my dad is a big tennis fan so he wanted me to try this sport. At first I didn't want to play that much, it was coming more from my dad. Then at the age of 14-15 I started to do very well, so I guess that was the moment when I decided for myself I wanted to play tennis professionally. I really enjoyed winning and competing".
Then she decided to play junior tournaments, where she was quite good, she reached 134th position and played also Roland Garros. "Playing juniors was a great experience for me and also a lot of fun! The tournaments were organized always on a high level and also you had a great opportunity to compete against the best juniors all over the world, I met a lot of people, saw a lot of new countries. Also I was lucky to play junior Roland Garros which was also an unforgettable experience for me. Playing juniors was definitely great experience for me and also a huge motivation to continue playing tennis and being a pro".
The transition from Junior to Senior wasn't that hard. Problems arrived after, when, as already said, the Russian had to face more troubles, coming not only from the tennis court but also from injuries and following consequence like lack of confidence. "For me playing women's futures after juniors wasn't that hard in the beginning. I reached 389th WTA position when I was 16-17 year old, I played relaxed and didn't have any pressure but then I had to face some serious injuries and I also had some coach changes, so I dropped in the ranking and lost my confidence. I knew I could have done better and I always expected and pushed myself for more, but my health and some "mental" issues were putting me under pressure that was pulling me back a lot".
Then, at the end of 2013, the worst injury happened and it took her off the court for a year. Her comeback arrived only during this season. "Of course injures are part of our job, you know, professional sport is never healthy, but my last injury really caused me a lot of troubles. I couldn't compete and practice because of extreme pain in my shoulder and it took me almost a year to get back to a normal condition, to start training again".
So, at the end of 2014, when her injury was healed, she decided to move to Salento Tennis Academy, where she has been coached by a former top100 in doubles rankings, Irina Buryachok. There has been a trial period but the choice was simple. "I was looking for something new, I needed a fresh start and I needed a person that understood tennis and also how a tennis player's mind works. So, considering Irina was a great tennis player competing on a highest level in women's tennis I was pretty sure she could have helped me and understood me well. So we had a deal: I would have come for 2-3 weeks to try and then we would have see how it went. I guess there is no need to explain how it went… I enjoyed practicing in Salento with Ira and doing fitness with Emiliano, everything was very nice, courts, trainings, atmosphere, so it's working very well for me now, and I am happy about it".
If we can say that with tennis it wasn't a great love at the beginning, we can be sure about the opposite once she moved to Italy. From people to food and to all the things Italians are famous for. "If I start talking about Italy I will never end… I like everything, I like people, I am absolutely in love with the language, I like Italian food, the good coffee and the atmosphere around. But Italian ice-cream…. this ice cream just won my heart. Amazing Italian Ice Cream! That's why I chose to practice in Italy (laugh)".
2015 season started in a good way: after a first round elimination in the first tournament in February, in Sharm El Sheikh she improved her results with a quarter final, a semifinal, a final and, in the last week, a title, won against Julia Terziyska, without losing any set. "Well, I really started very well this season, I have 19 wins and only 5 losses this year, which is pretty good as a start. I feel I am in a good shape right now and I was very happy to win the tournament, I have my ranking back, now I have more confidence and I also have a big motivation to play and to do my best on court".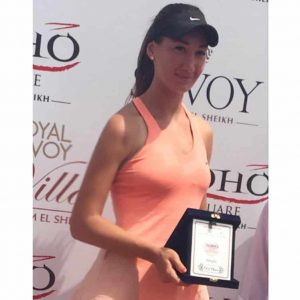 She got those wins thanks also to her tennis style: "I like to play aggressive tennis and my favorite shot is backhand down the line".
Anna chose Sharm El Sheik to start his season, where she played 3 straight tournaments and, after a pause, 2 more. This is a decision that a lot of players takes, to save some money. "Now there are a lot of consecutive $10.000 tournaments organized by the same resort, like in Egypt, Turkey, Greece and Tunisia. They are all organized pretty much the same. I think the level of organization depends more on the level of the tournament not a place".
Considered the bad moments of the past, right now she doesn't have a ranking goal, she just wants to improve her game. "This year I don't want to put myself any rank limit. My goal is just to improve my game as much as I can and result will come then. I believe I can reach top 100 in WTA if I work hard, get my head together and if I will be the best I can be".
An important chapter of professional athletes' life is school, sometimes it can be left out cause of the difficulties to combine sport and study. "I finished school like any other normal kid and now I study In Moscow University of Sports, but I have to study online cause it's impossible any other way when I travel so much. Tennis is a big part of my life and it takes a lot of time of course but I think it's very important to be educated anyway I don't understand when parents let their kids dropping school completely for sport, you never know what can happen in life".
So she studies and in the free time she snowboards. "As a distraction from tennis, my favourite hobby is snowboard. When I have a chance to ride in wintertime I always try to use it and to spend couple of days in the mountain, I am a very outgoing person, I like to spend time with friends and family, I love traveling, seeing new countries meeting new people".
When the interview was about to end, I decided to ask Anna to tell me something in Italian and it is easy to imagine what she said: " Sono golosa di gelato italiano!", that means "I'm greedy of Italian ice cream!"
Leggi anche: