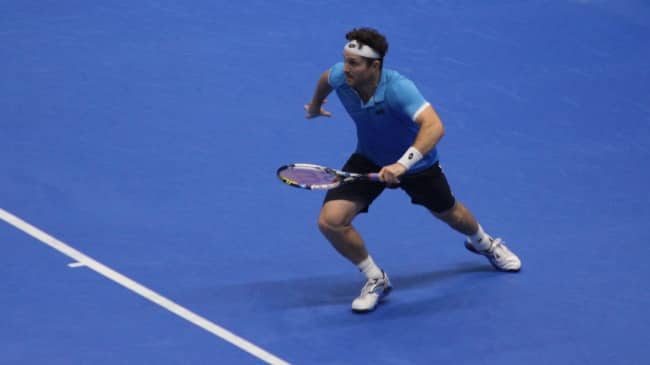 by Michele Galoppini (@MikGaloppini)
It's only a day of first rounds in Atp Brescia Challenger, but great matches and unbelievable fights are already the protagonists of this tournament. One of the heroes of this day is Michael Berrer, semifinalist in last edition and against Aleksandr Nedovyesov in this edition's first round. The German won his match 7-6 4-6 7-6 after 2h30 of big serves, many winners and nice rallies, serving twice to stay in the match and recovering from 5-6 0-30. Breathing heavy and smiling he agreed to a post match interview.
Definitely a tough match today, at least. How did you manage to keep up the level till the end and close the last tiebreak?
It was a big fight, I need to stay positive, it's the end of the season and I didn't play as well as I wanted in last weeks. My fighting spirit helped a lot today, but with my master in sports psychology I thought I should be able to do it (laugh).
Last year you was semifinalist here, this year you started with a nice match. Conditions seems to a bit slower than last year, what do you think about it?
Yeah, it's a little bit slower, I like these conditions but it's not an easy surface. I mean, it depends on who I play next, but no match will be easy here. I have to think match to match and hopefully in the end I will make a good result.
About next match, you will play against Gerasimov, who's coming from a big title in Bratislava, or Chiudinelli. You lead the head-to-head against the Swiss, but who do you prefer to play with?
Both are very good players, especially on this surface… I don't know, I have to think about it, but maybe Gerasimov suits a little bit better to my tennis. But since I can't decide, I take who comes (smile).
Last year, in an interview with us you told us that this could have been your last year as a professional tennis player… did you maybe change your mind?
True, this should have been my last season and Brescia and then Andria should have been my last two tournaments, but I talk with my wife and, yes, we decided that I can play one more season, because… I simply love it! I'm healthy and I will play and enjoy it a lot one more year and then I will start with something else (smile).
Lately the news about qualification draws in ATP250 with only 16 players, with proper entry list, from next year. What do you think about this ATP's decision?
It is a very difficult situation. ATP thought a lot about it and I have to trust them and their word. They lead our sport in new directions. We have to trust them and I'm sure this is for the good. Furthermore, we have seen in the past that in some cases players in qualifications are not even ranked or are doubles' specialists, so I think this is the good step. Some weeks it will be difficult, but I think this is the right step to make and I support the ATP.
Checking your 2015's results, one can't ignore the win you had against Rafael Nadal in the very first tournament of the year. Probably it was one of the best matches of your career, what did you feel that day?
It was overwhelming a bit and it was too much after it, cause of press and stuff. I also had to play the next round the next day and I was really tired (smile). It is such a nice match in my memory, it was a great win I have to admit, but tennis is not just one match, you can lose to everyone and win against everyone (smile).
Thank you so much for your time, Michael, and good luck for next round.
Thank you!
Leggi anche: