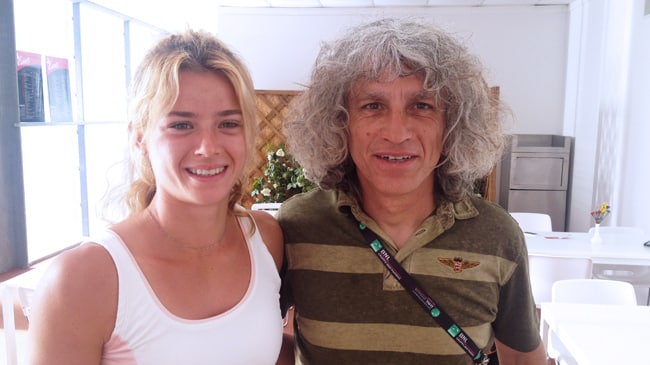 by Giulio Gasparin (@GiulioGasparin) and Michele Galoppini (@MikGaloppini)
It was a very nervous Camila Giorgi the one that showed up very quietly after her impressive first round win over Julia Goerges at the WTA of Linz yesterday. She is always like that as she does not like to be under the spotlight, just like her mother does not. Her father is a volcano instead, his Argentinian blood is warm and passionate, he likes a good talk if he finds the right company and is not shy nor ashamed of showing his love for his daughter and the surety he has on her potential as a top player. The two may be very different, but share the same passion for sport and the same ideas on how tennis show be played.
For us it was a pleasant chat, which underlined so many aspects that one does not catches from watching them on television, like the simplicity but kindness of both, who are very down to earth, despite aiming big.
Giulio Gasparin: So, you won and you played very well, it seems like you feel good in Linz, right?
Camila: Indeed, I feel very good here.
GG: Also last yeah in Linz it was good for you, as you got to the final, so I think it gives you tranquillity to come to an event where you've done well in the past and then the first match goes well to, doesn't it?
C: Yes, you are right, though the first match of a tournament is always the hardest, but I feel very good to be back here.
Michele Galoppini: It seemed to me that you've been playing very smart out there today, trying to find the right moment to shot the most appropriate shot, was that something you felt too?
C: Yes, it is what were are working on at the minute, and I think it is getting better, especially after a long season is good to feel your shots like that.
GG: As you said, it has been a long year, so once you arrive to the indoor swing, even though you like it lots, one can have little energy left in the tank, mentally as well. It seems that you are very sharp instead, am I right?
C: Well, these are the last tournaments, but I feel my form is here, I have no injuries and so I am here to try my best until the end of the season.
MG: Will you be playing next week as well?
C: Yes, I am playing Moscow and than take some time off.
Sergio: …mostly because there are no more tournaments…
(everyone laughs)
GG: Do you think the WTA could get the season a little longer? Maybe to include a couple more indoor tournaments?
C: No no, I think it is long enough (said with a worried look)
GG: You can't wait to go on holiday right?
C: Oh yes, after Moscow I am most definitely going to take some time off.
GG: I swear we won't follow you there, but where do you plan on going?
(everyone smiles)
C: I don't know yet. We will see, but what matters is to stop for a bit and let the racket rest.
GG: Anywhere cold or warm?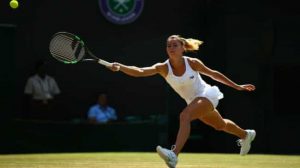 C: I'd like to go somewhere cold, actually.
MG: So you share the same need of Simona Halep, who said to be in need of some cold weather after a full season under the sun.
C: Yes, but one can always change one's mind, there's still more than a week to go, so I am yet to get my head around it.
GG: We will be going back to tennis after that, but do you like skiing? And snow?
C: Oh yes! I love snow and I enjoy skiing a lot too.
GG: Maybe that's why you always look inspired in Austria!
MG: Oh yes, that's the place!
C: Well yes, we are in the Alps and I really love these mountains.
GG: Switching to tennis, I was commentating before for Michele that your performance looked very solid, you saved many break points…
S: 6!
GG: …and most of all you saved them all by playing well and smart. Can you explain us what are you working on to make this happen?
C: Mentally I try to be more solid, it is not just about being more patient, but be more efficient with my shots and decide the best moment to fire a decisive shot or a winner.
GG: It sounds easy to tell, but making it is another story. What's the work behind such goal?
C: Well it is all about mental consistency!
MG: Maybe you can help us defining it…
(everyone laughs)
MG: I mean, it is a difficult question, so it's normal you gave us a difficult question…
C: Mental consistency means to be able to decide which of my shots is the best one to use in which moment, no matter what the score is. I think it is a key step in my game.
S: What she wants to say is that she needs to find some guidelines is a necessity in her game. She is someone who'd like to play 100% every time as she is full of adrenaline, which makes a whole difference between the rest of the field. So she needs to find some discipline in some movements and most of all mentally.
MG: Well, today she looked to be serving quite well. The first serve percentage was high enough, but most of all the realization was high, especially with the second serve. Have you been working on it a lot?
C: yes, I feel so much better with my serve as well, even when I make some double faults, I don't think it is as bad as it has been some other times.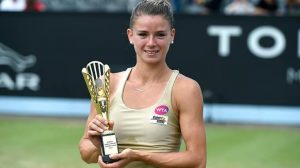 MG: With the second serve you made almost 70% of the points, that's a lot, especially comparing it with some of your colleagues
C: Really? (laughs)
GG: I know that in a recent interview that you had with Alessandro Nizegorodcew you said that Camila was almost obsessed by working on her backhand, while you felt she needed to focus on her forehand. Are you still finding an agreement on that?
S: I think it depends on the moment, there are times when she needs to work on one shot and times it's another, because it cannot be that everything is always working. I do believe that the level of game of Camila is so much better than her ranking, but we are always going back to the same problem: in tennis mentality is key and in certain moments it is what makes the difference. When I gave that interview, I thought she needed to work on her forehand, but it's not always the case as I think she's pretty alike with forehand and backhand. Now we are working on giving her more discipline as it what she lacks to reach the top of the game. Many coaches and athletes feel the rush to reach the top of the game as soon as possible, while I feel like there's lots of time for that.
GG: Well, the latest results of the Italians clearly show you that you can reach the absolute best results even when the age suggests otherwise…
S: Oh most definitely!
GG: On the topic, Cami, you often say that you don't watch a lot of tennis and very little women tennis. Did you watch the US Open final?
C: Absolutely, I could not miss such a great final and it has been a great show!
MG: What did you feel watching it? I mean, they are colleagues you know very well and maybe watching them going that far gives you more confidence for your path too.
C: It was a great emotion for me to see them in such a final, being Italian I am always happy to see Italian players keeping up the name of the country and I think it is a great result for the whole movement.
MG: On the Italian movement, you are definitely the one that everyone looks at to take the inheritance of the most experienced players. How do you feel about it?
C: I don't feel any pressure about it, because I try not to read news and what other people think. I keep the focus only on myself, on my training and so I don't care of what other expects.
MG: Basically you walk to your own song!
C: Indeed, well said.
GG: I know that your relationship with the other Italian players has got better, by playing Fed Cup you got to know them better and several times Flavia, Roberta and the others have said that you are fun, talkative and entertaining off court, it seems they like you lots. How would you describe your relationship with them?
C: Yes, it gets better and better. I am always happy to share some time with them during Fed Cup and other tournaments. We spend some time together and that's very nice for me too.
GG: I also think it is a good way to feel less lonely when you travel all year long.
C: Oh, absolutely, it makes everything way less monotonous.
MG: Talking about Italy and team events, next year we've got the Olympics coming up and they will be played on hard courts, I am sure that was a good news for you.
C: Yes, yes, it was. I would say that the Olympics are my main goal for 2016, so hopefully…
GG: That's for both of you. Now that the season is about to finish, what will you be working on after the well deserved holidays?
S: I think that more or less we will keep the work that is paying off right now in Linz. We need to have her taking the best out of her shots, just like she has done today. She is the fastest on the tour, I'd say both with arm speed and feet. If not the first, she's second or third, so we must make the most out of it. She has a massive anticipation and I am a 100% sure she'll make it to the top 10, I don't know when, but even top 5 it's not impossible.
MG: Well, it is something that we have learnt from your career: you keep rising in the rankings, year after year…slowly but constantly.
S: You know, I like this way better. Because if you improve slowly but steadily you don't collapse under the weight of your results. So many girls these days have got to the top 10 or better but fell right after because of the pressure, the inability to sustain that level and so on. I think that if she gets there and stays for 3 seasons that's more than enough.
MG: Well three seasons at the very best of the game is quite remarkable!
S: It is a long time, I know, but I also know she can do it. Actually, I know she will do it!
GG: Well, I'd also say that in the past year, year and a half, the gap between the top names and the next 30 or even 50 is not as huge, both in terms of game and points. That means that climbing the ranking may be easier, but then it is harder also to stay.
S: Maybe in terms of points the gap is not big, but with the game…well I think some girls show that there's a big difference. Camila has a "lying ranking" as she has a game alike anyone else in the tour. I don't say that because she's my daughter, but because it's objective. I keep saying that, but few players have the same anticipation and speed. Today there have been three or four unreal rallies, where she defended well and turned it around to win the point. That's a very high level and I think it's a beautiful show, I think it's a beautiful tennis as it is aggressive as no other player's is. It is a completely different approach, but it means a lot to me. I like it because it is more spectacular, even when she plays poorly there is always going to be a hot shot or a couple of great games, something that most of the other players can't say.
MG: Well, today there were some other players sitting in the stands and they wowed at a few of your winners very loudly.
(Camila smiles
GG: On that topic, Cami, you always look calm and composed on court no matter if you have just hit a massive winner or a poor error. But tell me, do you feel a bit pumped up inside after a great show?
C: Not, not really, I am always calm on the inside…
MG: You leave the strong emotions to dad…
(Camila smiles again)
S: I get overly agitated because in training you see hundreds of such shots, but when she makes it during a match I get excited as it means hard work is paying off: it is not the same to make it happen in a match. I think that the shots she can pull out are exceptionally remarkable from a sports point of view, not only for tennis. I like aggressiveness in sport, attacking tactics, the kind that when you do a defence is with the aim to follow it up with an attack, not only to keep the ball in play. She always has an aggressive mindset and it's what makes me proud of her and her tennis. Even when it's a negative moment in her season, which is part of parts too. I think it is very posirive that she has defended all the points from last year having done nothing exceptional, but by keeping on playing great tennis, that leaves me optimistic and calm for the future.
MG: I think that maybe a lot of critics come because the way Camila plays shows a lot more when she is not fully ready or in great form, because a more defensive mindset does not give away many mistakes even on a not-so-positive day, on the contrary Camila can misfire a lot if the day is just not good…
S: Well, yes and no, I think it was just the same when Agassi was playing bad, because he was trying to attack, but he could not keep a ball on court. I think he was mentally fragile in a way and that's why I am proud of Camila, because she is not, especially when she plays. She has a great fighting spirit and she can keep up a a great mental level no matter what's the score. Agassi when was not play well was unwatchable…
MG: As I said, I think it's a consequence of the game style, the way one plays…
S: Playing such an anticipated and fast game with legs and arms is not easy. From outside it is easy to say "She only needed to hit slower but there," but from off court everything is easy. People are not used to this kind of tennis and I think you cannot get them used to it if they had seen something different for all their lives. I hear always coaches saying: "Just keep the ball in play" but that's a widespread defensive mindset and they think Camila's is not tennis. I was told so many times. I remember when Camila was world number 300 they told me her tennis was fun for exhibitions, but not good for world top 150 or 100, even Ferrero's coach told me that. Even the coach of such a great player could not see what I see in Camila, because he thinks just like so many people do: they are not used to this type of tennis. In all honesty, the way she is developing is making me so proud, because her tennis is so different, just as if it was another sport, it is very difficult to play and to master, that's why at time she finds it hard to keep the ball in play. But experience will help her and with the work we are doing I am sure she will become a top player. For sure!
MG: The season has been long, as usual, with many matches. But has there been a player or a type of player that gave you the most troubles?
C: No, not really, because it never depends on my opponent. It's all about be and always has been.
MG: Is that because you want to dictate your game and do not let your opponent to take the initiative?
C: Indeed, it's what I always try to do. Some days it might not be working, but it doesn't matter who I've got on the other side of the net. It must be like that all the times, because it's how I feel it must be.
S: Indeed, I think that win or lose, little matters who's on the other side, it's always depending on her. She must improve, that's a fact, but she is the one deciding the result, the other opponent cannot really do much. Against Ivanovic a few weeks ago, i.e., the Serb was up a set and leading in the second, but she called her coach and told him she had no idea on what to do, because she felt like she was not doing anything out there. I think it is great that it is always on Camila's racket and Ivanovic is a top 10 and was leading…her coach could only tell her "try and keep the ball in game and let's see what happens" Can you imagine that? (laughs)
MG: Well, Camila, you scare them all.
(Camila smiles)
© riproduzione riservata