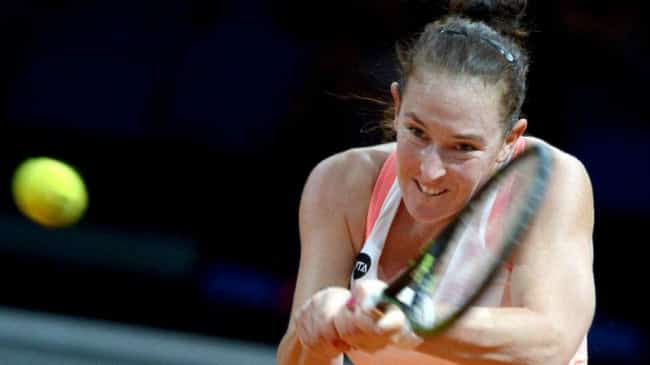 by Giulio Gasparin from Stuttgart
It was the long gone 2007 when the name of a 17 year-old American revealed herself for the first time to the world of tennis experts. Madison Brengle was climbing junior rankings, where she reached the 4th position and as she moved the first big steps at pro level, with a WTA tournament appearance behind the corner. During a hot Californian summer, she was awarded of a wild card for Los Angeles WTA Tier II, where she upset Flavia Pennetta, conquering her first WTA win of her career.
But since then, people lost track of her, or better, that big step everyone was expecting didn't happen and the few chance where one could see Brengle were the Grand Slam qualification tournaments, in which, year by year, she has worsened her record of consecutive failed attempts to reach the main draw. In 2014, she lost again before reaching the main draw, in Wimbledon this time, and that was the 24th consecutive failed attempt, which meant 6 six years of continuous disappointments.
"I had a like okay clay court season. I played a good matcher here and maybe a not good match there," she told us. "It was still little too up and down and French was tough for me. And then I went to play the two tournaments in Nottingham and […] it was just really really not good tennis. I was not happy out there on the court. And I went into Wimbledon qualies, I was not optimistic. I just kind of went out from my first round qualies at Wimbledon last year and kind of turned it around. From that point on it got a lot more positive for me."
Things actually improved and thanks to good results in the following ITF tournaments, USTA trusted her once again by giving her a wild card for the US Open main draw, where she finally broke the curse and, after 31 slam participations without a win in the main draw, reached second round by defeating Julia Glushko.
This time, the former big hope of American tennis exploited the positive moment and since that moment she has been capable of improving tournament by tournament, until this week, when she got the first win against a top-10 player (Petra Kvitova, in straight sets) and her first semifinal in a Premier tournament. Since that US Open a lot more happened, including a little surgery to remove a cancerous growth on her knee which thankfully had no consequences. "If that doesn't affect me on the court I'm very happy being out there," she said smiling. "And I really enjoy playing and I love these opportunities. Getting to play at match on that court in front of the crowd and playing like a Top Ten player, this is what we play for. And, I'm very lucky to get to that right now."
The start of this season could not be better for the tennis player from Delaware: from qualifications she reached her first WTA final in Hobart, before falling to Heather Watson, and then she reached the fourth round of Australian Open.
"After Australia people like asked me what do you want to work on, what are your goals and a big one for me was having better results on clay. I played some good matches here [in Stuttgart]," she said.
And despite the great results, in America she is not as much under the spotlight as other players like Sloane Stephens and Madison Keys are.
"[Actually] I quite like that," she said. "I really do. I mean I'm quite quiet and keep to myself at the tournaments mostly. No, I do like that. I think there is definitely a buzz with American women's tennis. We're doing really a lot and there is a lot of good players out there. So, yes, it's definitely promising."
As a proof of what she just said, Brengle stayed alone all week long, without parents nor coach, and passed some time with her friends from WTA tour, like Alexa Glatch.
"Maybe my parents are going to come for a little," she told us. "Like the guy who was my coach in Australia he works at an Academy in New York. So, him getting off work and matching up like with my tournaments it's quite tricky. So, I think it's going to be easier if he comes with me for some of the US hard court tournaments. But I have my coaches at home that I talk to and stuff. But I don't mind travelling alone."
For the ones who still don't know Madison, she has an unusual style of tennis: a colleague of mine, while he was watching her defeating Caroline Garcia in Stuttgart's quarterfinals, called her 'the American Niculescu', and for good reasons. Her game is not as extreme as Niculescu's and she doesn't use slices as often as the Romanian, but Brengle knows how to change rhythm in rallies by mixing weightless balls and accelerations, mostly with sliced or topspin backhands. In addition to that, she has great defensive skills and is a very smart tactician.
"I mean that's just my game. I'm not going out there trying to annoy," she said while hardly holding herself from laughing after her match against Garcia. "I'm trying to win the point. So, it is just kind of what works for me. I grew up playing a little bit differently. I'm from a kind of small town and I played often with the older guys that would get off work and then would come and practice with me. But they didn't want to like go out and drill, they wanted to warm up in five minutes and play sets. So, I kind of grew up playing all different game styles. I guess it was a little bit craftier than going out and just drilling, drilling, drilling."
Even if she is living a year of successes that brought her from a best ranking near the 150th position before last summer to being a top-40 player by next Monday and a top-20 player in 2015 race, the American is still a cheerful and down-to-earth girl, ready to joke inside and outside the court, as happened during her quarterfinal.
"When I messed up ball on top of the net, actually it was so bad, it was funny," she told us smiling. "But they are a good crowd out there. And, I definitely enjoyed it. It was funny and if you don't laugh, you're going to carry it with you. So, you just have to brush it off and next one."
And after that, I noticed that during the court changes she kept watching slow motions on the big screen on the centre court.
"So you noticed it," she said laughing. "Oh gosh, I'm looking on it, just absolute horror and I'm like my… and it's not great. I don't think a lot of people would like to see themselves on that big screen in slow motion. I'm also a little critical of myself. But it's not the best." Then she specified it wasn't a technical thing due to the absence of a coach on court. "Oh, I'm not talking about that stuff, it is more 'is that my hair, seriously? This morning it wasn't like that'. The important stuff."
And the best has yet to come, considering that she says that grass is her favourite surface, while she hates American green clay. "I love grass, while green clay is not my favourite thing. I mean I'll play on it because that's what we have in America but it's not my favourite. European green is so pretty but I'm so allergic to it, I get the worst hay fever. Oh my god."
LISTEN TO MADISON BRENGLE'S INTERVIEW 
Leggi anche: