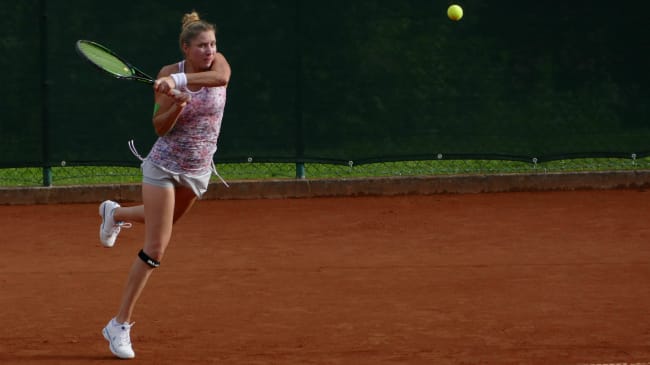 Article, video and photo by Giulio Gasparin (@giuliogasparin)
On the verge of her thirty-second birthday, Alona Bondarenko has decided to step back on court and starting from scratches is trying to test her body and tennis in the difficult task of a comeback after an absence of 5 years. She had to quit tennis due to injuries, which are still taking a toll on her body, as she is playing with a light brace to her right knee, but after giving birth to her first son, Evgen, she decided to give it a new go and it all started in Tarvisio, Italy, at the lowest level of competition, an ITF worth $10k. She showed being aware of the fact that she was the big story of the week, but she did it with grace and humility, smiling each time someone stopped her for a quick word or asking for an autograph. Her run lasted two rounds, but under many layers of rust, one could still see the player that not too long ago was among the best 20 in the world and it feels like it will only take some time, practice, matches and a bit of luck to see her back there.
First of all, it's been great to have you here in Tarvisio, but why did you choose to come back?
Because I think I love this game and I missed it a lot after stopping when I did not want to due to injury. After I had my baby I started to practice and it was all good with my knee so I thought I would give it another try and see if it was possible to play again.
How did it feel to come back on court for an official match after 5 years?
It was really difficult, because on practice I play a good game, maybe not the kind of game I used to, but almost. Of course when you start to play matches it is very difficult to be at the same level because you are nervous and I know it is going to be like this but I am just trying to go out and play games and points. It is working too I think.
On the second match, even though the score was tougher, it looked like you played a bit more freely and were going more for your shots.
Yes, it was much better for sure, but I still see some problems with shots: I don't really go much for the down the line and stay cross court, hitting no winners. But I am going to work on this.
Well, it takes some time for that, but it is great to see you smiling right now.
It is ok, because we came to Tarvisio to see if it was good with my knee and I could sustain playing on it every day and so far it was good. Now we are going to play the next tournament and we will see how it goes from there.
Why did you choose to play your first match in your comeback in Italy? Is it because your first ITF title was in Italy?
Maybe (smiles). Actually I love this country really much and the last time I was here it was 2010 and I missed it a lot, so we decided to make my comeback here also because of that.
How much of a motivation for this comeback was the example of your sister, who also has had a baby?
Well, I don't think it was the same case for the two of us, because she restarted playing only a year and a half later, so it was easier for her: she had a protected ranking and all… still it was a lot of work for her, but it was easier. For me, I only started to practice to check if it was possible, we will see what's next.
And how is it to play with Evgen travelling with you?
Well, it's only the first tournament, but I don't think it's bad at all. He loves everything and he is sleeping much better here than at home! I think it's a good experience for him.
And I've also seen him picking up your racket already!
Yeah, when we started to practice again he was 4 months old and brought him to the court, so when he started to walk he started picking up my racket basically everyday and play with some balls.
So maybe I am talking to two champions here…
I hope so, maybe one day! If he wants to play and he likes it, he will be playing tennis too!
Leggi anche: