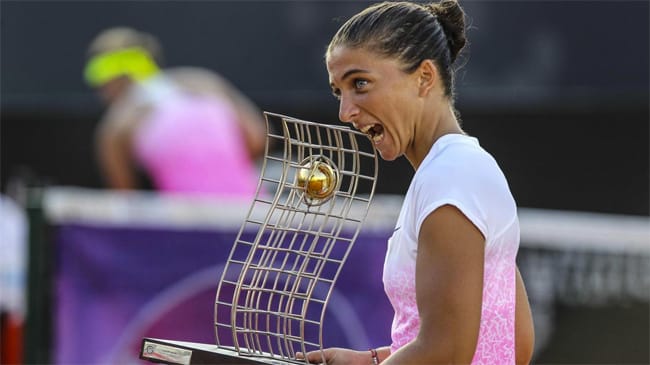 di Alessandro Nizegorodcew (tranlsation by Giulio Gasparin)
"Tennis as fun as fighting": words from Sara Errani, Italian number one. What follows are the views on life and sport of "Sarita", as Roberto Commentucci, the pen behind her autobiography, gently and wisely wrapped up in "Excalibur". The leit-motif of Errani's career and attitude towards the game can be easily identified as intensity, fighting spirit, ambition and a crazy dedication.
After ending the past season with a serious ribs injury, that hampered her off-season as well, the world number 12 is coming back to the last stages of WTA events.
The most obvious first question is necessarily linked to her health. How is Sara Errani feeling at the minute?
"I'm feeling well. I have always believed that in tennis days are never quite the same: one day you feel great and the day after absolutely rubbish, so I think it is fundamental for me to be mentally, most of all, ready to any possibility. Obviously, it is key to train properly in order to avoid injuries. I started this 2015 with the awareness that I was not  at my very best, because of my troubled off-season, so I used first few tournaments as the training I couldn't do before. Finally I'm feeling better."
In Rio de Janeiro you captured the first title of the season. Regardless of the prestige of the tournament, how important was it to triumph on a mental point of view?
"It was a very though week under many perspectives, to which one must add 35°C to 40°C. I suffered and struggled, but I'm extremely proud of how I came out on top. No matter how big the trophy is, it is an awesome feeling to rise one."
Speaking of Rio, in a little bit more than a year, Olympics will take place there. Is it too early to talk about it?
"It would be a dream to compete there, but it is indeed way too early as there are many months of tennis between now and the Olympics. It is a shame that at last they opted for hard courts, as, given the fact that this is Brazil, I thought it was a given fact that the tournaments would be held on clay. Sadly, we are not finding out today that clay is dying out…"
Looking back at the unexpected loss to France in Genoa, the Italian press was swift at criticizing  choices and your performances, without giving merit to an extraordinary performance of the French women, especially Mladenovic. Do you think this is a very Italian bad habit from the press, and more commonly fans' too, or is it the same everywhere?
"France deserved to win. Both Mladenovic and Garcia played superbly, so I see no regrets in this loss. The topic of sports culture in Italy is very complicated and it would take a long answer. On a general level, it seems that in Italy it is very hard for fans to appreciate what Italian athletes do. So many people write horrible things, without any reasoning behind it. There is often free hate, but, as I often said in the past, I simply do not bother with such people, because it would result in wasting time that I can spend for my true fans. I often receive emails and letters from all over the world, which makes me feel proud and honoured. I am happy about what I have done and still doing in my career."
Lately, the match fixing topic has been as hot as never before. What do you think should be done to avoid that? Possible solutions?
"The way I live tennis and life in general, I believe that lifetime bans are the only possible punishment for whom does such things. That's the only way I see."
There is not much of known of Sara Errani's private life. How hard was it for your to open up for your book, Excalibur? How much of it comes from your mouth?
"Roberto Commentucci, the author of the book, was amazing and I want to thank him again. There are girls who love to be in the spotlight, but I am not one, I prefer to keep my private life personal. I have never liked interviews, nor many attentions, even though some situations can be fun and I enjoyed them. Two years ago I shot an advertisement for SuperTennis and I hope there will be more to follow in the future, for example. But to me, interviews are fun as long as my private life does not take a big part."
Then you won't life the next question…but what do you like to do when you don't play tennis?
"When I am in Spain or in Italy with my parents, I am a massively lazy person who loves to lie on the couch. When I am playing tournaments, I spend my free time listening to music or going shopping."
If you could go back in time, which sport would you chose, if you could not pick up tennis? And which one would you like your son or daughter to try in the future?
"I would chose basketball, no doubts. I have always loved it, even if I am really short, which doesn't help. Whenever I will have children, they will decide by themselves."
Back to tennis, what are your goals in 2015 and, so far, is there any youngster that impressed you a lot?
"I don't like to put numbers to my goals. For me, the most important thing is to train well and do my best. In the WTA circuit, there are many young girls that are playing amazing tennis and, honestly, the level is so much higher. But if I was to pick one, I would say Garbine Muguruza, but many have improved so much…"
Leggi anche: