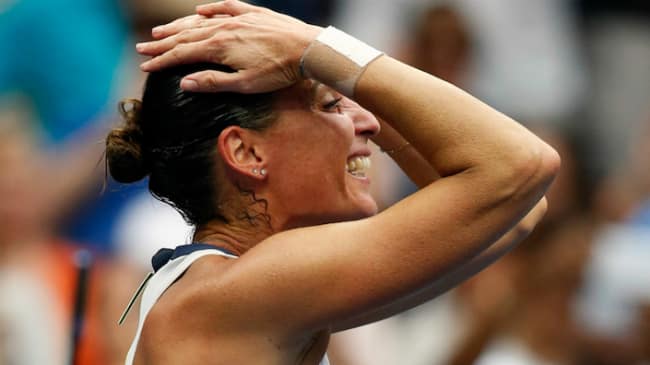 by Giulio Gasparin
The Centre Court of Flushing Meadows has never felt as big as that Saturday afternoon. The tunnel that leads to the court sees no end and her legs feel stiff, her arms numb. The noise of the crowd waiting for them to step outside reaches her and makes the heart beat faster. Flavia Pennetta knows that she is not alone in that tunnel. Roberta Vinci, her everlasting friend, her fellow mate from Apulia, is there with her. Together they climbed the world's rankings ever since juniors and now, for a twist of fate, almost 20 years after facing each other for national juniors championships, are about to face each other for the most important final of their carriers. Out there history is awaiting, but the tunnel is long and walking down its path the mind flies back to a remote 1997.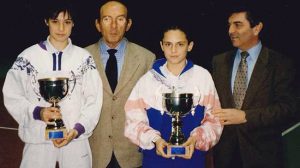 She is 15, tiny and plays with guys like a tomboy when she is not playing tennis. She grew up on the red clay that dominates most courts of her region and on the clay of Galatina, not far from her home town, Flavia is about to make her debut on ITF tour. She has always lived matches with anxiety, but that match feels like pure terror and excitement. It lasts only few minutes, her opponents retires and the match is over. Nothing like she dreamed of, but she has just played and won her first professional tennis match and it feels amazing. An year later she is playing again on home soil, this time in Brindisi, her home. In doubles she partners that exuberant tiny and energetic girl from Taranto: with Roberta she wins her first ever ITF title, another milestone in their friendship.
All of a sudden, Flavia's career takes off: she wins her first title in singles in Cagliari and her junior ranking goes as high as world number 2 in doubles, once again with the support of Vinci, whom she wins 1999 Roland Garros title with, by beating Kim Cljisters in the final. In the same year, she wins her first $25k in Grado and her climb of professional rankings starts.
From outside the noise of the crowd arrives stronger and stronger: the stadium must be full. That huge bowl is crowded of sports fans who are there for the tennis, for some good tennis. There is no more Serena to cheer for, no Grand Slam quest, only two Italian veterans, two foreigners who made themselves loved with their game and personality. Flavia knows people at home feel both have won already, but she also knows only one can lift up the trophy in front of the million people cheering in front of their TVs. Curiously, in Italian language, typhus fever is called the same as the act of cheering, for which Pennetta once said she always shivers when people talk about tifo (cheering), as to her it only has the meaning of the illness, something she had to fight against during her youth.
It was 2001, her dream of becoming a professional player was there, ready to be taken full hands, but during a trip to Dubai in April something went wrong. She started to feel sick, weak and feverish. She flew back to Milan where she shared a flat with her cousin Fiorella. Doctors said it was a nasty flu, but rest is not making her feel any better. Suddenly things worsened, an ambulance rescued her while half unconscious and she was put in quarantine: she was afflicted by typhus. Forced by the illness to long months of stop, she finds herself 11kg lighter, but as resolved as never: she missed tennis, she missed it a lot, but the illness made her also wiser, as she wrote in her autography: "I believe everyone has got a talent: if you don't use it it's a sin, no matter what it is. Passion is something different. I don't think that it is worth suffering for something you are passionate for but not talented, when your talent is on something else." The choice was made, she gave herself until she was 21, if she had not made a big step forward in her career, she would have taken another road.
With new motivation, a better organisation and more maturity, at the end of 2002 she is world number 95. It is just enough to prove herself she has got the talent to make it, it is worth suffering for the sport. She is continuing.
In 2004 in Roma fans breath a different air: Italian tennis is not living its most glorious days but there's a feeling something is about to happen. On a secondary court a young girl is taking on world number 6 Nadia Petrova. Only few people had the courage to sit through the carnage that the first set represented for the Italian, but the second set attracted more and more spectators as Pennetta found the armies to neutralize the massive firepower of Petrova. The Russian could hit strong, stronger than you could think, so hard that not even the Roman clay could slow her shots down. But after losing the first set 6-1, Pennetta tried something different: she started to move her opponent around and threw some junk in there, with slices and spins, just to find the easiest and most successful of combos: dropshot-lob. The stadium is in ecstasy for the feat: it is the first ever top 10 winner for the Italian. Few months later, Pennetta captures her maiden WTA title on the Polish clay of Sopot.
The speaker is announcing them, the American accent does not allow him to pronounce her family name correctly. She does not bother, they always do in the USA. Just like so many Italians in the previous century, Flavia found her fortune in the American dream, because she transformed herself from a claycourter to a lover of the hard courts of the States. Now, as the public explodes in an ovation for them to walk in, she lays her bag, just like many times before and looks at her taped wrist. How many times has she been close to writing history only to fail? That taping was a reminder, now more than ever. She is about to start a match that is worth a slam title, the dream of her life, the dream of a career, a dream that started to shape in her mind when her right wrist first betrayed her.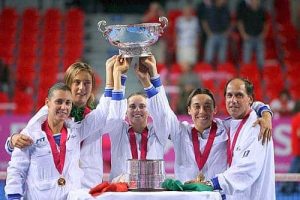 It was in 2006, she had just entered the top 20, she had her fiancée next to her and soon they were to get married. Tennis united them, Carlos Moya and Flavia Pennetta, the most beautiful tennis couple, many were calling them. He was a former world number one, she was a good player, but mostly known for her beauty. Her wrist failed her that year, she needed rest, but Italy needed her desperately in Charleroi, Belgium. Italy was taking on their hosts for a Fed Cup title that would have been the first for her country. She played in pain against the Belgian champion Justin Henin, she fought bravely and got her chances, but still lost. Her wrist is in pain though, she needs a surgery and she will get it as soon as the weekend is over. She can enjoy the first Fed Cup title for Italy for little time only, as a long stop is waiting for her. Her love life could not go worse: in the meantime, Moya falls victim of paparazzi who take pictures of him with a Spanish model. He cannot deny it, so he picks up the phone and calls Flavia: it's over. She is devastated as her wedding plans fall in pieces. Tennis is, if possible, going even worse. She looks pale and too skinny, corroded by unhappiness and rage. Pennetta does the only thing she knows to cure pain: she works hard and surrounds herself with tennis. In Bangkok she defeats Venus Williams for the first time in her life and wins her maiden title on hardcourts, finding a fire she had never known before.
2008 feels like the year of missed chances, though: at Roland Garros she plays the last match of a drizzly day against Venus and closes it when both could barely see the ball. For a place in the last 8, she faces Carla Suarez Navarro, unknown to most at that time, but fear gets on Flavia's head and legs, and the match is lost with little of a battle. However, the debut in a Grand Slam quarter finals does not wait too long to come, as she finds exceptional tennis in New York to reach that stage. A season ending influenced by many injuries among top players allows the Italian to fight for a place at the WTA Finals of Doha. She needs to pass Petrova in the rankings and for that to happen she needs a great showing in Quebec City. Just before her plane is ready to take off, she receives the news that Federico Luzzi has passed away. It's October 25th 2008, he was one of her closest friends, most definitely the closest on the tennis circuit. She is devastated, takes the first plane home and forgets about finals, Petrova and tennis, she only wants to be with him on the day of a last farewell.
The year after is the one of her most magical ones: 2009. No Italian woman had ever broken into the top 10 before, it seemed that number 10 just was not to happen to the Italians, with Silvia Farina and Francesca Schiavone both stopped at number 11 before. But Pennetta is bold that summer: she wins Palermo on home clay, then flies to Los Angeles, where the year before she had lost in the final to her nemesis Dinara Safina, and once there she seizes wins over Petrova, Vera Zvonareva, Maria Sharapova and over Sam Stosur in the final. It still isn't enough. Top 10 is close, but yet so far. In Cincinnati she defeats Venus once again, tying Ana Ivanovic on ranking points at number 10. She has made it, but she hasn't, because WTA rules do not allow tied rankings: she has to defeat Daniela Hantuchova to break into world's best 10. She takes the Slovak down and makes it: she rewrote the history of tennis in her country becoming the first Italian woman to ranked 10th in the world. Her special summer finishes with the second consecutive quarter final appearance at the US Open, following one of the most intense and dramatic matches of her career in the fourth round against Zvonareva. Pennetta has to clear 6 match points in the second set before taking the match in three sets. Once again, she missed the chance to make it to the tour finals at the very last, as alternates got to play one more time, but she did not get the spot.
Flavia is walking towards the net, both Roberta and she had never got that far in slam singles draw. They have always been great doubles' players, both had won slams titles and had reached the world number one before, but singles is different. Walking on court you are alone, there is no one to talk to you, no one to share responsibilities, no one to advise you before a break point, a match point…Gisela Dulko is most definitely watching her match from home, she is sure of it, Gise has always believed in her, maybe that's why she has believed that could happen too.
It was 2010, in singles things did not go bad at all, but the magic summer of the year before was hard to remake. It was in doubles, though, together with her friend Dulko, that she found new ways to write history once again. The team that fans renamed Dulketta did well all year-long, but towards the end of the season they made it big: qualified for the Finals in Doha and once there they took down the rest of the field, lifting up the trophy that no Italian had never won before. In January, then, they made it into history by winning the Australian Open and reaching the top of the rankings.
Coming back on the hard courts of NYC gave new fire to Flavia's tennis once again: in the third round she defeated Sharapova, world number 3, once again and then got past Shuai Peng and a heat stroke in the fourth round. In that match she found herself 6-2 down in the tiebreak before making one of the most impressive comebacks of that week. In the quarters she faced Angelique Kerber, back then an unknown German player ranked 93 in the world, who had reached that stage for the first time in her life. Not long before she was about to quit tennis, but her friend Andrea Petkovic convinced her not to. For the Italian it felt like Roland Garros 2008 all over again: same fear, same pressure, another young and mostly unknown opponent and this time the award would be a slam semifinal against Stosur, whom she had never lost to. It is a once in a lifetime chance and Pennetta fell under the pressure of the moment: lost the first set, she fought back, managed to find the lead in the third, but fell short once again. Kerber won the match and Stosur eventually took the title. Once again it felt so close, but way too far. In October, in Beijing, she became the first player since Steffi Graf to beat the world number ones in singles and doubles on the same day, but it felt like her best chance was gone wasted. The following year was dramatic, her body did not hold up and in Rome her wrist forced her to a painful stop just as she was playing some terrific tennis at home. In the summer, the Olympics were due to start and she tried everything she could do her best there, but after London she had to undergo a surgery. Once again it's her right wrist to give her troubles. Aged 30, not many believed she could be back to her best level following such a delicate surgery.
They are starting the warm up for this historical final for Italian colours, the first ever featuring to players from Italy, the first ever final for an Italian outside of Roland Garros. Flavia is looking around, she is capturing every moment, every glance, sound and colour. She had taken a decision coming into New York, when she could not have dreamt of being there on the final Saturday, but it did not matter, she'd be sticking to its choice and now retirement felt closer than ever, closer than when she first thought about it two years before.
164 was the number Flavia saw next to her name when she entered the qualifications of Strasbourg in 2013. It had been a long time since she had three numbers next to her name in the rankings, but coming back from the injury she failed to find wins and confidence. She entered Wimbledon thanks to a protected ranking, but she feels tired, she feels weak, for the first time in her life she feels old. Just as it happened after the typhus infection, she decides to take a choice at the end of the week. She faced and defeated Elena Baltacha in the first round, then luck was on her side as she received a walkover by Victoria Azarenka in the second round. She is once again close to the second week of a slam: between her and the maniac Monday there's Alizé Cornet, whom she had always defeated. But that day on the Wimbledon grass it looked as if the ghost of Suzanne Lenglen has possessed her: she defends everything, hits big and plays perfect dropshots and volleys. The French player takes the first set 6-0, but Flavia decides not to give up too easily: she starts to fight back, finding the same fire that had gone missing after the surgery. She gets to a 5-1 lead, but then in a moment she is down 5-6. She finds it hard to breath, her head feels dizzy, she is unwell and calls for the trainer. She knows already what the problem is, she remembers it as if it was yesterday when aged 7 she fainted on court and had to be taken to the hospital: it's a panic attack. "It's only a tennis match," she tells herself, then walks back on court and wins the match. She eventually lost to Kirsten Flipkens in the fourth round, but the decision was to keep on playing tennis. In New York City she finds her game and wins more than a couple matches: she defeats the fears that blocked her in the past and with a great run reaches her first slam semifinal by beating her long-time friend Vinci in the quarters, losing to Azarenka, the one who unwillingly made her postpone her retirement.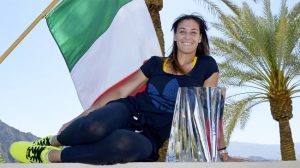 On hard courts she feels strong, she feels home and it's not only New York: in Melbourne she reaches her first slam quarter finals outside of the US and then moves to Indian Wells strong of a good showing in Doha and Dubai. In a tournament where she had never done particularly well before, Flavia finds the motivation to put a signature once again in the book of first times for her country: no Italian has ever won a Premier Mandatory (or equivalent), but she plays out of her mind to win tough matches, like the one against Sloane Stephens in the sand storm and then to beat Li Na, recent Australian Open champion, and Agnieszka Radwanska in straight sets. Her comeback to the top 10 seemed about to happen, but then her body seemed to request a toll: she looked tired and at times not motivated, finding good runs only in New York, with another quarter final and in Sofia. Despite the successes, despite the great results, a voice inside her head keeps telling her that it is time to settle down. The dream she had of starting her own family that was interrupted by Moya's cheating was coming back stronger than ever. Now she has Fabio Fognini on her side, a man she loved and still loves as she saw in him the gentle soul he hides away when he steps on court. But if that was a pressing thought, as an agonist she wanted to walk off in style.
Nothing has ever been easy in her career: she has always been swimming against the tide, against history. Italy had known champions in the past, but no woman had done what she had to do. Schiavone's maiden Roland Garros might have never happened if Pennetta had no broken into the top 10 before, giving a push to a positive spin to the Italian tennis movement. Coming into this year's US Open her season had been disappointing. She looks at Roberta on the other side of the net and knows she feels the same. Vinci had been living a resurgence on the American hardcourts but for neither there were expectations to be a contender for the title in Flushing Meadows. As they wait for the umpire to call "time" and start the match, Flavia is thinking about how everything was crazy about this one: Roberta stopped Serena in the semifinals, putting an end to her dream of winning a calendar year Grand Slam. She had herself a tough draw to get through as she beat Stosur, Kvitova and Halep to get there and now everyone believed she is the favourite. She takes a deep breath and goes to the receiving end. There's one big fear making her start slow, the one of another heartbreaking loss when being the favourite. Slowly her mind focuses on the match, her game follows and she starts fighting for every point, every shot. Roberta does just the same and if it was not for the blue courts and the older and more mature look of both, she feels she could be rewatching one of the many matches they had played in their youth in Apulia.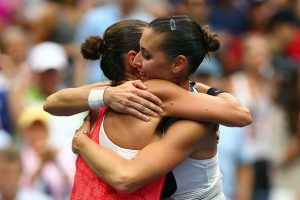 Here's the match point: Flavia knows it has been a tough battle, but she came out on top of it and that last shot is almost a formality. The ball flies clean and powerful off the strings of her backhand, just like many times before, a million or a billion times before. But this time the sound is different, it sounds like victory, it sounds like dreams. The trophy she had been dreaming since she was a child is hers and her racket flies high in the sky as the crowd explodes in a roar of happiness. She hugs Roby at the net and the two linger. It feels as if leaving each other would kill the dream. They are too close friends for that the joy for the other would spoil the moment. They sit on the same bench and while waiting for the trophies to arrive they chat and joke as if there were waiting for the bus taking them to training like they used to decades ago.
The ceremony is fun: Roberta is a show-woman, she jokes and everyone laughs, the speeches are genuine and after lifting the trophy Flavia asks for one last word. In Italy everyone of her fans is still finding it hard to understand that it is all real, but then she takes the mike and the world suddenly stops. She says this was her last match in slam, that at the end of the year she'll call it a career. The silence of a second fills the air, then she is wrapped by the warmth of the crowd standing up and giving her the deserved round of applause. She wanted to leave the tour on a high, walking out with class, the same class that she showed on court with her game and behaviour.
There was one last challenge to go, one last revenge with destiny, one last tribute to give to a friend who had been gone: qualifying for the WTA Finals. Pressure, that long-time enemy that looked defeated in New York, came back in Asia, but Flavia managed to qualify for the last event in her career in Moscow. On October 25th, 7 years after the death of her friend Federico, she stepped on the court of Singapore to try one last time to add a surprising chapter to her book. She barely managed to show up against Halep in the opening match, but then seized her first win in the Finals by playing a great match against Radwanska. Her chances to qualify for the semifinals were not many heading towards what was to be her last match, but it felt right that her decisive match was against Sharapova, because she had always had great battles with her in the past, because in a way they were the two sides of the same coin: two different game styles, two different personalities and two different mind sets, but one common ability, the one of coming back stronger from difficult times. Pennetta played at the best of her game, fighting bravely and finding so many stunning points, but the Russian was flawless, finding one of her best matches of the year to close in two sets and end the Italian's career. The great match from the Siberian was in a way the best tribute she could give to Flavia's career as losing to great champions in such an event is by itself a great ending.
Thanks for everything, Flavia. Thanks for the fighting, the wins, the losses. Thanks for trying, failing, coming back and seize the dream. Thanks for showing us that there is no dream too big for trying until the end with the best we've got.
Thanks.
© riproduzione riservata