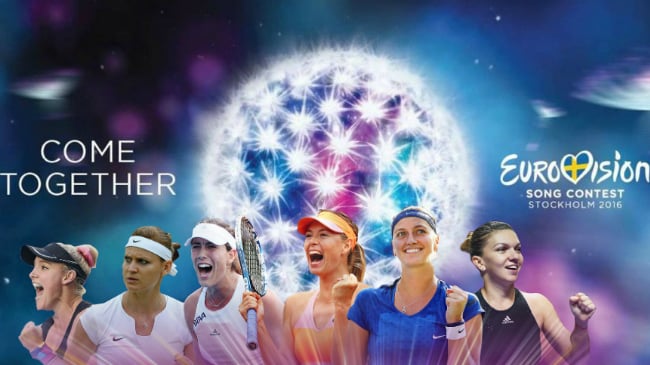 By Giulio Gasparin and Michele Galoppini
There won't be a long intro to this piece, as it's easily explained by itself, but there's a warning to all of the reader. This is meant to be a fun, silly and light hearted piece. Most of the connections are probably nonsense and we'd like no one to take them seriously. Feel free to comment though and tell us which players you'd associate differently and why! This is the final part, if you have missed the earlier entries, have a look here and here!
29) Moldova
Genie Bouchard – the song talks about the brightest falling start, it pretty much sums up the Canadian's past season, including falling in the locker rooms of US Open
30) Montenegro
Danka Kovinic – yes, it's a given, but the connection fits as the song is a very underground tune and it suits a very niche fan base. Similarly the young player is an explosive concentration of power and has found her solid group of fans, yet not a big one.
31) Norway 
Caroline Wozniacki – the song seems like a mix of two very different ones, just like the Dane's forehand and backhand. The outfit reminds me of the white plastic doily they put under cakes, more or less like anything Stella has done lately… and let's be honest the foreheads and chances of do well of these two are alike at the moment.
32) Poland 
Madison Keys – once again, the first thought was to go with someone else, but the days when Aga would dye her hair often are gone, so we thought Keys could fit. The idea of doubt in the song is there and well, how many coaches has the American changed so far this year? Luckily for the young US player, she is not wearing anything looking like a lion tamer.
33) Romania 
Maria Sharapova – it was our first idea when Eurovision ruled out Romania from competing: both the song and Sharapova won't take part to the big event of the Spring, both are going through a stop due to troubles with the relevant associations. Both have got big fan bases, but that won't change the ban.
34) Russia
Angelique Kerber – the first thought went to thunderous Sesil Karatancheva, but this song is the heavy favourite for the win, so we had to go for a bigger name, hence Angie. She has won her first major this year, her game can be a mix of explosive winners and rock solid defence and we know she likes trash music, do you remember Atemlos?
35)Spain 
Johanna Konta – Spain is a country with great tradition in music, just like the UK in tennis. Spain has sent the wrong songs for years, but even if in this edition the song might not be as good in terms of quality, it seems like a better choice and has got bigger chances, similarly to Konta's year and improved results over the past year!
36) Slovenia 
Anna-Lena Friedsam – not the best of the connections we admit that, but Anna-Lena and ManuElla are double names, you can easily add or remove letters and you wouldn't realise. Not the most exciting of entries, especially in the press conference.
37) Switzerland 
Jelena Jankovic – The basis are there, but the execution just not, like the volleys of the former world number 1. Getting through this song is just like getting through this difficult season of hers. The last of our kind might be also a subtle prayer for Bartoli trying to make dresses…
38) The Netherlands
Roberta Vinci – a bit of a retro sound, cheerful and easy to listen to characterize the Dutch entry, just like Roberta's tennis. Also, we think the Italian should "slow down" a little having played 27 tournaments in the past year!
39) San Marino
Kimiko Date-Krumm – straight from the 70s, everything would scream old, but yet we can't but feel a bit of love for this entry, just like the talented, tenacious and lovely Japanese player. Similarly though we know it won't make it big, not now.
40) Serbia
Yulia Putintseva – the song itself might not be the best, but the singer's attitude is aggressive and there are lots of unexpected movements and faces from her on stage… well isn't it the same with Yulia on court?
41) Sweden 
Serena Williams – last year she won Roland Garros despite playing not her best tennis and with lots of drama involved in many of her matches, similarly to what happened to Sweden winning despite voting was not on its side. This year they both are still among the faves for their big events, but the form is not that good.
42) United Kingdom
Camila Giorgi – good prospect, like every year you think this time this entry will do better, but no, it just won't…let's also add that "she's not alone" anymore, remember the ring?
43) Ukraine 
Garbine Muguruza – a very strong presence on stage, a strong voice and a very high position on the betting lists: that's Ukraine and isn't it the same with the Spanish number one?
Leggi anche: