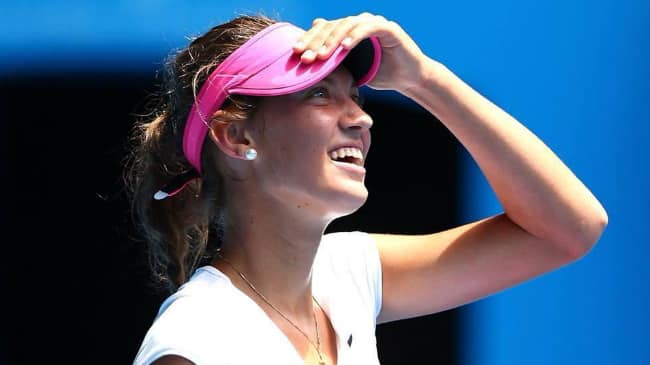 by Daniele Sforza
Us Open junior, it was 2007 when Kristina Kucova, 17 year-old girl from Bratislava burst into tears of happiness after winning a close and exciting match against Urszula Radwanska, finished with a backhand error from the Pole in the third set's tiebreak. It was the first ever Grand Slam title for a woman from Slovakia.
From that moment on, two more girls tried to imitate their compatriot: the Schmiedlova's sisters both fell short, only one match away from a second title for their country. Ana Karolina Schmiedlova, in 2012, lost to Annika Beck in the Roland Garros final 26 75 63. Last year, her sister Kristina lost in the last act of Wimbledon to Jelena Ostapenko, who recently captured the $50k of St. Petersburg, 26 63 60.
It was the third time lucky for Slovakia, as Tereza Mihalikova was crowned Australian Open girl's champion in the first slam of the season, becoming the second ever female slam winner for this small eastern European country of 5.5 million inhabitants.
Probably only few people had put any money on the young girl from Topolcany, even though it is sure that nothing is granted in junior events, in Slams and especially in women's tennis. But the main reason why she was flying under the radar before the start of the competition was mainly her rankings: she was unseeded in Melbourne. Her opening rounds seemed to prove her role of background actress. In the first round, she needed three sets to defeat the local WC Kraemer. During the following match, she upset the second seed, Jil Teichman, but only by coming back from 4-2 down in the third set. "It was a match full of ups and downs against Jil. When I was losing in 3rd set I felt like 'Okay I'm playing good but I'm still not playing my best.' So at 2:4 Jill's serve, I just told to myself: 'Now it all starts, I can do it.' I've made less mistakes than her at the end of the set so I think that's the reason of my win".
In the third round, she needed another tough battle to advance, as she had to face another local player, Sara Tomic, the sister of the (in)famous Bernard: "Against Sara it was really difficult, I had maybe 4-5 fans on that court (laugh) but still I tried to not care about the people only focus on my match".
From that moment on, the road to the title went downhill, with easy wins over Robillard-Millette (double 62), Greet Minnen (64 75) and, finally, a surprisingly easy 6-1 6-4 in the final against Katie Swan, who had left little to nothing to any other player before. "When I won there were so many medias and so much stuff to do & travel back home right after the final. When I came home there were many medias and I went to 2tournaments in Egypt so I can say I wasn't even feeling something like oh I'm the winner I felt like I lost in first or second round. But now, a month later, when I'm looking on my trophy from my own bed , finally I have that feeling like, yeah, I did it".
After this big success, a great interest gathered around this young girl from Slovakia, whose story started long ago, when aged 5 her interest was on another sport: " I was swimming as a child because my dad wanted a swimmer. My parents told me that I was really hyperactive. So when I said I hate cold water at age 5, they gave me to my aunt (from Dad's side) and she took me to tennis. I player with her and her family and I really liked it. From age 6 I started playing tennis in my town club, Tc Topolcany".
Ever since, it was 'the greatest love of all' between her and her racket, so that tennis became her biggest passion. All that she wants now is becoming a professional player and making it become her job. "I love tennis and when I was thinking about my future I've seen only me as a tennis player. To be honest, I can't imagine myself as some nurse or waitress (laugh)… ".
For the ones who missed her run to the Australian Open title, Tereza describes her game style as it follows: "I'm trying to play everything. I have a good serve that helps me a lot on hard courts. Well, I'm running quit well and I can hit good shots from defence. As everyone I'm just trying to play my best from the baseline with hard shots and sometimes I finish my offensive with volleys or drive-volleys. My worst shot is the dropshot but I'm trying to make it better.
Her trainings are closely followed by a person that she trusts and has trusted for long: "My coach is Jan Studenic. I have been training with him since I was 9. I spent a lot of time with him because he's still with me on the tournaments and there is 4-5 hours of training every day".
Of course, in Slovakia there is a great attention on Dominika Cibulkova, true star of the Slovakian tennis, a hero in her home nation, so much that many girls are picking up the sport to follow her steps, but it is not the case with Tereza: "Dominika is a really good player and also a nice person. I haven't spoken to her much but she's really kind and she's trying to train and play 100% all the time. I can't say she's my idol but I like her. I'm the biggest fan of Serena Williams, she's such a queen of tennis".
Despite the young age, there are many great memories about tennis, but some are more vivid than others: "I had lots of awkward situations (laugh) but one is from Roland Garros 2014 when I hit with my forehand a bird during the match. One of the best memories from Australian Open is calling a hawk-eye".
There is one clear point, a light ahead of hers, a goal that is mandatory for her in the development of her career: "My goal is to finish the season in top 10 juniors and also I'm playing some pro tournaments so I will try to play my best to be in top 100 in 2 years".
When you are 16 and on the way to becoming a sports star, there is a big choice to make with school. Terka, that is the nickname she was given by her friends, managed to organize studying and trainings, with the help of her teachers too: "I have an individual plan in my school and I should graduate in 2 years. My teachers are really good with that, that I'm not in Slovakia much and also I have a chance to make tests by internet".
There are many friendships that she shares with other tennis players, but there is one that shines brighter than any other: the friendship with her fellow Slovakian Kristina Schmiedlova: "Most of the tennis players are telling me I'm the craziest and weirdest girl they've ever met… I'm trying to be happy all the time that's the reason I just start sing or dance or do whatever comes to my mind even when I'm in public places. But still there is not much free time for me so I'm just reading books, watching movies or going out to cinema or normal stuff… But actually (laugh) Me and Schmiedlova we're making funny videos, vines and we also have an account on Instagram ( link @klub_prvosienka) where we're putting our funny stuff so no one believe it's us (laugh)".
Leggi anche: