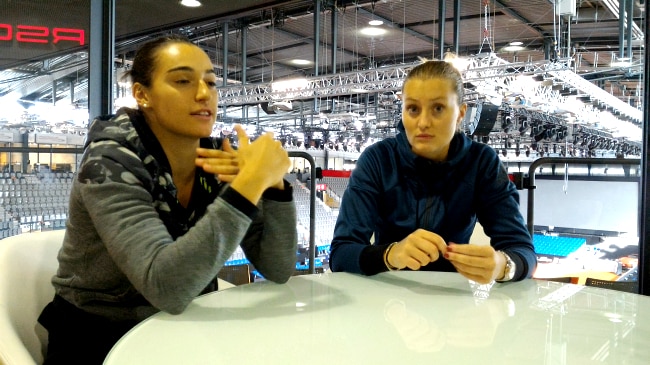 Article by Giulio Gasparin (@giuliogasparin)
Kristina Mladenovic and Caroline Garcia have been both very promising youngsters for the French tennis and in the past year have been climbing their ways to the top of the sport, making a name for themselves with good results in both singles and doubles. In the latter discipline, they have also decided to team up for the whole year, planning to build a strong contention for medals at the Olympic games of Rio, later during the summer. The two young French women have not only made it to fame thanks to their results though, but also for their strong opinions over some hot topics, including Maria Sharapova's case, and some extreme fans' reaction on social media.
What strikes the most is the admirable strength showed by the French pair: where many could have back up and tried to downplay their statements, they stood strong, showing great integrity and personality. From a personal controversy with the biggest French sports paper, L'Équipe, to the unpleasant experience on social media, the two found in difficulties the energy to lift their game and win two consecutive premier titles in Charleston and Stuttgart.
And on the topic of winning titles, on the green clay of the United States, Mladenovic and Garcia became the first all-French team to win a WTA titles after an 12-year-drought, but the biggest French sports paper did not dedicate them a single line. "That's the problem, they speak huge when it's negative..." started Mladenovic, but immediately Garcia backed her up: "It's disappointing because they say that we are not at the level (of men) and they are killing us whenever we have bad performances, but then nothing when we do something great. When we do good, they don't talk about us…they do one page only!"
"Half page! And well inside too!" Corrected her friend, who immediately took control of the conversation: "First page was something like Marseille, first division…of course I wrote on my twitter: 'you are right L'Équipe, French team is every year in the Fed Cup final!'… but also, for example, when we won Charleston, there wasn't even one line on L'Équipe, and it's a news journal, so somewhere we expected that somewhere there was written that after 12 years a French pair won a doubles' titles, instead there was a full page criticising Tsonga and Gasquet for losing to "grandpas", who were Nestor and Stepanek, I mean, some of the best players in the world in doubles and they were criticising them for having lost in the first round of Monte Carlo!"
"It's disappointing but they do whatever they want," replied a little disconsolate Garcia: "but we have our followers behind us and after that we received a lot of messages saying that no matter what they say, they are gonna be behind us. It's important to know we have some special fans behind us… and whenever we are going to win something big they are gonna come to talk to us, but we are not going to!"
"We are going to cancel L'Équipe for a while!" Promptly expressed Mladenovic, who suggested that the attitude of the French paper is rather unstable: "It's funny how after Amelie (Mauresmo) talked to them and what we posted on social media, we got a little appearance on the front page and two pages on the inside, which shows that they can do it, if they want to!"
But the issue did not end on a positive note, said Garcia: "After winning such match in Fed Cup you only want to celebrate, but we had to do press of course, but what for? They were all sitting there, staring at us and they don't even have questions…"
As social media was mentioned, it was only natural to investigate how Garcia reacted to the outburst of hatred she received no long than a couple weeks ago, when some French guy spread the false rumour that she had called her opponent Irina Camelia Begu a gipsy. The slander immediately became viral on social networks and was picked up by some tennis media in the 'perfect' example of a snowball effect. "I was really in love with twitter and social media, but this last experience told me you really shouldn't be," said Garcia. "I didn't do anything, but it's just that people took something from a guy who said something from a forum and suddenly I had 5000 comments on my Facebook page… after this I said I need to take my distance, I've learnt my lesson, people can talk freely, I don't mind, it's something that you can't control and people don't realise how they can hurt others. I admit I am not always nice, (Mladenovic immediately told her: 'you didn't do anything, what are you talking about?!') sometimes you get nervous on court and may throw your racket, but it's normal I guess, but people said things, this kind of things, that hurt you inside and personally, so now I took my distance with all social media. Thus said, apart from this, I think it's great to be able to share things from the inside of a tournament with people who are interested."
A similar experience was lived by Mladenovic, who decided to voice her opinion on the doping scandal that hit on Maria Sharapova. The French player, contrary to most of her colleagues, did not look for 'politically correctness' but expressed her opinion clearly when she was asked. "I am not the biggest fan (of social media), but being active on social media is the best way to control (how people perceive) your personality," she said. "You know, I put myself in the fan's position, like when I was young I wanted to know the personality of my idols and something else about tennis or about their practice and stuff. But on the topic of my statement on Maria, I mean, there is nothing I regret about it, 'cause it's totally what I think, and I think it's a little bit unfortunate that so many people that share my thoughts did not speak, because they were afraid of the reaction of millions of fans that she has and that obviously are haters of mine, obviously.
"But I was ready for this, to receive hundreds and hundreds of hate messages because of what I said about Maria, but that's what I think and we can all express our thoughts and there's nothing bad about what I said, I said my opinion on what happened. In our sport we are both very young and we are fighting for integrity and great image and we both grew up watching her and now we are on the tour with her and my comment was also on how disappointed I am, because I was not personally in love with her personality, but I was respecting her so much for the champion and the career she's had, but now this puts a doubt about all this stuff. That's the kind of 'magic' of social media… but on the other hand, I think it shows my personality: I express my opinion and don't hide. You know, so many players came to me and said 'good job, you said it' and I was like: 'I am the one, the only one who's taking everything when you think the same…' which I can understand, because it's a lot, I got lot of hate messages, but that's fine…"
"We are on the same boat," laughed Garcia, to whom her friend said: "I think it's great, because we want to show how WTA is great, there's integrity, that our sport is clean when this year everything was put in doubt with this and betting…"
The topic of conversation became lighter as they remembered that for the title they had just won they deserved a treat: "But we won and now we deserve crepes!" they said, contenting themselves with sweets as the Porsche Open did not have cars for the winners of the doubles tournament, but two bikes. The French duo jokes about it, as Garcia has no driving license, so the bike fit her better.
"No, no… when you see the Porsche every single day, you just want to have it: it's a challenge and a great motivation to train hard every single day to have it one year," said Garcia. "It's great to have these kind of challenges, I mean, it's good to win a tournament, but to win a car, and this car, it's something extra to add to it. Stuttgart is a great tournament and I will come back every single year until the end of my life." And not even the idea of winning one would stop them: "When you win one Porsche, you come back the next year to win a new one." Mladenovic immediately backed her partner up: "For the new model, each year the new model!" And more according to Garcia: "And also doubles to win the bikes!" And on top of that, Mladenovic said to be happy to help her friend with this little piece missing: "This winter, I have my driving license, so I am gonna push her to pass her driving exam, so no excuse not win the Porsche next year!"
The duo has teamed up in order to be at the best when August and the Olympic tournament will come, but they know that such choices also bring pressure from the outside: "we were aware, when we decided to team up, that there would be some expectations on us from French crowds and supporters," said Mladenovic. "But this was something we were looking for, because before this year we had good results in doubles, but we were playing with other players: I was playing with Timea Babos, one of my best friends, and she with Katarina Srebotnik. Sometimes our French crowd wouldn't come to support as we were split, but now that we are together I think it makes it more interesting to fans. It's more challenging, but also exciting, as our priorities are in singles, but we are happy to team up and join forces in doubles to enjoy and train more for singles. It's also great to win titles like these in your career, so we only take it for the positives and we try our best to end up as winners."
Leggi anche: