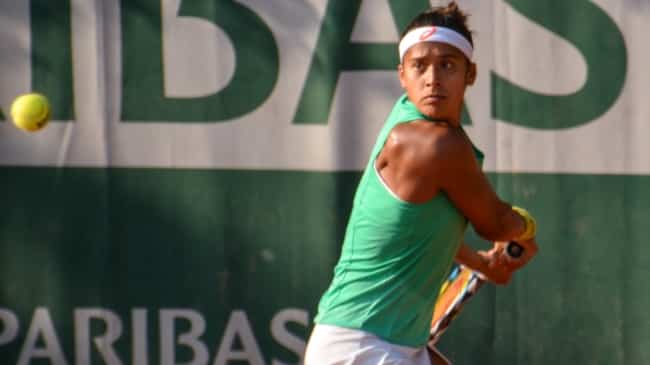 Article by Michele Galoppini (@MikGaloppini)
Translation and English adaptation by Giulio Gasparin (@GiulioGasparin)
Something has changed in the world of tennis. 2016 is the year of the Olympics even for the biggest star of both ATP and WTA tour. Once upon a time, but it is not that long ago, Olympics were seen as a small event in the panorama of tennis summers, now they represent the declared goal of the season for most. But when the event is being held in your country, in front of your crowd, your family, your friends, motivations can be even greater. For a country like Brazil, where people are fiercely proud of their country and support a strong, yet positive mostly, nationalism, Rio 2016 becomes a unique and irreplaceable chance for athletes to make an impact for their country.
Teliana Pereira, 27 years of age and best tennis player of her country, knows this very well. She is currently sitting among the best 50 women in the WTA rankings, also thanks for the title she has won last year, the first for a Brazilian woman since 1988. Back then it was Neige Dias who captured the Barcelona Open and year after defeating in an historical final Patricia Medrado in the all-Brazilian final of the WTA event of Guaruja.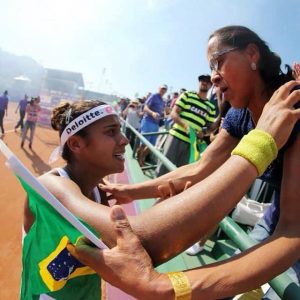 The long drought lasted for more than 15 years when Pereira found her maiden title in Bogotá, on her beloved red clay. "It was a dream come true," said the 27 year old: "for me and for my family. It is hard to explain and I am still to realise it." And it was some sort of fairytale hers, having entered the event as world number 147, the last direct acceptance and en route to the title she took down Francesca Schiavone, Elina Svitolina and Yaroslava Shvedova. The title gave her a big boost of confidence and she captured a second title, this time in front of the home crowd of Florianopolis (in the picture, with her mother after the final): a big birthday gift for her! The two titles and some other solid results helped her reaching the top 50 in the rankings, which places her as the third best Brazilian woman in tennis history behind Dias (number 31) and the star of Maria Esther Bueno, world number 1 and winner of 19 slams, including a Calendar Year Grand Slam in Doubles in 1960.
But her journey to the elites of the sport started far from the shining hotels of the tour: Pereira was born in Aguas Belas, a small town in the countryside. It was a poor family hers, living off a dry land which Brazil gave them for free. Success was not just about winning a title and making it to the top of the rankings, her success was an escape from a difficult reality. What follow is a collection of some of the best answers Pereira has given to Marie-Claire on the Brazilian version.
"We used to live in Barra da Tapera, not far from Aguas Belas," she said. "Our house was white and small, on the side of an unpaved road. I shared one room with all of my seven siblings, we did not even have a bathroom, which lied in the garden. I remember I was always scared to go there at night!"
Their lives revolved around agriculture, like for most in their area, but drought was always a scary spectre. "We had always had food on our table, but that was because we all were working, not that we had much of a choice. Sadly, I lost my sister Valdeni when she was seven months old, because of dehydration. My mum was the one suffering the most from the loss, but she is a true warrior and eventually got over the shock. Ever since we were kids we lots of responsibilities on us, we could not afford going shopping or to the cinema, but we could find ways to enjoy our childhood nonetheless. My parents and my older brothers were working in the fields, while I was taking care of my youngest sister, six years younger than me. Sometimes we were running away from our house and in secret reach our cousins' place where we would have a great time making caramel on spoons. I remember that Saturdays were special days, because there was a woman riding a bike past our houses selling chinequinho, a sort of sweet bread. It was like a feast for us, because we could only eat rice and beans all the other days.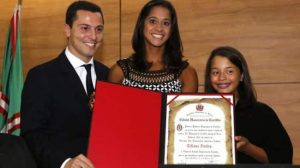 Things finally improved once the Pereira family (in the two pictures above) moved to the city. "My dad worked as a builder as well and he had worked in Curitiba once. We moved there in a house that my dad had built by himself. It took us three days. I was 8 and I finally could go to school for the first time. Everything was different in the city and I became a good student: I loved maths!"
Fate got Teliana's parents close to tennis and she eventually was charmed too. "My parents started working in a tennis school, they were cleaning and fixing the place mostly. I would sometimes go and work as a ballgirl, I could even earn some money with that. That's how I got close to it, I knew nothing about it before I was 8." Between one session and another, she could pick some rackets up and start hitting the fluffy yellow balls she had to get for the members of the club. It was love at first… try and it did not go unnoticed. "Didier Rayon (the director of the school) came to me and asked if I wanted to train with the others, that's how I got to where I am now. Back then I thought I would become a maths teacher! Didier was like a second dad for me: he welcomed the whole of my family, he knew about our struggles, he would do some food shopping for us. He allowed me to travel, he taught me to speak English, French and Spanish. Everything I am now is thanks to him."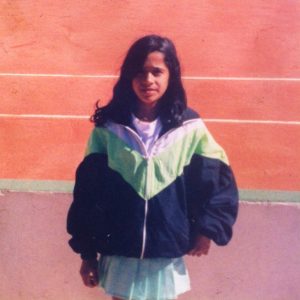 "We did not even have the money to enter tournaments," she says further on the topic of her first international experiences. "Didier luckily could help me." And that was the beginning of a series of great results, especially on national level, where she was able to win against girls much older than her. "When I was 12 I was already playing the under 18 circuit; can you imagine that young and thin girl playing against big women? And I could still win a lot of matches!"
But if on the national tour she was a dominant force, victories did not arrive much later on the international ones: "I won my first tournament in Cali, Colombia. Then I remember once in Argentina where I received the prize from the hands of Gabriela Sabatini, together with $1.500! When I was 15 I went to Roland Garros for the first time and I did not know how important that was. Soon I realized that tennis was to become my life. I don't think I am a very talented player, nor that my technique is perfect, but I know I am someone who gives the absolute best on and off court."
But if the great Argentine champion is a good memory for her, same cannot be said for another big personality of this sport. "When I was Nice I remember it was the first time in my life that I saw snow and in the same hotel where I was staying there was Venus Williams. I went to her to ask for an autograph, but she refused to. I was so upset. Now it is something I laugh about, but I know that one day, when I play her, I will tell her I was the girl she denied an autograph. After all, it cost nothing to stop for one."
From this very last statement one can guess the fighting spirit which characterized the game and the personality of Teliana, something that she probably has inherited from her mother and was taught by all the adversities her youth held. And about her mother, the 27 year old remembers the luck she had despite it all: "my mum always says I am a lucky one, if we had stayed in Pernambuco right now I would be feeding 5 kids and taking care of a husband without having ever seen the world."
Tennis life was easier, compared to her past, but she had to overcome a very difficult moment in 2008, when a serious knee injury halted her raise in the rankings. "I was getting close to the top 200 and I remember very well the point I was playing in the US when I first felt great pain at my knee. I was trying to reach a ball very far from my position when I suddenly started hurting. I kept playing ignoring the advice of the physiotherapist: I had broken my meniscus. In the end I had to be flown back to Brazil on a wheelchair."
Staying away from tennis meant especially no incomes, a decline in the rankings and little to no confidence. "It really felt like a tragedy, the hardest moment of my career as a tennis player. I lost all of my deals with sponsors, which meant a huge amount of money I needed for me and for my family. I spent so much on medical treatments and cures. I needed a surgery, but I tried to come back too early and I ended up undergoing another. I did not even have the money to pay for the operation, I moved to a dump, I could not walk. It was a disaster."
That was the moment she found someone who changed her life. "I felt depressed, I was crying all day. That was when I met Alexander Zornig, who now is my boyfriend. He helped me to go through all the therapies I needed and I eventually came back to being fit, but I was broke. I sold all of my trophies, we organized a lottery, I sold my old rackets. His family helped me greatly and finally I could go back on court." In all of that, another person never chased to stand by her: her brother and coach Renato. And now things go much better, also economically. "All the money I earned were invested in taking part to other tournaments and help my family." Always, but once. "When I won the WTA of Bogotá I finally allowed myself to a treat: I rented a steak-house and I organized a big party at Alexander's place, after all I think I deserved it!"
Her life, her struggles and successes made what she is now: a fighter. She knows that sometimes on court she might appear very passionate, especially to the eyes of spectators not used to the heat of Brazilian blood. When she is upset she often bites her racket or screams loudly. Last year in Cagnes-sur-Mer she was disqualified during the rich ITF after she had hit a spectator in the crowd with a racket that flew off her hand: "I made a sudden movement and the racket slipped away hitting someone in the stands. I obviously did not mean to do it, I would never! But the rules are clear and if you hit someone you must be disqualified. It was an incident, but it is only but right that I was defaulted."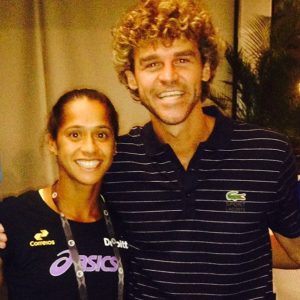 Similarly to what she said about Venus Williams, she is not someone who hides behind half truths, and similarly to what Garbiňe Muguruza said recently she admitted: "I prefer to follow men tennis and let them inspire me, my idols are surely Gustavo Kuerten (in the picture), Rafael Nadal and Roger Federer. Women are bipolar, one day you can be friend and the day after you play against and the competition is high as you want to perform well, win and become a star. Tennis is a sport that makes you selfish and lonely, but thankfully I have a big family with me."
Pereira's game has improved constantly over the years. Her biggest strengths are a great tactical adaptation, elasticity and variety in her tennis. It is hard to label Pereira's game as she can play completely different from one match to another. She can go from playing a very defensive tennis, to a very aggressive one. You can see her being glued to the baseline one day and take the net as much as possible on another. She may not excel  in any of her shots, but she is solid in all aspects of the game and this ability to switch from one game plan to another represent a major strength these days. Thus said, there are few girls who can fight with the same intense and dedication, which always helps.
"This has been one of the best off-seasons I have ever had," she said a few days ago to the Brazilian press. "I trained a lot on fast courts, which are the most difficult for me." Let us not forget that the Olympics will be played on hard courts, though they are reported to be fairly slow. "I needed to make some minor but decisive twists in my game. Trainings went great and physically I feel great. I started the season with some very difficult tournaments, but my focus still is on making it to the top 30 and do my best at the Olympics."
She is defending very little points between now and April, so she can have a chance to achieve an improvement in her best ranking. "I don't have to waste time and energy thinking about the rankings. When you think too much your game will not work. You can use this as a motivation, but any exaggeration leads to no good. I prefer to focus on what I have to do on court and bring my best game. Results will only follow then."
And about the Olympics being held in Rio, her home country, the goal is to win a medal. She is aware that chances are very slim in singles and doubles, but mixed can be her best chance. "I played the Pan-American games in Rio in 2007 and it was amazing. It probably only was a sample of what this summer will be like. Dreaming of a medal is sweet and I would love to play mixed doubles. I can chose between Marcelo Melo and André Sà…both are stunning choices!"
Boa Sorte Teliana.
Leggi anche: