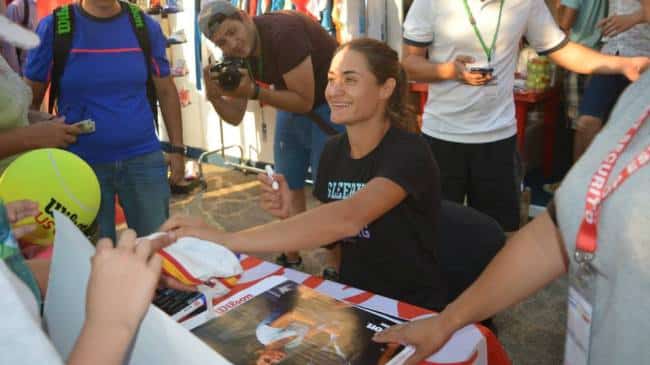 By Giulio Gasparin
Clay is the surfaces where she has always struggled the most, but Monica Niculescu does not lose her sense of humour nor her kindness despite some hard losses in recent times. The moment is great for Romanian tennis, despite the heartbreaking loss to Germany in Fed Cup play offs, and Niculescu does not her optimism fade due to a couple of losses on her least favourite surface. Her story started a long time ago, as we got to discover last summer in an insightful interview in Bucharest, when as a young girl she could not afford a coach and developed her unique forehand in order to contrast bigger and older opponents. Today you either love or hate her game, but she brings a breath of fresh air among the standard hard hitting style of many players. Being unique does not apply only to her tennis, but her interviews are never bland as once again she showed here.
It seems like we've seen your coach in your box since forever, how long have you been working with Călin Stelian Ciorbagiu?
Eleven years now. I think it's one of the longest on tour, me and Medina Garrigues, she also has a long time coach. Because, you know, when you find a person in a tough moment, 'cause I had through moments in my career, you know how it is, and he was there and one time I didn't have the money to go to tournaments and he give me so when a good person wants to help you in bad moments and he was there next to me like my family. He's the best option for me, before him I didn't like too much my forehand, everybody it's looking at me and it's weird, I didn't feel so confident but then he said: "Listen, it's a weapon, believe in yourself, believe in this shot, and you'll be a great player". Now I think I am. He believed in me so I think it's the best person for me. And I don't know what's gonna happen if I would have another coach, how I'd react…no, I don't want this thing!
You all Romanians seems to love playing in Fed Cup, playing for your country, and this year there will be the Olympics. Any thought about it?
I was supposed to go to London 4 years ago but I broke a bone in my hand and I couldn't go, but I had the ranking so I knew I'm gonna go but I got injured. So I'm very excited and I don't know what's gonna happen, I liked Brazil, because I won a tournament there, so I am more excited to go there, I like the temperature, I know it's hot and humid and I love it. All this things are good for me and I don't know what's gonna happen but it's still long time. Finger crossed. I have to stay healthy and I cannot wait for Olympics, maybe I'll play double with Begu, we have more chances for a medal.
One thing Simona Halep is often saying is that when she goes home she really enjoys spending time with kids and kids are so excited because they are really fond of tennis in Romania. Do you find it the same?
Much better now, since Simona is top five, now tennis is more known, and I like to be at home all the time, people knows us, obviously more Simona, but they know even me and Begu or Sorana, we have many players in top 100, and I think it's good for tennis, also for Fed Cup. Ok, this time it didn't work but I'm sure we can do it and we can play a final.
So how it was playing at home, in Cluj, in front of such a huge crowd? Maybe some pressure, how did you feel?
It was wonderful, I got very good feelings. Ok, I lost the match but I felt great, I gave a 6-0 to Petkovic, I'm so happy, and again I liked so much to play with that crowd. In February, I beat Petra Kvitova and I had a very good match with Pliskova so I like to play with so many people with me. If it would be by me I will play Fed Cup in Cluj every time because, I don't know…the people are nice, are very kind and they support me and in the end also when I lost and I had two match points the people were very nice and they were cheering for me. So very good feeling. They love tennis and they like my game and they like that I'm playing unique, like drop shots and then slices, and they're very excited about that.
Some Italian players said that after Fed Cup you're tired, but often is just mentally, not physically.
Yeah, for example in February I was also mentally and physically tired, because I played two matches, I played against Kvitova and then Pliskova, now I had this match on Sunday against Petkovic, so I'm tired mentally more, 'cause I had two match points, I lost and it could be different the score against Germany if I could win that match. You know, I run a lot, so I'm a bit tired physical, even if the score was 6-0 I ran a lot to put one more ball back, I do winners but I mean, not like Serena, no aces or easy winners, so we have different styles and I run a lot, I'll put a lot of effort in the match, that's for sure.
What about lost luggage, have you ever had real issues with your luggage just not arriving?
Yes, I remember in Katowice, I had to go to player's party and I didn't have a bag and clothes to go there, and Peer gave me some jeans but not so much, maybe one or two times maximum, but usually I learn and I put a pair of shoes and a pair of outfits, you know like match clothes, to be ready just in case. Now when I travelled to Stuttgart, I missed my flight 'cause I had Cluj-Munich and Munich-Stuttgart with a short connection and I missed my flight and that's why I played on Wednesday. I called immediately Laura (Ceccarelli) and told her: "Listen, I'm not gonna make it" and I took the train. When you travel so much this things happen. But you are gonna be surprised by that, but guess what? I don't have driving license!
You are one of the few players who are not on social media.
I like to be like that. Because I see so many with their head in the phone and they are not focused on real life, you know, and I don't want to, I feel very good like this, to spend time with real friends. I stay I contact with my friends at home by WhatsApp if I want to.
You made some good results in Asia, for example in Guangzhou. Is there a reason why you like playing in Asia?
The people love me there, I don't wanna be modest or something but the people like my slice forehand and I feel so welcome there every time, I remember when I won Guangzhou they actually put a song for me. I didn't understand what they were saying because it was in Chinese but I heard my name "Monica, Monica!" I feel very good there, they love my slice, I believe because I played that match with Na Li when they did a big stadium for her in Beijing and I played qualies and there were 4 spots and I won one and I was praying: "Please, please not with Na Li in China" and of course was Na Li. Next day I remember at 12 o'clock I entered on the court and I felt fantastic, I knew the crowd is not for me but the feeling I felt was so great and I beat her 6-4, 6-0. I remember I did semifinals. I don't know why, but I feel fantastic, also all the facilities, we have so many courts to practices, I mean, the food I'm struggling a bit but everybody is struggling with something.
It's almost the end of clay season, what do you expect now?
I don't know because also with grass everybody was saying: "It's very good for you" and I was not doing anything. Suddenly last year I did final in Nottingham and forth round in Wimbledon, almost do quarter because I was close to beat Bacsinszky, I remember that match, so also clay I don't know what to believe, I won a $100.000, which was not easy, the second week of Roland Garros, the rest not so much. To be honest I prefer hard courts, maybe clay it's good for me, we will see at the end of the clay but I still think hard court is better for me. But we'll see!
p.s. we found the Chinese song the played for Monica, so it seems like the perfect ending.
Leggi anche: